The Legend of Life and Love
An amazing part of our culture that reveals the triumph of love and humanity over human fate.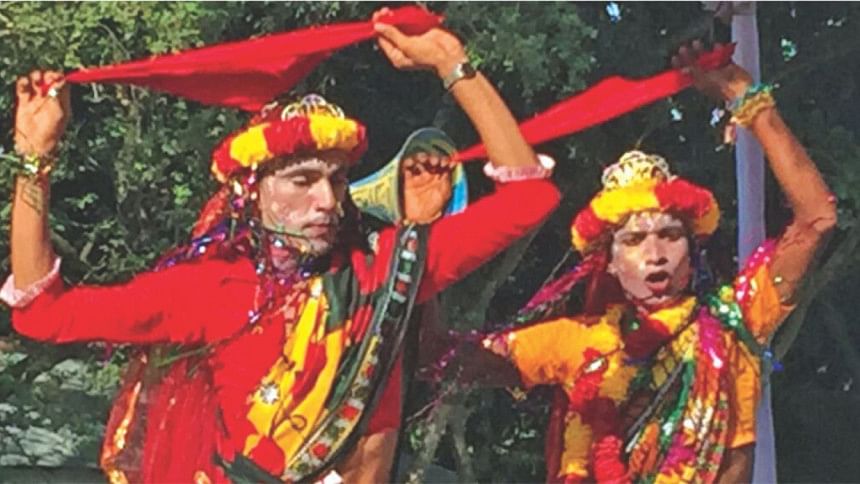 Composed between 13th to 18th century AD, Mangal Kavya is one of the most precious treasures of Bengali literature. It is actually Hindu religious poetry composed by local bards depicting man's relationship with the deities revered in rural Bengal. Among many Mangal Kavyas, the most famous and the oldest one is Manasamangal Kavya, the epic that tells how a beautiful and devoted wife Behula regained her husband's life by impressing the gods with her alluring dance. 
Manasa is the serpent goddess worshipped among Hindus living throughout Bengal for her 'control' over all the snakes. The epic started with the conflict between Manasa and a rich merchant called Chand Saodagor, a worshipper of Shiva who refused to worship Manasa and did not even recognise her as a deity. Full of vengeance, Manasa threatened Chand that she would kill all of his progeny and destroy his wealth. Then, seven merchant ships owned by Chand drowned one by one and seven of his sons were also killed by snake bite.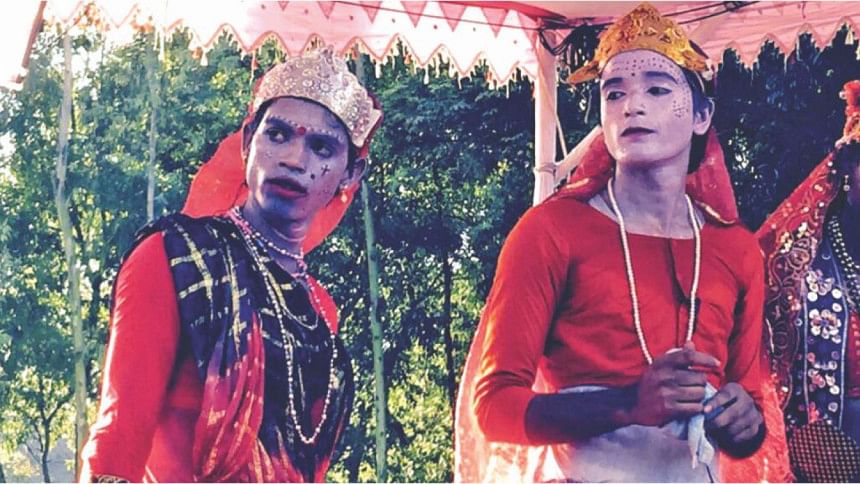 Chand was disheartened but not broken. His youngest son Lakshinder was still alive. Chand arranged marriage of his son Lakshinder with Behula, a beautiful girl whose destiny told that she would never be a widow. The determined Chand also built an impregnable iron palace for the newlywed couple so that no snake could sneak into it. However, threatened by Manasa, the builder of the palace left a hole into the palace to make way for the killer snake. On the wedding night, the snake entered the room and in the morning Behula found her husband dead.
But Behula refused to succumb. Behula took her husband's body to a tiny raft and sailed it towards the heaven. She faced many dangers during her epic journey along the river. Winning all the obstacles she finally reached the heaven and there, she convinced all the gods with her enchanting dance. The impressed gods agreed to return Lakshinder's life.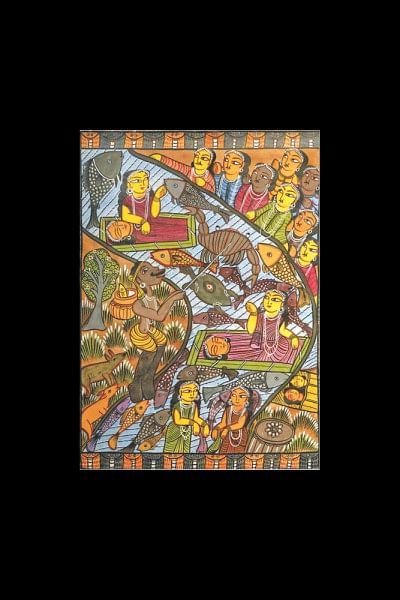 From time immemorial, this life-giving dance locally called 'Behular Lachari' became an integral part of Bengali culture. The dance was practiced in every celebration of rural Bengal especially in monsoon when snake bites are common. Bengali farmers used to portray the epic love and courage of Behula, the symbol of Bengali womanhood, through their unique theatrical dances. However, recently this very appealing part of our culture is about to be forgotten.
This year Shadhona- centre for advancement of South Asian culture and Jatrik- a cultural tourism and art management company organised a festival in Tangail. There, local dance troupes from different parts of the district re-enacted the tales of Manasamangal through spellbinding dance and musical performances. 
The epic of Manasamangal has profound historic and anthropological significances. It describes the status conflict between non-Aryan and Aryan deities and finally the non-Aryan deity Manasa had to succumb to the Aryan gods. It is a beautiful allegorical depiction of how Aryan culture had replaced the local Bengali culture time to time. This epic tale also declares the victory of love and humanity over fate and religions. We should take immediate step to preserve this amazing piece of cultural heritage. Otherwise we might lose another part of our folk culture from sheer negligence.    
The writer can be contacted at [email protected]