Of Love and Freedom in Tibet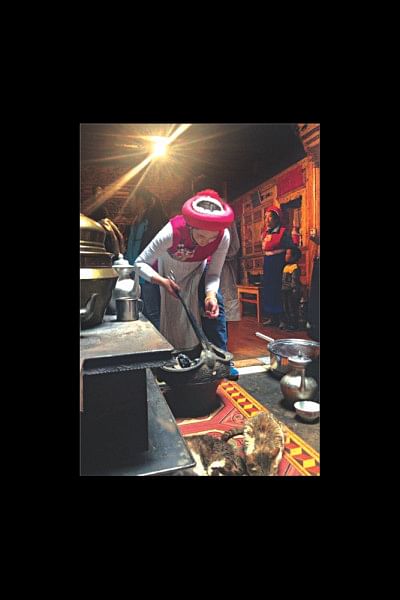 Photo: courtesy
"i have two fathers," said the young man proudly. Noticing my confused look, he added, "that means, my mother has two husbands at the same time."
We were visiting a small Tibetan village in Diqing, a mountainous autonomous region in the northwest of the Yunnan province of China.
Tsering, a Tibetan youth who spoke excellent English, was our guide. We were a group of foreign diplomats stationed in Yunnan. We gathered in the beautiful living room and sat around the cozy and warm stoves in the cold and rainy afternoon. Tsering was busy translating the welcome songs for us, while explaining different aspects of Tibetan culture and tradition.
"Polyandry is still practiced among Tibetan families", he said. "Many Tibetan families consist of one wife, and two or more husbands who are all brothers of each other. Look at the big stoves there -- three separate stoves joined together. That's the sign of a joint family. Tibetans do not want their families to break apart. They want all their sons to live together under the same roof, along with their parents and grandparents. They don't want their land and properties to be divided."
"So your mother is married to two brothers?" I asked Tsering to reconfirm what I had just heard.
"Yes," Tsering replied proudly.
Startled, I asked, "Do you know who your biological father is?"
"My parents have two children; my elder sister and I. We guess that my sister is the biological child of our younger father, and I am the child of our elder father, but we are not sure. It does not matter at all, we love both of our fathers and they love us. That's it!"
"So what do you call your dads?"
"Our elder father is 'father', and the younger one is called 'uncle' even though he is our father as well. I love and respect them equally, but I was always closer to my uncle than I was to my father. In Tibetan households, elder husbands remain at home all the time to take care of the family, while younger husbands work outside to earn money. They come home twice or thrice a year. The daughters are the elder fathers' shadows; they follow them everywhere, help them with all kinds of work. My uncle is younger and fun-loving. He worked in the city. Whenever he came home, he had many stories to tell me. He would give all his earnings to my mother for the entire family."
"And your mother?"
"My mother is a typical Tibetan woman -- the smartest kind in the world. Tibetan women have to manage the whole household and multiple husbands and children, not to mention their mothers and fathers-in-law. My mother has only two husbands, but some women in our village have three, four, or even five! In order to keep everyone happy, a Tibetan woman needs to be extra nice, patient, caring and smart. My mother has all that it takes to be a good wife in a polyandric family."
He went on explaining: "My non-Tibetan friends don't understand this. They say, 'There cannot be any love between husbands and their common wife'. But can you imagine how many different kinds of love one needs to stay in such a family arrangement? Love for family, tradition, brothers, husbands, children, parents, the common wife and the list goes on. If this is not love that binds them together, then tell me what love is!"
Food was served: breads, tea with salt and butter, cereal mixed with yogurt, boiled potatoes, mushrooms, and heaps of yak-meat steaks. The girls, who were serving the food, were pretty, like the Bollywood actress Manisha Koirala.
"Do these girls want to have more than one husband?"
The young girls burst into laughter hearing Tsering's translation. "The girls say, it's an old tradition. They don't want many husbands. They want freedom."
"And what about your sister? Does she have more than one husband?"
"Oh it's too bad that my sister is married only to one man. Chinese people don't like to share their wives, and it's influencing the younger Tibetans. But I must respect my sister's choice. She chose freedom, after all."
"And you?"
"If I had a brother, I would most definitely share my wife with him!"
"Why?"
"Well, if I had a brother, he would have shared the family responsibilities. He would have stayed home to take care of our family, while I would go out to earn money like my uncle. I love freedom."
Marriage after all is a shared responsibility where two people learn to grow without being in each other's shadow. As Kahlil Gibran puts it,"Give your hearts, but not into each other's keeping. For only the hand of Life can contain your hearts. And stand together, yet not too near together: For the pillars of the temple stand apart, and the oak tree and the cypress grow not in each other's shadow."