. ALMOST USEFUL LIFE HACKS
How to use the wrong tool for the right job
I am a Master Of Improvisation. That is a title I have imposed upon myself alongside Masterchef and Coffee Bae. No one artfully sprinkles chocolate dust over coffee like I do. That is a how-to for another day.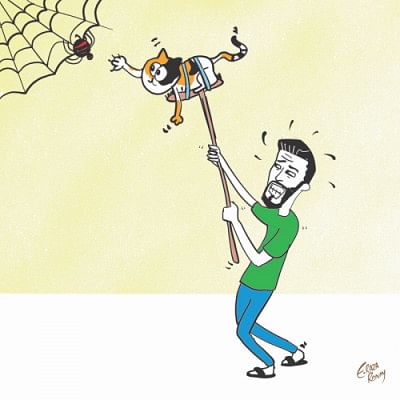 I am a Master Of Improvisation. That is a title I have imposed upon myself alongside Masterchef and Coffee Bae. No one artfully sprinkles chocolate dust over coffee like I do. That is a how-to for another day.
Back to improvisation. We are not always equipped with the proper tools. In fact, we are rarely ever thus equipped. Early man crawled out of the ocean (or the trees depending on which theory you want to hang from) and stood up confused. He saw wild, furry, sharp-toothed animals and picked up a rock to attack. He was probably promptly eaten. That is what happens when you first attempt using the wrong tool. Over time, you become an expert. Early man eventually picked a bigger rock and succeeded. What he really, really needed was a gas pressurised harpoon. Here's how we improvise every day.
Spoons are universally for everything
A spoon and its lesser cousin, the fork, are perfect for almost all tasks. I remember the countless scolding I received for bent spoons that my mother suddenly discovered. It is not my fault that she kept various qualities of spoons in store: okay ones, good ones and really good ones. The okay ones would easily bend because spoons are universally meant to open anything that refuses to open: paint cans, jars, stuck drawers or your stingy school friend's unwillingness to pay up for a shared lunch. A fork can do wonders for the latter. Movies have shown us that a prisoner can dig his way out using a spoon. It can also defend you against wild animals like crows that refuse to leave you alone when you are up on the roof trying to reach into their nests.
How it backfires: Spoons can bend especially the 'okay' ones. And the really good ones? They can chip and scratch. Mothers and wives do not like it at all. But what is a man supposed to do? Search for a screwdriver or can opener?
Hammertime
Yet another tool that everybody owns. And by everyone, I mean EVERYONE. Parents, children, teachers, bus drivers, politicians and their university going supporters. Everyone has a hammer. Because the hammer can beat an idea into you like nothing else. If a drawer refuses to go in, hit it with a hammer. Refuses to slide out? Hit it again. Car not starting? Hit the battery terminal with a hammer. The long handle can be used as a paint stirrer or a 'Poker of Unruly Dogs'. Your opponent not agreeing to your point of view? Hit them with a hammer as we have seen in recent news.
How it backfires: I have cracked eggs using a hammer. The 'why' is irrelevant. By the seventh egg, I was able to successfully crack it gently instead of having it explode over the counter. Luckily I had a cat to lick up the mess. Which incidentally is the wrong tool to correctly wipe up food spills with.
Vlog everything
Video blogging is a terrific wrong tool. Its original purpose was to bring about necessary information to people seeking that particular information. Rock concert happening? Stream it to others less fortunate. But you can also use it to show your finance manager that you actually do not have space to sit when the entire team is at work. You can live stream how people are standing, walking, sitting on laps, lying on the floor and so on because there are only four desks for seven people. It worked though. New desks were arranged the next day. Based on a true story.
How it backfires: when you participate in the Ki-Ki Challenge (and other online viral activities) way past its expiration date.
Being a friend to everyone
Being a friend is a great wrong tool. I have seen bosses get employees to do a lot of work for little money by being a friend. Co-workers get others to cover for them by being a friend.
How it backfires: Ask all the guys that have fallen for a girl and have opted for the friendship approach. They thought they were on the right path of winning the maiden's heart. Three years later they discovered the friend zone, a place they can never leave.
Selfies will make you popular
To be popular, the right tool is to be the best at what you do. Alternately, you can look like Ryan Gosling. Or you can upload selfies. This is a tool that has subtle nuances that add value to your life. Or so you think. Posting your mug on social media is the biggest activity these days. 300 million photos are uploaded to Facebook per day. You would think that seeing one face everywhere would get tiring. Turns out Instagram photos get 38 percent more likes when they have a face in them. Wow. So is the selfie your end-all tool for popularity?
How it backfires: When you are trying to show cool places you have travelled but the screen is filled with a close-up of your pores. How to do it right? Stand behind the camera for a change and let us see this amazing thing you are breathless about.
Before improvising, ask yourself one question. You will often be left with a bigger mess that will take up more of your time to fix. Can you blame it on the cat or not?
Ehsanur Raza Ronny is a confused dad, all-round car guy, model car builder, and cartoonist. He is also Editor of Shift (automobiles), Bytes (technology), and Next Step (career) of The Daily Star.