World No. 1 Alcaraz to miss Australian Open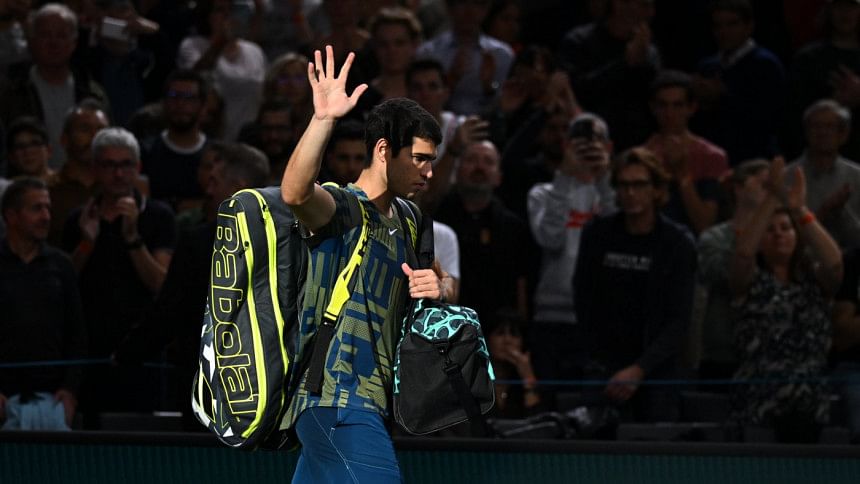 US Open champion Carlos Alcaraz said on Friday he will miss the Australian Open, the first Grand Slam of the season, after injuring his right leg in training.
"I picked up an injury through a chance, unnatural movement in training," the 19-year-old Spaniard wrote on his Twitter account.
"I'd worked so hard to get to my best level for Australia but unfortunately I won't be able to play," the world's top-ranked player added.
"It's tough, but I have to be optimistic, recover and look forward. We'll see you at the Australian Open in 2024."
Alcaraz's withdrawal means defending champion, 22-time major winner and fellow Spaniard Rafael Nadal will be promoted to top seed at the Australian Open which starts in Melbourne on January 16.
Novak Djokovic, the nine-time champion and a 21-time Grand Slam title winner, will move into the top four seedings.
That will mean he cannot face old rival Nadal until the semi-finals at the earliest.
Djokovic will return to the Australian Open after being deported from the country last year over his refusal to be vaccinated.
Alcaraz became the world's youngest world number one since the creation of the ATP rankings in 1973 by winning his first Grand Slam tournament at the US Open last September.
He then became the youngest player in history to finish the year at the top of the rankings, and the first outside of Djokovic, Nadal, Roger Federer and Andy Murray to do so since Andy Roddick in 2003.
However, an abdominal tear forced him to retire in the quarter-finals of the Paris Masters in November which in turn meant he had to miss the season-ending ATP Finals in Turin won by Djokovic.
Alcaraz also had to sit out the Davis Cup Finals.
Alcaraz, who will also miss the Kooyong Tennis Classic in Melbourne next week, admitted recently that 2023 will come with new experiences for him.
"I have to be prepared for that, the pressure. The people, the players as well, are going to have all their eyes on me and I'm going to have to be prepared for that," he explained at an Abu Dhabi exhibition event last month where he was beaten by top 10 rivals Casper Ruud and Andrey Rublev.
"Probably it's going to help me a little bit to try not to think about the people, the expectations, and the ranking, and that kind of stuff," he said.
"I'm just going to see myself better, trying to push myself to a high level. Right now I'm focused on myself, on recovering my level."
Alcaraz has played twice at the Australian Open, reaching the second round after coming through qualifying in 2021 while last year he was beaten in five sets by Matteo Berrettini in the last 32.
"We're sorry we won't be seeing you this year @carlosalcaraz. Wishing you a swift recovery. See you back on court soon," tweeted the Australian Open on Friday.
Last season, Alcaraz captured five titles as he won 57 times in 70 matches.
He started 2022 at 32 in the world and made the biggest rise to finish top in 50 years of the rankings.
Alcaraz hit the giant-killing jackpot at Madrid in May when he became the only man to beat both Nadal and Djokovic at the same clay-court event.
When he then broke into the world top five in July, he was the youngest man to do so since 2005.
His coach former world number one Juan Carlos Ferrero believes that if Alcaraz stays fit, he is capable of winning 30 Grand Slam titles.