US Open roasts players as Medvedev, Sabalenka advance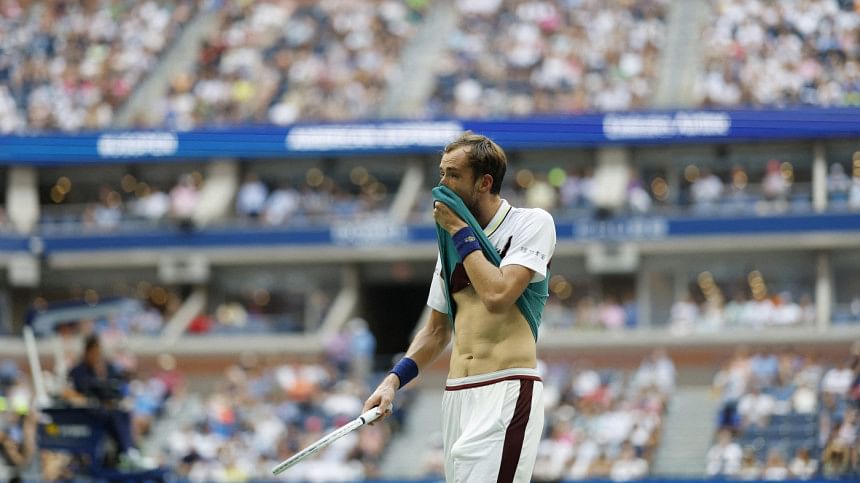 Daniil Medvedev overcame roasting temperatures to battle into the US Open semi-finals on Wednesday as Aryna Sabalenka delivered a sizzling display to reach the last four.
Third seed Medvedev said the furnace-like conditions had put player safety at risk during his 6-4, 6-3, 6-4 victory over Russian compatriot Andrey Rublev.
New York has been sweltering in a heatwave this week, with high humidity and temperatures at Flushing Meadows on Wednesday hitting 35 degrees Celsius (95 Fahrenheit).
Tournament organisers confirmed that extreme heat measures were in effect for Medvedev and Rublev's quarter-final -- but the Russian was clearly unimpressed.
At one point during the third set, the 2021 US Open champion muttered to a nearby TV camera "one player is going to die and they're going to see" as he grabbed a towel.
"The conditions were brutal. The only good thing is that both players suffer, so it's tough for both of us," Medvedev said after his victory in 2hr 48min.
"At the end of the first set I kind of couldn't see the ball anymore. I kind of just played with sensations."
Both Medvedev and Rublev attempted to cool down during changeovers by wrapping towels packed with ice around them, while Medvedev could be seen puffing from an inhaler.
The US Open's extreme heat policy as it applies to the men's draw allows male players to leave the court for a period of 10 minutes after the third set.
Medvedev said he had planned to dash from the court to take a cold shower in the changing room if the match had gone to a fourth set, before he wrapped up victory in the third.
"I just thought I don't care, I'm just going to do it, but I didn't need to, so I am going to do it now," said Medvedev, who will face either defending champion Carlos Alcaraz or German 12th seed Alexander Zverev in the last four on Friday.
Zheng left in shade 
Wednesday's play got under way earlier in blazing sunshine on Arthur Ashe, where China's Zheng Qinwen struggled before being overwhelmed by second seed Sabalenka 6-1, 6-4.
Zheng said the partially closed roof on Arthur Ashe -- a move designed to protect spectators from the sun -- had caused her problems, making it hard to focus on the ball with shadows darkening part of the court.
"I hate that different half shadow, half sun," Zheng said. "Because I feel that's also bad, I mean, my eyes."
Sabalenka however had no difficulty in adapting, with the Belarusian dominating her opponent with a powerful service game that sends her into a last four meeting with 17th seeded American Madison Keys.
Sabalenka was assured of replacing Iga Swiatek at the top of the women's rankings after the Polish No.1 crashed out of the US Open on Sunday.
However Sabalenka said she is not thinking about her new-found status as the world's top player just yet.
"Of course I'm happy ... it's incredible for me and my family.
"But I have some things still to do in New York this year and I'll think about becoming No.1 after the US Open."
Sabalenka now faces another Grand Slam clash with Keys after beating the American in the quarter-finals at Wimbledon in July.
Keys, who reached the US Open final in 2017, advanced to the last four after defeating Wimbledon champion Marketa Vondrousova of the Czech Republic 6-1, 6-4.
Vondrousova was left ruing her failure to convert any of nine break points that came her way, while Keys was a perfect three-from-three on break points.
"I love playing here, in front of a home crowd -- you never feel like you can't get out of any situation," Keys said.
Vondrousova said she had struggled to cope with the power of Keys' serve and groundstrokes.
"I felt like I was under so much pressure from the first point," Vondrousova said. "There wasn't so much to do, honestly. It was very tough. I was just trying to fight, run for every ball. She was just too good."
The match was halted in the first game of the opening set after a spectator required treatment for a medical emergency. US Open organisers later said the incident was not heat-related.