Swiatek sent packing as Rybakina blows Australian Open wide open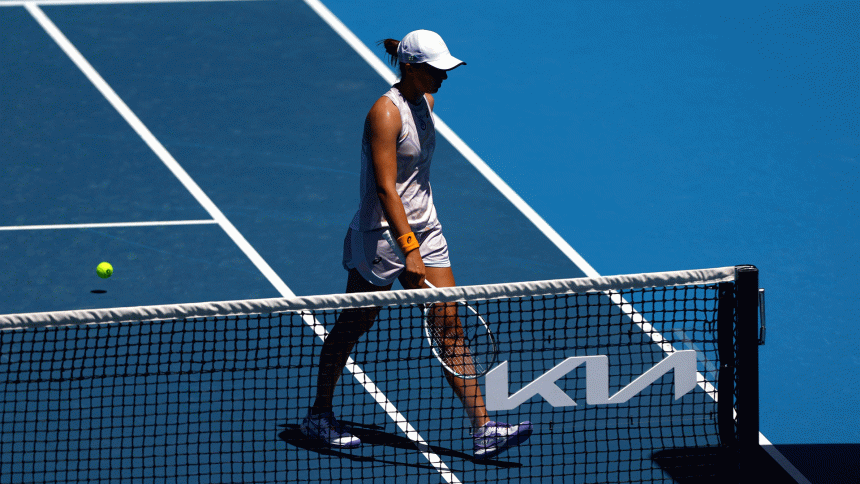 World number one Iga Swiatek was knocked out of the Australian Open Sunday as Wimbledon champion Elena Rybakina blew the women's draw wide open by beating the red-hot favourite in straight sets.
Rybakina swept past the 2022 French and US Open winner Swiatek 6-4, 6-4 in 1hr 29min on Rod Laver Arena.
She moves on to a quarter-final against Jelena Ostapenko, who provided the second upset of a crazy few minutes at Melbourne Park by knocking out seventh seed Coco Gauff 7-5, 6-3 on the neighbouring Margaret Court Arena.
Rybakina's victory means the top two seeds in both the men's and women's singles are all out of the first Grand Slam of the year before the last-eight stage.
"It was a really tough match and I really respect Iga," said Rybakina, the 22nd seed.
"She's a young player and think she played really well," she added of the 21-year-old from Poland. "It's a big win and I'm just happy to get to another round."
Swiatek led 40-0 on her opening service game and 15-40 on Rybakina's delivery in the next.
But it was the 6ft (1.84m) tall Russian-born player, who now represents Kazakhstan, who showed her resilience and power to win both for an early 2-0 lead.
The Pole composed herself to hold in the next and then went on the attack, creating three break points and converting the first when Rybakina went long to level the set at 2-2.
At 3-3, 30-30, Swiatek's first double fault gave Rybakina another chance which she seized with a sizzling backhand crosscourt return.
The Wimbledon champion comfortably served out, powering down her fourth ace on her first set point to move ahead after 42 minutes.
Important moments
Swiatek stepped up at start of the second set, attacking off her forehand and broke immediately for 2-0 to chants of "Iga, Iga" from a small, but noisy, contingent of Polish fans clad in red and white.
The cries were short-lived.
The 23-year-old Rybakina broke to love at 1-3 as Swiatek's first serve deserted her.
Rybakina, by contrast, was now firing down serves with power and accuracy, her fifth ace helping her to level at 3-3.
"I think I was serving good and just struggling a bit on one side," said the composed Rybakina.
"But in the important moments I played really well and that made the difference."
Swiatek had won the pair's only previous meeting in straight sets at Ostrava in 2021.
But history counted for nothing against the confident Kazakh who forced Swiatek to save two break points at 4-4.
A sixth forehand winner of the match from Rybakina created a third, which she took when the Pole netted and served out with ease to take the match.
Next door, Ostapenko edged a tight battle in an 1hr 33min, stepping up when it counted at the end of each set to reach the quarter-finals at Melbourne Park for the first time.
"I knew she's such a great player, super young and she's playing really well but I really had nothing to lose," said Ostapenko, who won at Roland Garros in 2017 and earned her fifth WTA Tour title in Dubai last year.
"I just went there and tried to show my best and try to fight for every point and to make it hard for her and I'm really happy with the way I played."
Ostapenko, whose last Grand Slam quarter-final came at Wimbledon in 2018, has endured some tough injury-hit years since and had never before beaten a player ranked inside the top-10 at the Australian Open.
"I was trying to stay positive all the time," said Ostapenko. "And I knew I have to play aggressive, even if I miss some balls.
"At the end, I think I kept her under so much pressure and it brought me a win."