Muchova stuns Sabalenka to move into French Open final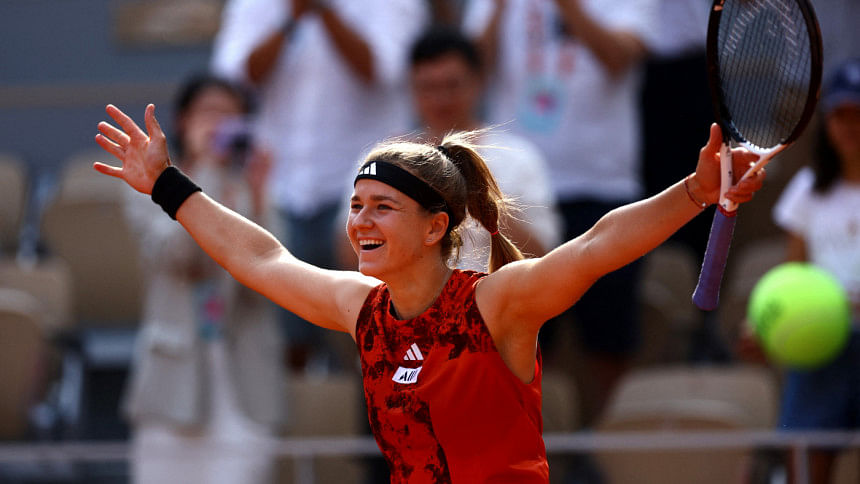 Unseeded Karolina Muchova saved a match point before battling past second seed Aryna Sabalenka 7-6(5) 6-7(5) 7-5 on Thursday to reach the French Open final in thrilling fashion and end the Belarusian's dream of becoming world number one.
Australian Open champion Sabalenka, the overwhelming favourite to win the last-four showdown, would have taken over the top spot in the rankings by winning the title in Paris.
But she failed to convert her chance at 5-2 in the third set and bowed out to the gifted Czech, who cleverly defused her opponent's power game and took the last five games in a row.
The last unseeded player left in the men's and women's draw, Muchova did not attempt to match Sabalenka's massive hitting power from the baseline.
Instead the Czech, who battled back from the mid-200s into the top 50 after an injury in 2021, opted for a lighter touch.
She sliced the ball to take the pace off, playing Sabalenka's backhand and hitting drop shots to force the tall Belarusian into the net.
"I don't really know what happened," a beaming Muchova said.
"The atmosphere, the people pushing me in all the match. I just keep fighting and it worked. I really don't know what happened. I am so happy."
Asked about her versatile game she said: "I don't want to hear it, to get it into my head, to get cocky. I am trying to play my game. I am so glad it worked so well."
"We worked on it together," she said turning to her box. "It is our success."
Muchova is only the third player ranked outside the top-40 to reach the final at Roland Garros after Jelena Ostapenko (2017) and Iga Swiatek (2020), with both of the previous two winning their respective finals.
Sabalenka, by far the biggest hitter in the women's game, could not use her fierce forehand at will and was clearly rattled by Muchova's plan.
She was broken as Muchova moved 5-4 up but the Czech wasted one set point on her serve before bagging the set at the second opportunity in the tiebreak.
The Belarusian, who had caused a furore in the tournament after her initial refusal to comment on Russia's invasion of Ukraine and her country's role as a staging ground for Russian troops, was broken again at the start of the second.
But she battled back to earn two set points in the tiebreak.
She squandered the first with a double fault but showed no nerves on the next to level.
Sabalenka raced to a 5-2 lead with Muchova saving a match point at 5-2 down. But she launchedher own comeback as Sabalenka's serve completely wilted to win five straight games and reach her first Grand Slam final.