Bangladesh take on Malaysia today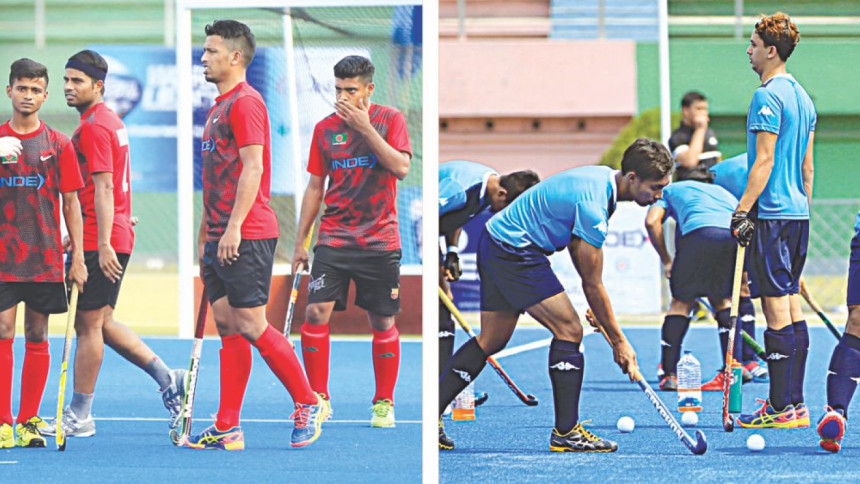 Bangladesh will be facing arguably their toughest challenge when they take on Malaysia in their opening match of the Hockey World League (Round 2) at the Maulana Bhasani Hockey Stadium today. Even though the Malaysians, who were drafted into this competition after initial entrants Canada pulled out due to security fears, have not brought in their top-string players, the gulf of difference is expected to have a telling impact in this match.
That match will get underway at 4:00pm after three other fixtures – China v Ghana, Egypt v Sri Lanka and Oman v Fiji – which will take place at the same venue.
Bangladesh coach Oliver Kurtz, who has set his initial sights on finishing second in the pool behind Malaysia, thinks today's opposition are strong enough even with some of their best players left back home.
"Our initial target is to finish second behind Malaysia and then look for who we get in the quarterfinals and hopefully in the semifinals," the German coach said after the team's last practice session yesterday.
With the other two pool mates – Malaysia in 13th position, Oman sitting just one place above Bangladesh's 31 and Fiji down in 44 – Kurtz is hoping his side can beat Fiji and Oman in the following two matches to ensure the second position. Hence he said, "Even if Malaysia are under-strength, they are a tough opposition. So we will do well to concentrate on our team rather than thinking about them too much. Our main objective will be to beat Fiji and Oman."
With the other pool featuring China, Egypt and Ghana and only two qualifying places available from this eight-team competition for the third round, things could be very hard for Bangladesh, even if they are playing at home. To make matters worse, the preparation for this tournament has not been too positive as Bangladesh played a three-match warm up series against 38th ranked Ghana, sharing a win each and drawing the other.
Kurtz believes the preparation has not been ideal for a major tournament like this. "I've always said we needed at least seven or eight matches ahead of this tournament. I tried to use different strategies in the three matches and the results have been mixed. However, we played better in the third match. Our penalty corner conversion, which was disappointing in the first two matches, was much better in the third match. That performance makes us a bit optimistic."
Bangladesh will play their following two matches against Fiji and Oman on March 5 and 7 respectively.