Shakib's recipe for success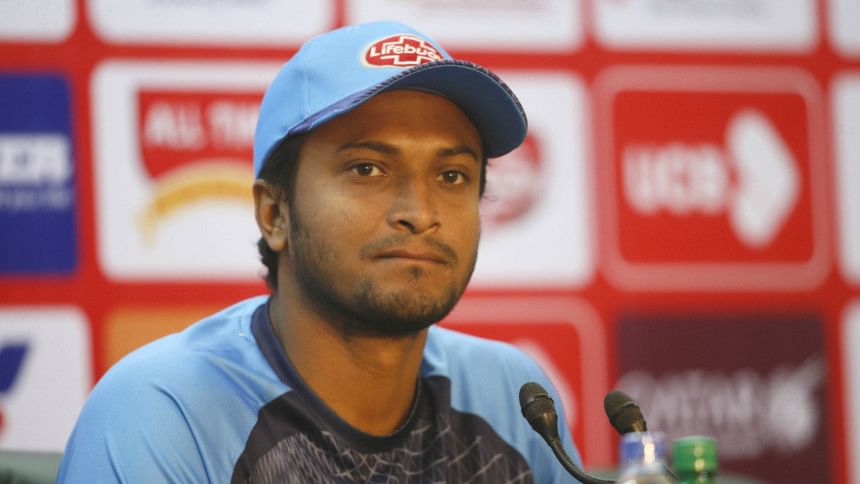 Bangladesh are looking to sweep the series against the West Indies by winning the second Test and skipper Shakib Al Hasan said that the Tigers should be looking to play their natural game and it in the second Test.
On a spinning turf in Chattogram, Bangladesh struggled immensely against spin, much in the same way their Caribbean counterparts did during the first Test. Bangladesh could hand debut to new comer Shadman Islam while players such as Mohammad Mithun is still new to the Test circuit. For Shakib, the Tigers would be going in to win and thus changing one's natural game without just cause may not bring the desired result. The right recipe in Shakib's view was to keep their individual natural game plan.
"We are going in to win. If a situation occurs where there is a possibility for draw, then we will try that. Our first target is ofcourse to go out to win," he said during a press conference today.
"I always say that everyone should play their natural game. Unless there is an absolute need for someone to change due to the team situation, I believe a player should not change their natural game," he remarked on the attacking mindset that Tigers will be going in with.
He used Virendar Sehwag as an example for what kind of mindset he thinks is natural 'game plan'.
"If Virendar Sehwag thought that the first ball in a Test match was there to be hit, he would hit it for four and that was his approach in T20s and ODIs too. I think this approach is very much needed.
"If a batsman goes in with the mindset that he can hit the first ball in a T20 or ODI for four then I will not want him to leave the first delivery because it's a Test match," the skipper reiterated.
False or misjudged shots have often resulted in batting collapse but Shakib reconfirmed that the idea was to be natural and that it was more than just being defensive or offensive.
"Players are picked by selectors based on their natural game. I don't see any reason to play differently after coming here. The team does not expect anyone to do something out of the box or against their nature. So players should be have the same approach which made them successful," he concluded.
Shadman Islam is known for his longer-version centric sensibility in the domestic circuit and his performance for BCB XI, which landed him a place in the squad was one of control and patience.
Shakib also was of the opinion that Shadman looked like someone who has Test mettle. "Shadman is an exciting prospect for Test cricket. From what I have seen and heard, he looks appropriate for Tests. If he gets the chance, I hope he can contribute in the team's victory," a relaxed and adequately thrilled Shakib said during the press conference.