'Lokman never told me about the casino'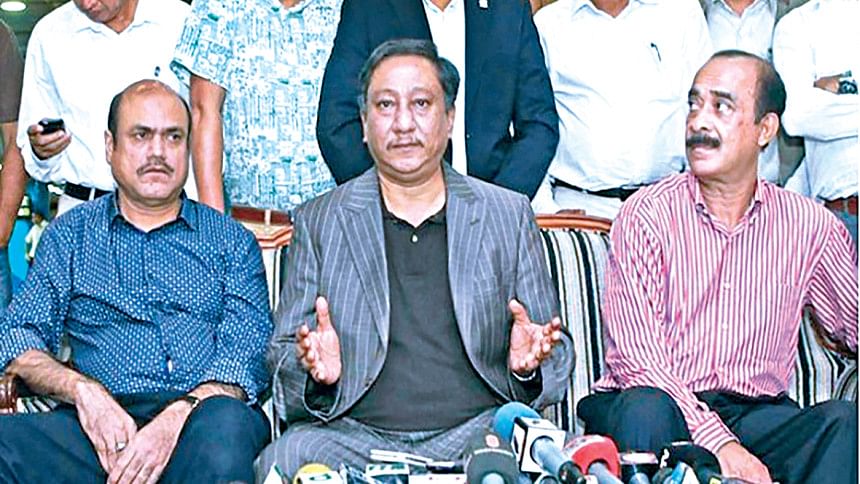 Bangladesh Cricket Board (BCB) President Nazmul Hassan said that while the board was not embarrassed, he was not willing to comment on the Rapid Action Battalion arresting Lokman Hossain Bhuiyan -- a BCB director and also Mohammedan Sporting Club director-in-charge -- at his residence on Wednesday night with four bottles of liquor.
Rab-2 Commanding Officer Lt Col Ashique Billah on Thursday told reporters that Lokman deposited around Tk 41 crore in two banks in Australia while the National Board of Revenue asked all banks to freeze the bank accounts of Lokman and his wife.
The BCB boss added that there whoever breaks the law will have to face the consequences and that the board will take appropriate decisions if Lokman is found guilty.
"There are no steps for us to take at the moment and the board will definitely take decisions after it is proved. But it's too early to say anything. Look, there is nothing to be embarrassed about as the basic thing that I know is that if someone has committed any wrongdoing, he will have to face the punishment and there shouldn't be any disagreement on that matter. As far as I know, there is no way you can't admit that the steps from the Prime Minister [Sheikh Hasina] is praiseworthy as only she and no one else has the courage to take such steps.
One other board director, BCB vice-president Mahbubul Anam, was also asked to submit his wealth statement by the Anti-Corruption Unit.
"There are also examples where the Anti-Corruption Unit can ask for anyone's wealth statement, which is a normal process. It does not mean that the person is a culprit before it [guilt] is proved. If there is any evidence of him [Lokman] being involved in renting the club to a casino, he will get the punishment," Hassan told reporters yesterday.
Hassan, who claimed that Lokman is a friend, was surprised to know that there was a casino in Mohammedan club premises and informed that he was totally unaware of the matter.
"The truth is Lokman the person I know has never had alcohol in his entire life and has never gambled and this is also true that he has rented the club out to a casino. So, there is nothing to deny.
"To be honest, I have no idea when card games turned into a casino. Lokman has never told me that there is a casino in the club, which is surprising. He is actually my friend but even I didn't know it, he never told me. Let's see now… everything will come to the fore," he said.