DRS, third umpire call in question after Comilla vs Sylhet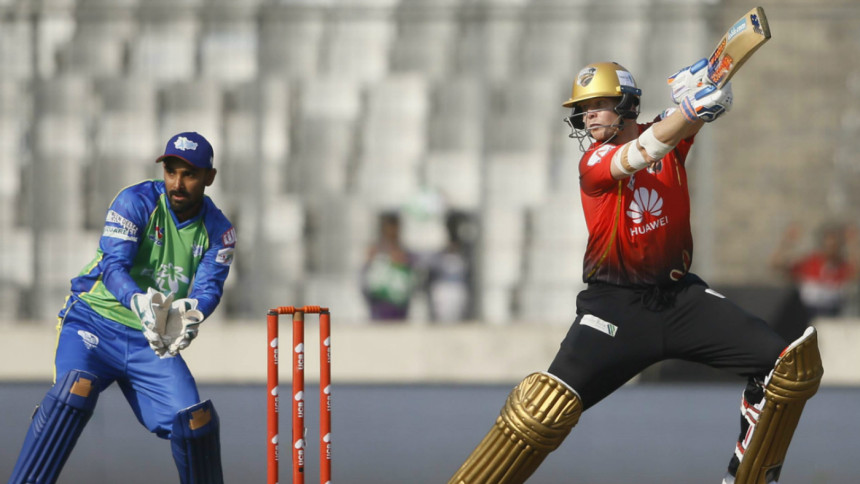 Australian duo Steve Smith and David Warner both made their BPL debuts today. Both were given out after reviews which left a lot of room for doubt and worry about how the tournament will progress in regards to technology and umpiring decisions.
David Warner was wrongly given out by the third umpire after a mix-up with batting partner Towhid Hridoy at the other end during Sylhet's opening match against Comilla Victorians today. Warner said he has to accept the umpire's decision but opined that it was difficult to speak in their (umpires') behalf after that particular scenario where DRS (Decision Review System) was used to check which of the batters were out.
It was a dubious decision after TV replays showed that Warner had crossed Towhid and entered the crease with the former's bat up in the air. Even after conclusive evidence that it was Towhid who should be given out, the third umpire's decision saw Warner leave the field.
"The guys said it wasn't [the right decision]. I didn't see what happened. But apparently, I was in. If you are standing behind the camera and you miss a decision like that, I don't know. I can't speak on their behalf of the one who makes the decision. If I wasn't out, I wasn't out. I have to accept the decision," he said.
The Australian was not too fussed about the mix-up with Hridoy which led to both batsmen ending up on the same side. He felt that Towhid needed to work on his calling, instead of saying yes.
"It doesn't really matter. At the end of the day, we spoke out there. There were three or four calls that he said. I told him that we are going to have to not say yes [first]. You will have to hit the ball, wait and see. It happens in the game of cricket. No one is at fault. It is miscommunication, and we move on," he added.
Meanwhile Steve Smith, another Australian was also given out after DRS review when bowler Al Amin wanted a review following what appeared to be a faint outside edge. BPL are not using snickometer or Ultra-edge technology and Smith's wicket left questions in mind about what controversies might take place later as the tournament progressed.
"We can't do anything about it," said Comilla coach Mohammad Salahuddin. "Only Hawk-eye was supposed to be there and we were informed about that before the start of the tournament. So we don't have much to say about it. Only in leg-before wickets the correct decision is being made, in other dismissals there will be doubts.
"I think it [all available technology] should be here. We are a medium income country now so they should be here," Salahuddin concluded.