MEET THE YOUNG DIRECTOR MAHDE HASAN
Young director, Mahde Hassan was a participant of the first batch of 'Standard Chartered - The Daily Star Celebrating Life' filmmaking workshop. His zeal and passion towards directing has not gone unnoticed as he has become one of the promising filmmakers in the international short film scene. Lately, his debut feature film project, 'Sand City' has been selected for 'La Fabrique Cinéma 2019' at 'Cannes Film Festival'. In this interview with Star Showbiz, Mahde talks about his journey as a filmmaker to encourage others who want to walk down the same path.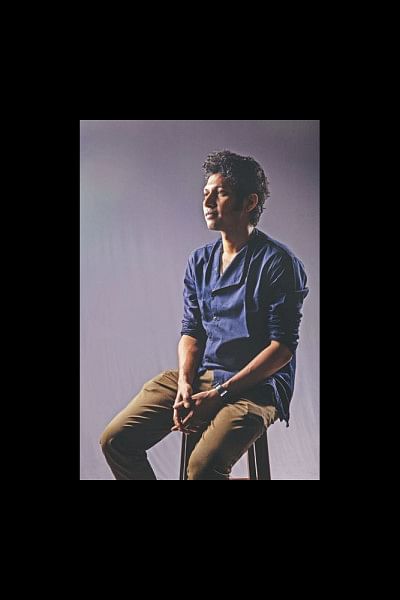 THE BEGINNING FROM LOCARNO FILM FESTIVAL
I went to Locarno for the film festival in 2018. But, the initial step towards it started back in 2016, when I first sent a script for the festival. Sadly, it was not selected. Later in 2017, when one of their delegates, Deepti D'Cunha came to Bangladesh, I had the opportunity to sit with her for a meeting, where I presented the script. Unfortunately, I was turned down again, and was sent a rejection email. The best thing about the email was that they mentioned a few points on why I was rejected. The feedback included how I should elaborate and describe more about the plotline and characters, and try again next time. Shortly after that, I decided on working further by keeping the feedbacks in mind. In 2017, along with Khona Talkies and Rubaiyat Hossain as my producer, I took my project, Sand City to Ekadeshma Film Lab, Nepal. It is a collaborative stage with Open Doors Hub - Locarno Festival. Two projects from Bangladesh were presented along with other Nepali submissions. Over there, I met some important people, like the Head of Open Doors, Sophie Bourdon, Paolo Bertolin and many other delegates. They gave me positive responses regarding my work, and advised me to improvise my project, so that I can submit it to the Open Doors Hub. Then in 2018, I presented my final piece with all my paperworks. This was a great experience for me as it was the first time my project had come this far, after all the years of rejection. It is my first co-produced work. I think presently many new movies are being co-produced internationally, be it in Latin America, Europe, Africa or Asia, in order to distribute the work load for a risk-free venture and for international exposure.
WALKTHROUGH TO CANNES
Hub is the platform for the directors and producers, and is mainly project based; whereas a Lab is only for the producers. So, Rubaiyat apu and I were in the Lab, where we sat for meetings with producers from across the globe, and were given thirty minutes to pitch our project.  We even participated in a workshop, which taught us how to present a proper pitch during the program sessions. We had to sit for several meetings round the clock to get to where we are today. We also attended workshops on distribution and world sales. The case study that I had to evaluate was from Bangladesh. It was titled, Live from Dhaka, directed by Abdullah Mohammad Saad, but the distributor joined with this venture was a foreign association, A Stray Dog. Lastly, a final pitching session was completed in front of five to six jury members from different funding agencies, like CNC Prize, ARTE International Open Doors Prize, Sorfond Award and TFL Award. This final session was more like a competition as the winner received an award at the end of it. So, I was quite nervous as I had to compete against talented directors from different parts of the world. However, I overcame my nervousness while explaining the storyline, motive of my project, and even showed them videos. Our project, Sand City won a CNC Prize, which has different schemes, like post production and production fund, but we got the script development fund. Besides this, I was interviewed for another competition of Open Doors, Locarno, where they choose one filmmaker from Eastern Europe, Africa, and Asia for residency. I was shortlisted amongst four filmmakers, and awarded a two-month residency at Villa Sträuli by Internationale Kurzfiltage Winterthur, DEZA, and Villa Sträuli to further develop the script. In the meantime, Sand City also got selected for another competition, The festival of the three continents in Nantes, France, and took part in the programme, Produire Au Sud.  It is a ten-day long festival, which gives Asian filmmakers the platform to showcase their projects to a wider audience. Amidst all this, Sand City was submitted for La Fabrique Cinéma 2019, Cannes, which now has been selected. They invite emerging filmmakers, who have first or second featured films. They usually select ten new projects from ten different countries around the world for this programme. I look forward to Cannes as this is one of the most esteemed platforms for filmmakers, and I will be pitching Sand City to enhance networking with producers. As many international producers and distributors come to this festival, it will be a great occasion to bring forth Sand City, and engage them to fund the project.  I am also very eager to attend the masterclass, conducted by a prominent director. This year's director is Mira Nair, an Indian-American filmmaker, based in New York City. Her award-winning films are Monsoon Wedding and Salaam Bombay.
ACCOLADES
One of my ten minute short films, I AM TIME was screened for the Open Doors screening section at 69th Festival del Film Locarno, Switzerland in 2016. l also secured the first position for Where is the Friend's Home in the Movie of my life section at the 70th Locarno Festival,in 2017. Later, I met Rubaiyat Hossain, the producer for Sand City. She really liked my work, and soon after that, she collaborated with me to work on the script. The following year, another one of my films, Death of Reader was screened in the Open Doors screening section at 71stLocarno Festival. In a nutshell, I had the opportunity to successfully showcase my films in three successive years since 2016.