Fagun Hawa
In a country where our identities are deeply rooted in our history, its influence on cinema is only inevitable. Based on the 1952 Language Movement, actor turned director Tauquir Ahmed's latest venture 'Fagun Hawa' brings forth a promising story. Lead actors, Siam and Tisha and director Tauquir indulge in an exclusive interview with Rafi Hossain, talking about their upcoming film and the scope of the Bangladeshi film industry.
Rafi Hossain: Welcome to Uncensored with Rafi Hossain. Today we have with us, the team of 'Fagun Hawa'. Although they need no introduction; Tauquir bhai, Tisha and Siam, glad to have you here. If we're talking about Bangladeshi television, I think it's quite clear that Tisha is number one. Don't you agree, Tauquir Bhai?
Tauquir Ahmed: One of the best, most definitely. I don't believe in numbers.
Rafi: So Tauquir bhai, two consecutive films of yours feature Tisha. Is this because, like most directors, there's this understanding or is this because like you said, Tisha is a top actor?
Tauquir: Not understanding to be specific, but I do think trust plays a huge role. Directors are quite selfish, if I say so myself. They want the best actors to play the characters they've created. And when you have a list of people you can rely on, be it the cameramen, or even musicians, we tend to look there first. In Bangladesh, there's no scope for experimenting with new and obscure actors.
Rafi: Does this mean that there's an inadequacy of capable actors in this country?
Tauquir: Yes, definitely. Previously, promising actors came from theatre. They studied in such schools, starred in television dramas and then gradually became renowned actors. They've had a lot of practice. Nowadays, the young generation of potential actors are not into theatre much, if at all, and there are not enough drama schools available. This results in a monumental lack of practice, which is essential in the making of an A-list actor.
Rafi: Tisha and Siam, both of you did not start from theatre, but have been established as top actors anyways. How did you have the practice?
Nusrat Imrose Tisha: My background might not be theatre, but it doesn't mean I didn't have ample practice. I started with Notun Kuri, where we had to do dancing, singing, acting and recitation, among others. So, I've been practising since childhood. If I'm being honest, I think that I was very lucky in the sense that I had an early start, working with senior and experienced actors and directors, who had taught me the ropes and made me the person I am today.
Siam Ahmed: It is true that I didn't have any institutionalised education in acting. I used to actually teach students before I realised that modelling gave me a far higher pay than teaching ever could. From modelling, I decided to switch to acting after auditioning in many roles; getting rejected far more times than being selected. Gradually, I learned about everything through actively working.
Rafi: If you don't mind me asking, do the actors ask for a very high pay?
Tauquir: Truth be told, the films we make don't really have an incredibly high budget. So, we actually pay the actors a lot less than they may deserve.
Tisha: When we're associated with a good project, the pay hardly matters. It's just the satisfaction of doing a good job in a film that I can be proud to watch and tell people that I acted in it.
Tauquir: When I used to work in real-estate, the pay was undoubtedly higher. But for films, I think that the end product matters much more than the remuneration. We have this yearning to make something timeless, to be watched by generations after generations and awed upon. That's maybe why, even with a relatively moderate pay, actors still work in certain films.
Rafi: Many directors pump out films one after another while others take a long time to make a single one. What are your thoughts on that?
Tauquir: I've learnt the art of directing through working in numerous plays, TV dramas and finally, films. My objective, as a Bangladeshi director, is to make our films appeal to the international audience. Furthermore, we don't really have much time in our hands as the world is ever-changing. So, if we take a long time to make a film, we might remain stagnant, while the rest of the world moves along without us. I'm not saying that no one should do that, but I personally feel like movies should be made in a short period of time to keep the essence of its relevance.
Rafi: What changed you throughout the journey from 'Joyjatra' to 'Fagun Hawa'?
Tauquir: I don't think I have changed, really. The more I work, the more I realise that I have to make myself better, along with the films I make. A film is the best example of a modern expression. It reflects the world we're in as it is, and I personally think that I'm quite far behind in portraying the world around us as accurately in films, as I could have.
Rafi: It is a common occurrence here, that a director may say that the audience don't understand the subtleties of a film. What do you have to say to that?
Tauquir: As directors, we want our films to reach out to the masses. We want them to be understood and appreciated. The purpose of a film is only completed when the audience watches it and discusses it. Cinema is as a source of entertainment for most people, not as the form of portraying something more, like we do. However, art is subjective, so it ultimately depends on the audience to comprehend it their way.
Rafi: Do you feel like the audience watching your films has expanded? Is it always necessary for a film to have a deeper message?
Tauquir: Most definitely. I see many youngsters, middle-aged people and even older ones coming to the cinema to watch our films. At the end of the day, it solely depends on the objective of the filmmaker. If the film is just made for profits, then there doesn't have to be a message. But if it is about our history or culture, or even an honest film about humanity, it should portray a message.
Siam: I would like to add that Fagun Hawa might seem like a quite serious film regarding '52, but there is plenty of mainstream entertainment values embedded. It has romance, family drama and of course, humour. The film was inspired by Tito Rahman's Bou Kotha Kou. The premise is quite simple, so that it can be enjoyed by anyone. They can be entertained, as well as leave with a deeper message.
Rafi: Siam and Tisha, do you think the audience of your previous films will find something different in this film?
Siam: I don't really see any reason not to. People have watched my previous films and enjoyed them and have faith in me to choose scripts wisely. This movie was made similarly, with even more care and attention and is directly related to our national identity. I feel like people will watch it. Furthermore, we're able to make the younger and older generations watch the same film with similar reactions, which is a huge achievement in itself. Tisha and Tauquir bhai have a large fan following and if I can contribute to even one percent of the audience, that's more than enough for me.
Tauquir: Our social media followers are requested to give this film a watch as they'll be able to see Tisha and Siam in a new light. They won't regret it as the film depicts a larger-than-life story with impeccable acting.
Rafi: Tisha, you've acted alongside many high-end co-stars. What makes you choose a film to play in?
Tisha: I choose films based on whether I perceive them as good or bad. I don't care about the genres. The co-actors also don't take a part in the decision-making process. I read the scripts and decide to take part. Regarding commercial films, I just want different types of genres in my portfolio. I want my audience to experience me in different roles, in different stories, in different modes of entertainment.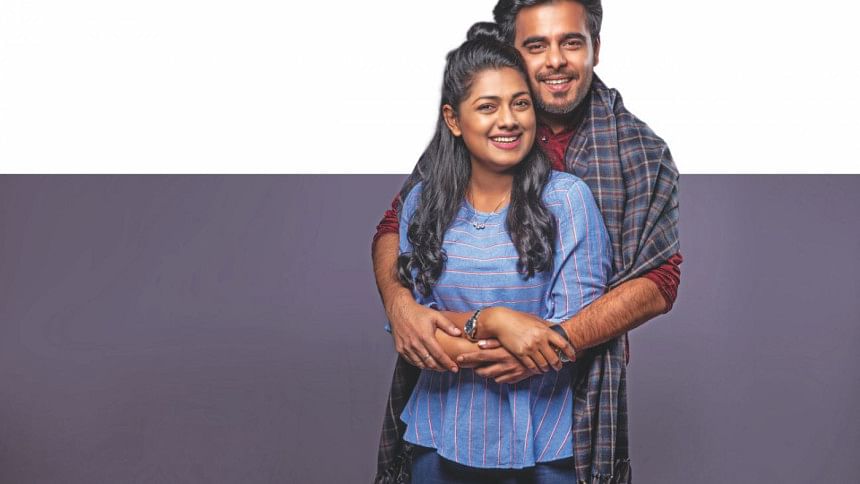 Rafi: You've had a long career. How did you manage to maintain the same zeal throughout the years and stay relevant?
Tisha: It's all because of my audience. I couldn't have done anything without them, if they weren't this loyal to me. I have also worked very hard for everything, while taking nothing for granted; to be able to give my audience my best.
Rafi:  Tauquir Bhai, Do you sometimes feel envious of the newcomers?
Tauquir: I can't say that I do. I have changed my ways as well as improved them, so there's nothing to be envious about. I see young actors and I feel proud of them. One day, they'll be in my shoes and do more than I could have. That doesn't make me crestfallen in the least.
Rafi: Now I must ask you, Tauquir bhai. What's the secret behind your eternal youth? (laughs)
Tauquir: I eat fruits in the morning which undoubtedly have formalin in them. Maybe that keeps my skin taut. (laughs) If I'm being honest, I think the fountain of youth lies within our smile. Happiness and smiles do a lot to a person's wellbeing.
Tisha: The secret to his youth is his undying energy. He worked so hard in the sets, while we were relaxing. Yet, he was the most active at the end of it. Another thing is his ability to not break down when things go south. A lot of disasters happened during shooting, but he kept carrying on.
Rafi: Tell us something about the shooting process of 'Fagun Hawa'.
Tisha: The most interesting thing about this film is the mis-en-scene, viewers don't have to see the plot to realise in which period of time the film is set.
Tauquir: We had to go far to find a city with the topography and naivety that a city during the 50's would possess. We renovated old structures to make them took authentic. Some people voluntarily helped us to make the set as real as possible.
Siam: Tauquir bhai invested a lot in this film. His effort to make this genuine is non-paralleled. We needed a car for the film; a Volkswagen 1954 model, but the owner didn't allow us to use it. So, Tauquir bhai actually bought the car from him. I haven't seen a director with such dedication before.
Rafi: I think that's all for today. We look forward to watching 'Fagun Hawa' in theatres on 15th February. I'm sure the film will be nothing less than perfect. Thank you everyone, for you time.
Transcribed by Amina Hossain