OF PRESENT AND FUTURE
Over the years, versatile artists Ashna Habib Bhabna and Animesh Aich thrived in their respected works. In this interview with Rafi Hossain, the duo talked about director's perspective and what they plan for their future.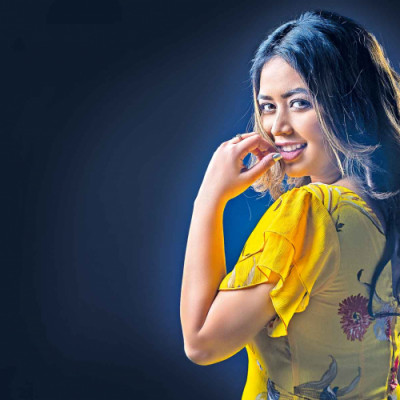 Rafi Hossain: Welcome to Uncensored with Rafi Hossain. Today, we have two guests with us: Animesh Aich and Ashna Habib Bhabna. Welcome, Animesh and Ashna. How have you both been doing throughout this pandemic?
Animesh Aich: Both Ashna and I are awaiting the release of our novels. 
Rafi Hossain: Why do many people assume that directors play favourites regarding their partners once they're romantically involved with an actor?
Animesh Aich: Everyone prefers working in their comfort zone, and Ashna is definitely in mine. But, it's not just her, I also enjoy working alongside many other individuals like Abul Hayat, Faruq Ahmed, Shahriar Shajib, Tamalika Kormokar, and so on. This is helpful to directors as we have a bond with the people we know and have worked with, especially if they understand our ideas. Of course, new people are added to the teams as well. Ashna and I have a very good artistic bond, but different characters need to be portrayed by different actors. For instance, if I want someone to play a forty-year-old woman, I will cast an actor like Bipasha Hayat who I'm comfortable working with.
Ashna Habib Bhabna: I believe I have to face a lot more criticism than Animesh in regards of this issue. Since he has been in the industry for a long time and is a respected director, people usually think twice before making these accusations against him. Since I'm new, they don't hesitate. I've even had people directly say that they can't cast me because I'm his girlfriend. However, I, myself, don't want to work alongside someone who views my identity as being someone's friend, daughter, or girlfriend. I would rather team up with someone who acknowledges my talents. I believe people judge more when a director is dating an artist because our society has normalised critiquing women harshly. Ghiasuddin Selim casts Chanchal Chowdhury in his works quite frequently, but that is rarely talked about. Same goes for Mehzabien, Nisho, and Apurba. Our industry has a preconceived image of young female actors where they expect them to be single and keep any relationship they may have hidden. This feels quite odd and old-fashioned to me, because my dating life has no ties to my professional one. I try my best to not pay attention to these comments since I have many interests outside of acting.
Rafi Hossain: Many directors have been quite reliant on web series recently. Have you been working on any, Animesh?
Animesh Aich: I did one web series back in 2019. I've also worked on a few short web films. But, projects have been moving slowly because of COVID. I appreciate that directors have been working on projects on different OTT platforms because I believe it's important to move forward alongside the media. However, I also think it's important to have a really unique idea before venturing into this field. Since these are international platforms, we have to create content that can compete with such standards. I don't want to work on anything hastily without thinking extensively about the idea, the budget, etc. 
Rafi Hossain: Most films that I watch nowadays are thrillers. Can you tell me why that is?
Animesh Aich: I would say that's a failure on our part. Our industry has a culture of replicating others' work. Since thriller, crime and such genres are quite popular on platforms like Netflix and Amazon Prime Video, directors here try to keep up with the trend and create similar movies as well. I believe this prevents the discovery of more possibilities. Rather than becoming fascinated by Western cultures and their films, we should try to highlight our traditions, indigenous cultures and so on. 
Rafi Hossain: Are there any Bangladeshi OTT platforms that have gained traction yet?
Animesh Aich: Not that I know of, but I am hopeful. We readily pay for international platforms, but are reluctant when it comes to national ones. This is because there isn't enough binge-worthy content available yet. Television channels also don't invest in such projects because they lack interesting ideas. We need to invest in research to figure out how to attract viewers. For instance, Duronto Television, which is targeted towards children, has made a name for itself quite quickly because they had a clear vision about what they wanted to do, and they executed it properly. On the other hand, most major channels have similar kinds of content. 
Ashna Habib Bhabna: I don't believe that we're getting detached from television anytime soon. In Bangladesh, there is a concept of family time related to television, and that is still going strong. My parents still watch talk shows together, if not television shows. I also see Animesh's mother watching Indian channels like Zee Bangla, which there is a big audience for as well. But, I do believe that over time, we will move towards OTT platforms. This is inevitable. But, I agree with Animesh that people are quite unwilling to pay for a national platform to watch movies and shows. I did a project with Binge, and I noticed that many of my followers were asking for a YouTube link. Because of the widespread use of internet, people have a tendency to consume content for free. A reason that I identify behind this is a lack of patriotism. Whenever there's a new hit film or series on Netflix, I see people discussing and critiquing it extensively on Facebook. There is always an excitement for international content, but not for our own. People don't even go to cinema halls as much anymore.
Rafi Hossain: What do you think about this, Animesh?
Animesh Aich: Once again, I will have to say that all we need is good content to change this behaviour amongst the audience. In the first decade of this century, we had many experimental works on television, which is an achievement that we shouldn't ignore or forget. If we can create good content, people will naturally gravitate to it. Moreover, our OTT platforms are very new, so we have yet to see how they will flourish. 
Rafi Hossain: Another trend that I notice is that many new and young directors promote their own work too extensively, which makes it lose credibility. Do you believe it's a good strategy?
Ashna Habib Bhabna: In my opinion, this actually benefits some people. I find it odd, but there are many Facebook groups related to Bangla shows where people share their projects and others discuss its potential and promote it. Moreover, we see that many videos get over a million likes only hours or days after their release. There are many ways this can be achieved, such as buying subscribers. However, I don't want to speak against it because although it's a sad reality, this has become the trend now. Anyone can get casted based on their social media following. 
Animesh Aich: I don't always share the news printed about me, but one instance I remember is when Prothom Alo made one about me. It was written by Zahid Reza Noor, and I shared it and thanked him in my caption. Later, he called me to say that there was no need to thank him because it was his duty. I really appreciated that, because oftentimes people get hurt when we don't share their work. 
Rafi Hossain: Animesh, you're a student of Charukala, and Bhabna, you're a self-taught artist. Did you pick this hobby up as a kid or after meeting Animesh?
Animesh Aich: Bhabna first started painting with makeup, after which I gave her watercolour and tools to paint during the lockdown. She has a knack for it, because she is already selling her paintings to many renowned artists. 
Ashna Habib Bhabna: I actually picked this hobby up during the first few months of the lockdown, when I was getting bored of watching movies and reading books constantly. I spend a lot of my time in my makeup room, even when I'm studying or taking classes. So, I painted something using my makeup without giving it much thought, and then I posted it on Facebook. However, I received a lot of appreciation on that post, which then encouraged me to continue. Afterwards, Animesh got me proper tools for painting, which was quite scary because I didn't have any knowledge of painting. He really helped me learn and grow, and guided me every step of the way. We always try to help each other with our work. For instance, his name is on my next novel, Golapi Jamin, as he helped me edit and improve it. However, I am tired of hearing that he does all my work for me. Animesh tells me to not pay attention to these comments, but sometimes they make me really sad. 
Rafi Hossain: What do you have to say about that, Animesh?
Animesh Aich: I would say that it's important to not pay heed to people's negative comments. I always tell Bhabna that because she is a celebrity now, people are going to criticise her actions constantly. It's important to remember who you are and your own accomplishments. 
Rafi Hossain: I think a reason that many people say that you do Bhabna's wok for her is because you both have similar interests. Would you agree with that?
Animesh Aich: That's definitely true. I believe it is natural to pick up positive aspects from the people around you. Bhabna has her own line of thinking, but I sometimes inspire her as well. We've known each other for many years now, and we discuss the arts together quite often. For instance, being a dancer herself, she understands dance very well. I had almost no knowledge of dancing before, but learning from her opened this new world to me. As long as we don't pick up any negative habit from each other, I would encourage this. 
Rafi Hossain: Bhabna, you posted a dance video during the lockdown which I really enjoyed. Do you want to tell us more about that?
Ashna Habib Bhabna: Even though I am not known for being a dancer, it's something I have pursued ever since I was a little child. My mother and I have a strong bond over this as she was the one who enrolled me. During the lockdown, I saw that many celebrities, even those who aren't dancers, posted videos of themselves dancing in their homes. So, I wanted to do something similar. While it received a lot of love, especially from my gurus, there were a few rude comments left. This is something I don't understand, if I dislike someone's work, I will either be honest about it or keep quiet, even if it's a colleague of mine. I would never shame someone for their endeavours, especially on a public platform. 
Rafi Hossain: I'm sure you both have to hear this question a lot, but are there any wedding plans coming up soon?
Ashna Habib Bhabna: Our families are already close to each other, and we all meet up during our birthdays and other events. We still haven't discussed a wedding in detail.
Rafi Hossain: I'm sure the audience has a lot of love and blessings for you both. Do you have any parting comment for the audience?
Ashna Habib Bhabna: I only want to say thank you to my followers because they are always kind to me. I would like to ask everyone to stay safe because COVID is still a danger to us. For my female followers, I would like to say that it's important to reflect on yourself and love yourself. For those living with your parents, I ask you to respect and cherish them.
Animesh Aich: I ask the audience to forgive me for discussing many grave topics today. I generally refuse to join lives like this because I believe I don't have much to preach. However, Rafi bhai is one of my most favourite people, which made this discussion enjoyable. Lastly, based on today's discussion, I would like the audience to remember that it is always important to operate social media safely. Stay well.
Rafi Hossain: Thank you once again for being with us today. Lots of love and blessings for you both.