Long-Distance PANDEMIC
Popular couple Rafiath Rashid Mithila and Srijit Mukherji recently sat down for a live interview with Rafi Hossain to share insights on their love and marriage amidst the pandemic. The artists talked about their quarantined long-distance relationship and how they are managing to maintain their wonderful married life.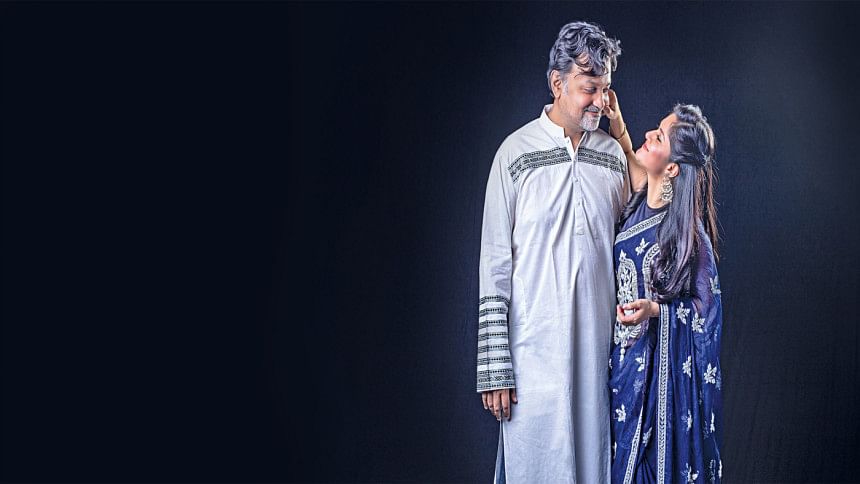 Rafi Hossain:Welcome to Uncensored with Rafi Hossain. Today we are here to have a conversation with two renowned names of both Bangladesh and West Bengal: Rafiath Rashid Mithila and Srijit Mukherji. Srijit, do you agree that Mithila is quite popular in West Bengal as well?
Srijit Mukherji: Yes, I completely agree with that. Mithila has gained popularity in both Bangladesh and West Bengal. Similarly, I have also received a lot of love and support from audiences in both the places.
Rafi Hossain: Due to this pandemic, you are both stuck in two different countries indefinitely. How are you dealing with the problems that come with this new situation?
Srijit Mukherji: I think there are both advantages and disadvantages of having to live far apart for so long. For instance, people often feel irritated when they have to spend a large amount of time together. Since we are currently living in two different countries, we have not been facing this issue. On the other hand, it is difficult to discuss and solve arguments and disagreements virtually, which is definitely proving to be a challenge.
Rafiath Rashid Mithila: I personally would have preferred spending this time with Srijit. Due to our busy schedules, we rarely get to spend such an extended amount of time together. This would be an opportunity to get to know each other even better, and enjoy the domestic life.
Rafi Hossain: There have been a lot more cases of domestic violence during this pandemic. Why do you think this is happening?
Rafiath Rashid Mithila: It has been statistically proven that cases of domestic violence and violence against women and children have globally increased during this pandemic. The victims are stuck with the perpetrators in the same house, and they do not have the option of leaving or seeking help. Additionally, people have been living in a small space together for an extended period of time, and the economic stress, fear of becoming unemployed, and uncertainty about the future is definitely adding to the frustration.
Rafi Hossain: What would you say to couples who are thinking of entering a long term relationship or marriage?
Rafiath Rashid Mithila: In my opinion, people get married to live and spend time together. So, I would advise against it, as long distance relationships are not very sustainable and should only be attempted if extremely necessary. For instance, in trying times such as this pandemic, it is completely understandable.
Srijit Mukherji: I believe that this matter is entirely subjective, and varies with every individual. Our experiences and views may not be applicable to other couples as their relationship dynamic can be completely different from ours.
Rafi Hossain: Do you believe that staying apart can help bring people together?
Rafiath Rashid Mithila: While I hope we can be together soon, technology is helping us stay connected, and so we can video call and talk to each other quite often. I also realise that this is not a situation anyone anticipated, and that everyone's experience is different. For instance, students, including my daughter, are adjusting to online classes. However, this is temporary, and hopefully we will soon get back to our normal routines.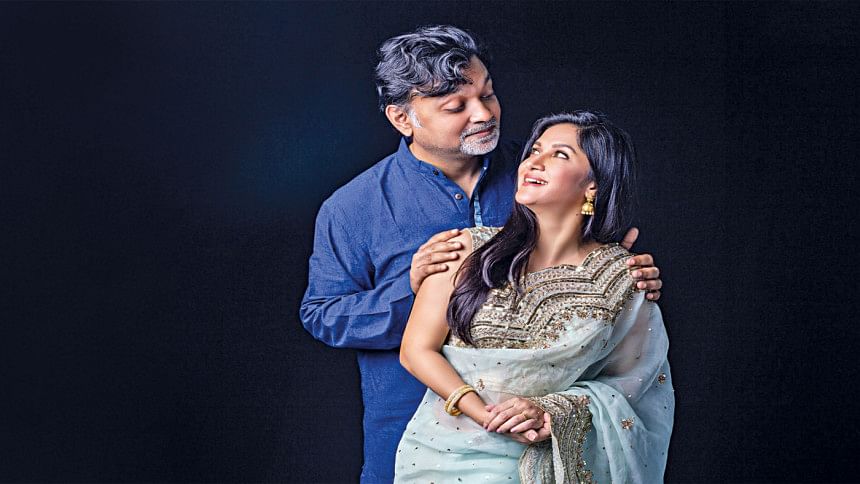 Rafi Hossain: How do you think this pandemic will affect the entertainment industry?
Rafiath Rashid Mithila: I believe that the industry is experiencing a change, but we're adapting to this new situation. Like many other artists, I, myself, worked on two short films during Eid-ul-Fitr. Everyone is finding new ways to channel their creativity and continue following their passion. Another positive effect that I've noticed is the hygiene practice, which is something I witnessed during my last shoot.
Srijit Mukherji: Recently, people have become more interested and accustomed to web series movies. But, I believe that there is a magic to the big screen in a movie theatre, and it is not something that will die down anytime soon. Under current circumstances, however, there may be a significant, but temporary, setback to the industry as people are refraining from going to public spaces.
Rafi Hossain: What changes do you think are likely to occur as the industry becomes more web-oriented?
Srijit Mukherji: I expect a lot of changes to take place. For instance, it is much easier to tell novel-based stories using series, as opposed to movies. The main reason behind this is the character development, which takes place as the series gradually progresses. I believe a lot of shows following such formats will be created. In the end, it all comes down to the type of story that a director is trying to tell. I, myself, have been working on projects for web platforms even before this pandemic, and have become accustomed to it. I only expect the volume of such works to increase soon. In terms of events, film festivals and concerts are shifting to online platforms temporarily in an attempt to adjust to the current circumstances.
Rafi Hossain: Do you think this heavily web-oriented format of movies and series will bring the audience in Bangladesh and West Bengal closer?
Rafiath Rashid Mithila: I worked on a COVID-19 related project for cine-technicians for the two Bengals. Since it was for charity, the format of the work was quite different. Recently, a lot of web-platforms from West Bengal are also working in Bangladesh. I, myself, worked on such a project, titled Ekattor, and Srijit will also be taking on one soon. I'm confident that this will bring the two Bengals closer.
Srijit Mukherji: It is difficult to find a story that audiences from both Bengals can relate to.One such movie was MonerManush. I tried to incorporate that into my film, Rajkahini. If I am approached with such a project, I would definitely be interested. I always look for chances to collaborate with Bangladeshi artists. Similarly, my fellow directors and even some actors are interested in working on projects that bring the two Bengals together.
Rafi Hossain: Srijit, as a director, do you face any trouble when you cast actors who are not from West Bengal?
Srijit Mukherji: I usually don't face many difficulties. The only issue is the intonation, which sometimes differs between the two Bengals. So, they are usually cast in roles which explain the difference in intonation. Moreover, most actors have learnt to adapt to it.
Rafi Hossain: Mithila, you have been married to Srijit for seven months now. Did your perception of him change, or is it still the same?
Rafiath Rashid Mithila: I am still getting to know Srijit. I discover new things about him and his work every day. It has been a very pleasant journey.
Rafi Hossain: What are your plans after this quarantine ends?
Srijit Mukherji: I would want everything to go back to normal. I'm looking forward to making films once again.
Rafiath Rashid Mithila: The first thing I will do is go back to Kolkata and visit my family there. I also want to go back to working on my PhD and resuming my field work and travelling.
Rafi Hossain: Lastly, do you have any message for the readers?
Srijit Mukherji: I would urge everyone to stay home and stay safe, and only go out when it is absolutely necessary.
Rafiath Rashid Mithila: Like Srijit mentioned, I hope everyone is following the guidelines and staying safe. We have a lot to learn from this pandemic: being more empathetic, patient, and also dealing with unpredictable situations. We should also enjoy this time with our family. I hope everyone can come out of this crisis as better people.
Rafi Hossain: Thank you for being with us today.