Breathe into the verse of life
Asaduzzaman Noor's career in the showbiz industry began when he joined 'Nagorik Natya Sampradaya' back in 1973. Since then, he has gone on to appear in several popular television dramas, theatre plays and cinemas. Not only has he excelled in acting, but he is also a talented poet known for his recitation skills, and he even took part in the general elections of Bangladesh multiple times, with the first being back in 2001. In 2014, he was made a Minister for the Ministry of Cultural Affairs. In this interview with Rafi Hossain, he talks about his recent poetry 'Let this black life breathe', what he hopes the world will be like after the pandemic and about his journey in acting.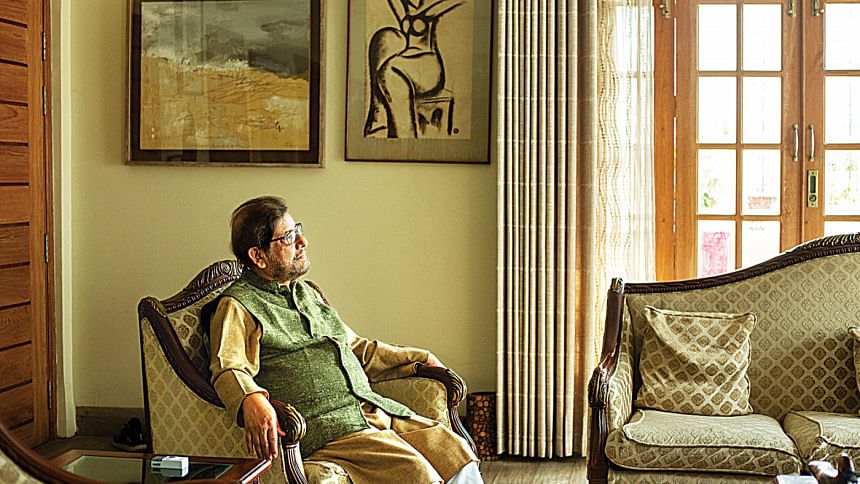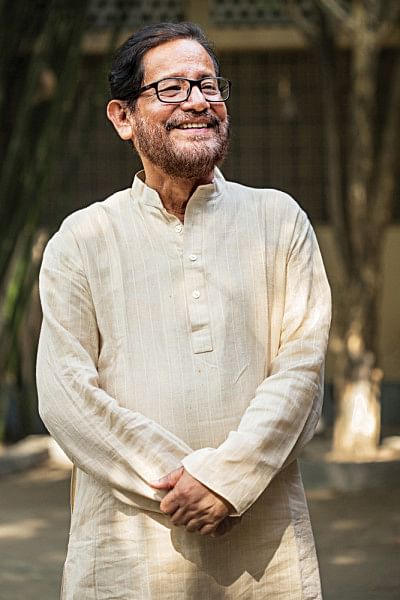 Rafi Hossain: Welcome to Uncensored with Rafi Hossain. Today, we are here with a very special guest, Asaduzzaman Noor. Noor bhai, tell us about your recent poetry based on the murder of George Floyd.
Asaduzzaman Noor: Truth be told, I don't get to write much poetry nowadays. I used to write mostly when I was in school and college, and some of the poems I wrote then were even published. Now, I'm very busy with other things, so I had to take a break from poetry. But, after the murder of George Floyd, like a lot of people, it affected me, and I decided to turn my feelings into words again and wrote a piece about it. I read it to my daughter and wife, and they both seemed to like it. So, I recorded it and uploaded it online, and it got a lot of positive feedback. A lot of people from both here and abroad called me to say that they really loved it. However, just because I wrote this piece doesn't automatically mean that I am a poet and I am going to be writing regularly.
Rafi Hossain: If there are more events in the future that really affect you, will you be writing poetry about those?
Asaduzzaman Noor: I once saw a picture of a child who was injured in an accident, and the child's family was running from one hospital to another searching for treatment. Unfortunately, that child did not survive. After reading about that story, I felt very sad, and I wrote a piece about that. However, I never published that piece. So, if an event occurs that makes me feel emotional, I will write about it.
Rafi Hossain: What made you start reciting poetry?
Asaduzzaman Noor: It started when I was in school. We had many competitions for reciting poetry, and I took part in them. My parents were both teachers, so even at home, I would recite poetry. When I used to read, my father would help me with my pronunciation, and that helped me. My father was also very adept at recitation.
Rafi Hossain: How did you start doing it professionally?
Asaduzzaman Noor: When I came to Dhaka in 1968, people were protesting the Pakistani government. It was around October, and most Awami League leaders were in jail or hiding. So, the students were protesting a lot. I was involved in the protests, and I think that I am very fortunate as I got to see history unfold in front of my eyes. Back then, I was involved in theatre, but mainly in an organisational role. The Motia Group had a cultural platform, and we used to organise a lot of plays there. Not many plays would be held back then, so we would bring in students, teachers and even office workers who would do plays and have them perform. Syed Hasan Imam would direct most of our projects. People like Golam Mostofa, Anwar Hossain, Abul Hayat, Lucky Enam and many other famous names were involved with us. Back then, I would do whatever job I was required to do. I would be the prompter, I would arrange tea for everyone, and sometimes I would do some small roles. That was my experience of theatre before the independence. In 1972, I was made a narrator for a musical directed by Abul Hasnat. I received a lot of praise for that, and that's how it started for me.
Rafi Hossain: After this pandemic is over, do you think that we will all be more humane?
Asaduzzaman Noor: I see that a lot of young people are standing beside others to help, and I think that they won't stop doing so after this pandemic is over. I also believe that now, we will see people be more empathetic towards others and help make things easier for other people.
Rafi Hossain: You have always had a very iconic beard. Tell me, what inspired you to grow a beard?
Asaduzzaman Noor: After the liberation of Bangladesh, I joined the Press Information Department as the press relation officer, but I also had to do translations. Back then, I used to live in Bakshibazar, and the office was in Dhanmondi. It took me a couple of hours to reach the office. So, I had to wake up at six in the morning and leave the house by seven. In one hour, I had to shave, get ready and make my breakfast. It was very difficult for me, so I decided to reduce one task and started to grow my beard. After that, everyone told me that the beard suited me, so I kept it. However, after I started acting, many people questioned how I can play different roles with this beard. To that, I always said that people from all walks of life in Bangladesh sport beards, so I don't see why it would be a problem for me to have a beard.
Rafi Hossain: How did your friendship with Humayun Ahmed start?
Asaduzzaman Noor: He appreciated my acting, and we bonded while doing dramas. While we were shooting a drama, I had to do a scene which would take only a couple of minutes, but it ended up taking a couple of hours, so I got frustrated and expressed how I felt about it. Humayun Ahmed got angry at my remarks, and he said if I wanted, I could just go. So, I just left. Then, around midnight, I heard the doorbell ring at my house, and I saw that Humayun Ahmed had come. He came with his crew and had a bouquet in his hand. We then shot the scene the following day.
Rafi Hossain: You excelled in both dramas and theatre; how come you didn't do many cinemas?
Asaduzzaman Noor: When I used to act regularly, we didn't get many opportunities to do films. But, when I got the opportunity, I did films like Aguner Poroshmoni, Chandrokotha and Hooliya, among a few others.
Rafi Hossain: Thank you for talking to us, Noor Bhai. It was great to talk to you and discuss these topics.