Catching up with the BPL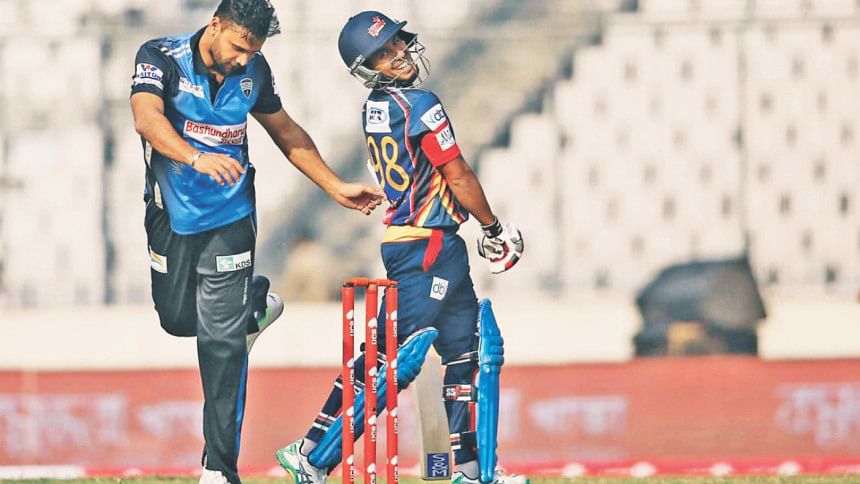 The country's biggest T20 league is taking place as we speak, but this time around it hasn't been garnering too much attention. That could be for any number of reasons, from the timing being changed because of the general elections to the lack of headline-grabbing games (at least when this was being written). Despite this, there has been a lot to appreciate so far in the tournament, which I'm going to fill you in on.
NO MOUNTAINS, ONLY MOLEHILLS
A big change this year is how low the totals have been on average. This is a result of the unpredictable Mirpur pitch combined with some very skilful bowling. Only a few of the matches so far have led to led to totals close to 200, so you'll be disappointed if you turn on the TV expecting to see mountains of runs being piled on. The lack of runs, however, doesn't mean that the games have been uneventful. Some of these low totals have resulted in very close matches, often being decided in the last over. The unpredictable pitch bridges the gap between batsmen and bowlers, leading to encounters that are closely fought. Even in the opening match the Rangpur Riders almost defended 98 runs.
Because of this, the going has been tougher for batsmen. Only 11 fifties have been scored so far, with the highest being Rilee Rossouw's 83, but that just makes each of those knocks more impressive. The boundaries are long and the bowling is good, so when you see a batsman smashing it out of the park you can properly appreciate the sweetness of the hitting. Speaking of big hitting, there are some seriously skilled batsmen on display this year. From old favourites like Chris Gayle and Shahid Afridi to newer ones like Rilee Rossouw and David Warner, there are a lot of great batsmen worth looking forward to.
UNPREDICTABLILITY
Cricket is an unpredictable game, and T20's even more so. No one can predict what will happen when these teams take to the field, which is why on the same day you could see one team get bowled out below 100 in the afternoon and another score 180 in the evening. In addition there have been some unbelievable bowling performances out of the blue, like when Taskin Ahmed got three wickets in an over. Not to mention how Aliss Islam dropped a couple of easy catches on BPL debut only to redeem himself by picking up a hat-trick. To top it all off, there's even been a super over. Definitely not things you see every day.
SEATS GALORE
For some reason or the other, not too many people have been going to the stadium to watch the matches. Because of this, you can be sure of finding a seat for any game of the tournament. If you're ever at a loss for things to do, grab some of your friends and head over to the game. Tickets can be bought right next door at the Suhrawardi Indoor Stadium, so you don't need to travel far and wide to get your hands on them. With the weather still being a little chilly, you can enjoy a day out with friends all while experiencing the best domestic cricket the country has to offer.
The BPL runs till February 8th, so there's still plenty of time to get your favourite franchise's jersey and celebrate some good cricket. Who knows, you could even be seeing some future national heroes in action.
Wasique Hasan remembers the green green grass of home, but home is 12000 km away. Pay your respects at: fb.com/hasique.wasan