Calligraphers on Instagram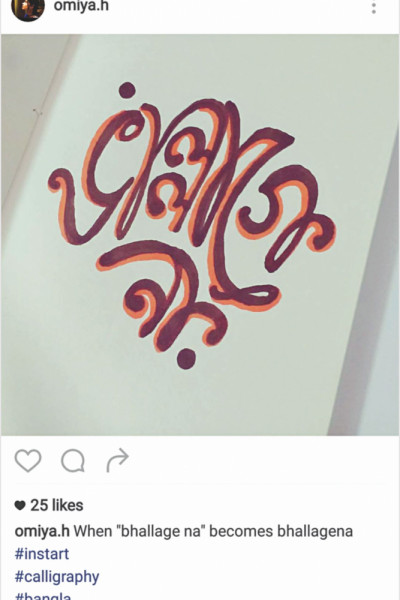 Given Instagram's very user-friendly interface, the app has recently become a widely used platform for artists of all sorts to exhibit their work. Artists can use the app as their portfolio and get exposure in front of a global audience. One form of art that has gained a lot of popularity over the last few years is calligraphy. From ancient letters that look best on aged paper to the most modern ones, this art is one to fall in love with. Here's a list of calligraphers whose feeds are worth drooling over:
SEB LESTER @seblester

It would be an understatement to say how satisfying it is to watch artist Seb Lester's videos. Most of his works depict well known pop culture references. Thus, when the nib of his pen moves up and down to letter the ever-so familiar words and logos so beautifully on paper, it is almost impossible to not fall in love with his work. One of my favourite videos from this page is when Seb letters "The Who" font at one go and makes it look extremely effortless, a quality most calligraphers struggle to master.
OMIYA @omiya.h

I have been following Omiya for a while now and although hers is a relatively more recent page, I found her work to be really cool because the words are in Bangla and very close to our hearts. She uses sharpies to write peoples' names and other relatable terms like Bhallagena in fabulous colours and beautiful Bangla letters. I really look forward to watching her grow as a calligrapher and I'm sure you would too.
FAUST @faustnewyork

FAUST has taken calligraphy to a whole new level. Merging the art of letters with graffiti, Faust has made walls of New York look more than just bricks and cement. He has a very unique style of both lettering and taking photographs of them. I couldn't look away from his recent work made on the walls of Urban Nation museum in Berlin. Golden letters painted on a pitch black façade - the rest is for you to figure out.
HUMAIRAH SHAMS @thelefthandedwildflower

Humairah is another local artist whose extraordinary penmanship is something to marvel at. Her letters range from very basic fonts to ones that are quite unique and modern. I love the doodles and paintings that make her words look more exceptional. The details she puts on each of her work, whether it's a French quote written in ink or a greeting, is incredible and definitely one to watch. My favourite piece on this page is a Robert Frost quote she lettered on top of a galaxy painting. The fact that she is a DIY enthusiast and so great at making handmade cards makes her page more likeable.
CALLIGRASCAPE @calligrascape

The first time I stumbled upon this page was during my first days of becoming a calligraphy enthusiast and I couldn't be happier to have found it. The idea of this blog is to share photographs of calligraphy artworks taken in front of important landscapes and backgrounds. Artists from all around the world stand in front of interesting backgrounds with their work and use the #calligrascape to notify this page. "A combination of the written art of calligraphy with less Photoshop and more exploring" is how they define what they do. By now, they have posts from around 42 countries. So if you're a travel enthusiast and a lover of the art of letters, this is one page you must follow.
Also check out @alyletters, @idolkockata, @calligraphique, @studiomaco, @lindayoshida, @lhcalligraphy and @the_md_writes if you're looking for some more brilliant calligraphers to follow on Instagram.
Mashiat Lamisa is often seen frowning at the sight of people who dislike poetry and tomatoes. She can be reached at mashiatlamisa@outlook.com