What kind of representation awaits us in Bridgerton Season 2?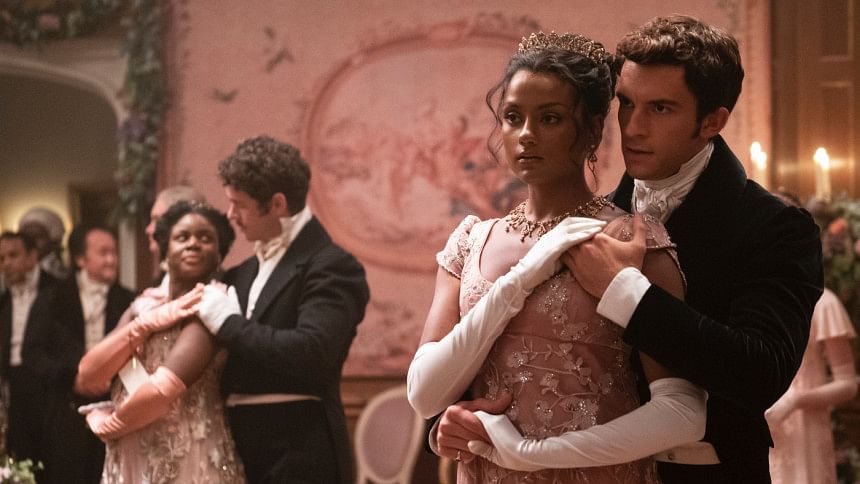 It was in the middle of the pandemic when Bridgeton's first season hit our screens, barrelling the entire world into a frenzy over a surprisingly articulate romantic period drama. However, where Bridgerton captured the essence of the Regency era romance with its pastel themes and elegant gowns, it also subverted expectations by employing a non-traditional casting practice.
It introduced Regé-Jean Page as the Duke of Hastings, a person of colour, as one of the main leads, not to mention the introduction of Queen Charlotte and Marina Thompson as significant foils to Bridgerton's otherwise all-white cast. People believed in the idea that Bridgerton, despite its abundance of tropes and themes befitting a historical drama, is also willing to explore race among its many themes.
In this upcoming season, Bridgerton will dig its storytelling claws into an Indian family, the Sharmas. It is notable how Kate Sheffield, from The Viscount Who Loved Me, the book the upcoming Bridgerton season is based on, became Kate Sharma for the adaptation.
Kate, played by Simone Ashley, is a twenty-something new debutante in the society where Jonathan Bailey's Viscount is incidentally looking for a wife. This in itself is revolutionary considering how historical dramas portray one-toned characters and furiously romanticise the misgivings of the Victorian era without the imagination required to think outside-the-box. So, the inclusion of the Sharma family itself is a win for Bridgerton, considering the absence of South Asian representation on this side of historical adaptations.
However, it should be acknowledged that Bridgerton's previous track record with representation politics have rarely been as nuanced as they get credit for. The earlier season aimed to represent a colorblind utopia, but didn't quite manage to convey it on screen. Their revolutionary introduction of characters remained at that, a mere introduction that was devoid of any depth and empathy to the characters.
Despite the fact that the counterparts of Marina Thompson and the Duke are being replaced with the Sharma family, it is uncertain whether these new characters will be treated with more dignity than what was given to the Duke and Marina.
After all, it isn't enough to just introduce a few history-defying characters, if they aren't given the necessary dignity to their respective struggles. It needs to be understood that representation can never be successful without adhering to its many storytelling responsibilities.
So, would Kate be an all-encompassing character with a rich culture and heritage of her own, or would her heritage be consequently dismissed with a few identifying remarks and poor covers of Bollywood music?
It remains to be seen.
Find Raya at fb.com/raya.mehnaz