The verdict is in, Ronaldo's homecoming has gone all wrong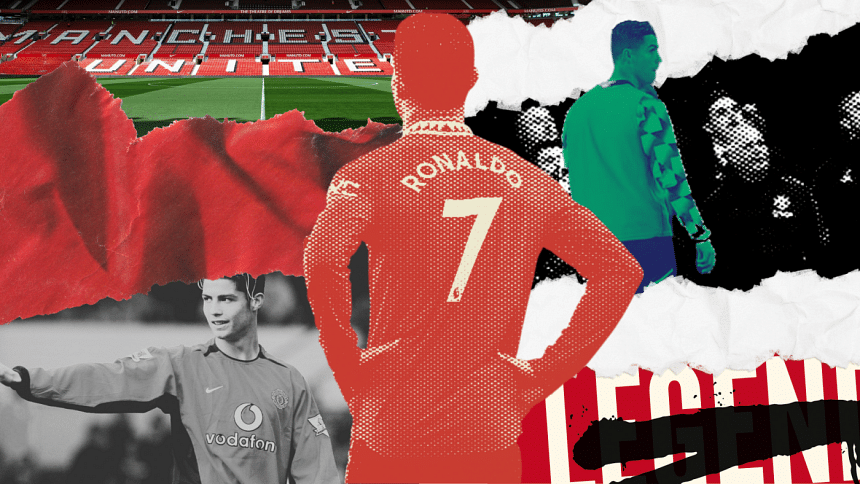 In a transfer move that shook the world of football, Cristiano Ronaldo signed for Manchester United last year. Since then, things have taken a turn for the worse. What was destined to be a happy reunion has turned into a bitter experience for all parties involved. 
In the final weeks of the 2021 summer transfer window, news started circulating that United's former golden boy was on the verge of joining their crosstown rival – Manchester City. In an incredible turn of events, Manchester United swooped in at the last minute to secure Ronaldo's signature. The homecoming of Cristiano that many had dreamt of was now a reality.
While many celebrated Ronaldo's return, few questioned whether or not it was a good idea to sign a 36-year-old forward, especially for a squad that was in desperate need of reinforcements in other positions. However, you can't go wrong by signing one of the greatest players of all time, can you? 
Ronaldo had his reasons to join United. At the ripe age of 37 years old, the serial winner wanted to achieve more. After spearheading a struggling Juventus side for three seasons, Ronaldo thought it was time to move on, forcing a move for himself to his launchpad club. Nonetheless, United had their own set of problems. In a bid to compete with other clubs, they needed to strengthen their squad, particularly in midfield. In that window, they signed the likes of Sancho, Varane, and Ronaldo but failed in their pursuit to recruit a midfielder.  
Despite a scintillating start, their performance started to deteriorate with each game week. United started losing crucial games and began to descend down the table. Ole Gunnar Solskjær was under great scrutiny and eventually axed from the managerial position. To replace him and steady the ship, the Red Devils brought in Ralf Rangnick as interim manager. 
The ship, however, would not steady. Things went from bad to worse as United were knocked out of the Champions League and finished sixth in the Premier League. For a player of Ronaldo's calibre, a nightmare was unfolding at the Theatre of Dreams. 
Rumours started to emerge that Ronaldo desperately wanted to leave the club in favour of Champions League football and even missed the entirety of the pre-season, attributing his absence to family problems. To what extent this illustrates the reality of the situation might be up for debate but it certainly did not bode well with the United faithful.  
With Erik ten Hag now at the helm, it seems like United are slowly beginning to pick up the pace. Unfortunately, the same can't be said about Ronaldo, who is now in poor form and is being benched in games ahead of the World Cup. He has not made an effort to veil his frustrations. The final nail in the coffin followed when he walked off the field before the final whistle in United's game against Tottenham. Reports suggest he might have even refused to be subbed on. In response, ten Hag dropped him from the team for their next game, made him train away from the first team by himself and even fined him 2 weeks of his salary.
In recent years, United have already had a lot on their plate including failure to win any major trophy, underperforming players, and fan protests against owners. The drama around Ronaldo has been an additional burden. It could be argued that the whole mess is a result of a clash of interests from different sides. United needed to sort out problems of their own while Ronaldo had his own ambitions. There is nothing wrong with having a "winning mentality" but if it is projected at the expense of the harmony and progress of the team, then questions should be asked.
It would have probably been best if Ronaldo parted ways with Manchester United this season. As of now, he has to accept reality and act accordingly, if he does not want to hurt his legacy anymore.
Tamjidul Hoque loves talking about Football and watching Anime. You can contact him at [email protected]