SHOUT x UNDP Youth Co:Lab
Start-ups that are transforming the future of education
Education. Many would agree that education is the backbone of a prospering nation. For a developing country like Bangladesh, education – for a long time – was more of a challenge than a success story. Almost 50 years since its independence, we have come a long way. And our education sector is enriching itself even more now, thanks to brilliant ideas and entrepreneurs.
There may be different methods in delivering and receiving education. However, what cannot be argued with is the fact that it is a basic human right, and it does not discriminate. Two start-ups, Study Buddy and Mymensingh Welfare School, work to provide education to those who need it the most, and in a very special way.
"Growing up with a sister having multiple learning disabilities, I wanted to come up with a solution for differently-abled children. My sister couldn't cope in mainstream schools lacking proper governance and resources. When she passed away, I felt the urge to do something for children with special needs immediately. In a few months, with funds and support from many opportunities, I founded an edtech social venture to provide an alternative learning platform to children with learning disabilities and their parents," introduces Sheikh Inzamamuzzaman, founder and CEO of Study Buddy.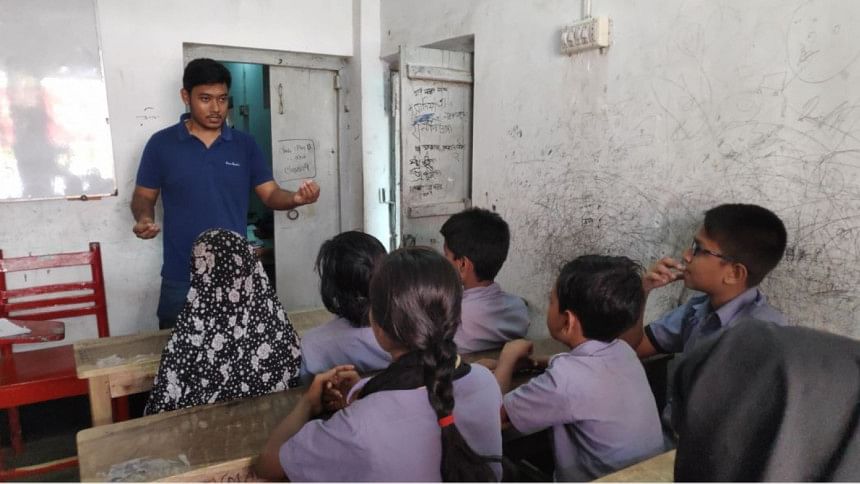 Study Buddy aims to ensure equitable quality education and promotion of life-long learning opportunities for children with learning disabilities. But it is more than just that. The start-up targets to improve entire communities, especially parents and educators, to help and empower kids with learning disabilities. It proposes development of multiple intelligence among children.
Similarly, in 2017, Manas Kanti Saha and Urmi Saha established Mymensingh Welfare School, or MWS.
MWS has a simple approach. Through education, therapy and intervention, it aims to ensure inclusion of children with special needs.
"In Bangladesh, people with disabilities have insufficient opportunities to be included in mainstream education, economy and society. They don't receive early intervention and proper planning to combat against their disabilities. Their potentialities and hidden skills are not being discovered by institutions or any experts. That's why near about one tenth of the total population are at risk of economic exclusion," explains Urmi Saha, Coordinator, MWS. Here, experts have been trying their best to find out the nature of disabilities to offer early intervention, positive parenting and strategic way of individualised education, to discover potentialities and to train children for economic and social inclusion.
Regardless, there are challenges in trying to serve for the good.
Inzamam mentions difficulties and technical issues. Especially during the pandemic, many students are not provided with the technology that online courses require, and thus fail to catch up with their classes. A change in the environment -- from traditional classroom and face-to-face training to computer-based, virtual training – affected the learning experience.
On the other hand, MWS is located away from the capital. There, lack of awareness about their cause and their goal to establish a non-profitable platform turned people away. Lack of skilled and empathetic manpower was also a big challenge. "But we never lost hope. We tried and tried to motivate the parents of the learners of Mymensingh Welfare School," Urmi says.
UNDP Bangladesh organised knowledge sessions on design thinking, marketing strategies for social enterprises, and storytelling for start-ups, in partnership with other stakeholders. Inzamam and Urmi agree that it helped them find the right strategy from the get-go.
Both Study Buddy and MWS dream of proper institutional facilities in the future, so that they can serve more children with disabilities. And in hindsight, a nation can also become disabled if it does not go with the times. That is where ANTT Robotics come in.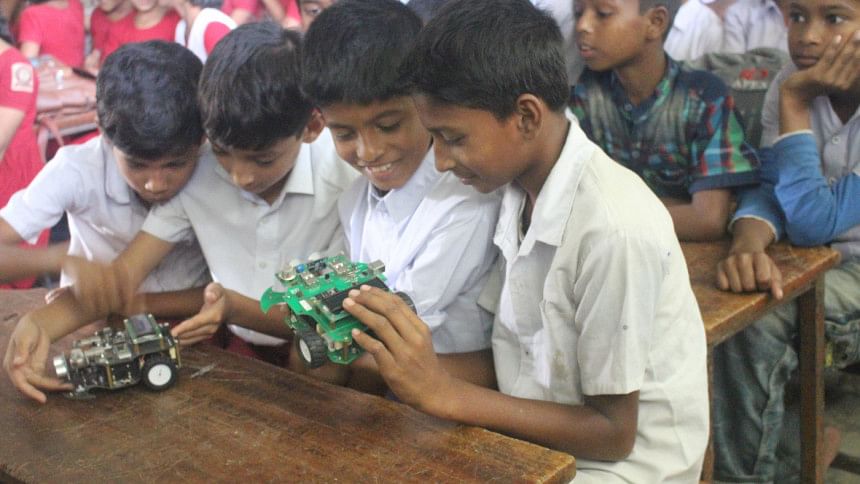 ANTT Robotics is a start-up geared towards STEM learning as part of education. It aims is to enlighten the present generation with knowledge of programming and robotics to prepare them for the 4th Industrial Revolution.
Founder and VP, Innovation Thajid Ibna Rouf Uday shares, "The education system in Bangladesh has been maintaining the conservative approach for a long time, what was missing was the evolution of the education system according to the developing world. And we wanted to address that problem."
ANTT Robotics aims to mobilise their services in the shortest possible time. However, according to them, the social stigma and perception towards science and technology, and inaccessibility of technology in rural areas, has been factors that result in slow progress.
UNDP Bangladesh and Youth Co:Lab, the largest youth social entrepreneurship movement in Asia and the Pacific co-created by UNDP and Citi Foundation, play an integral part in the growth of these start-ups, which include bootcamps and knowledge sessions, and more.
One such start-up that emerged from the support of UNDP Bangladesh and Youth Co:Lab is Peace Maker Studio. It was launched from the grant by the Digital Khichuri Challenge idea competition in December 2018, and since has been working to produce affordable, visual content for companies.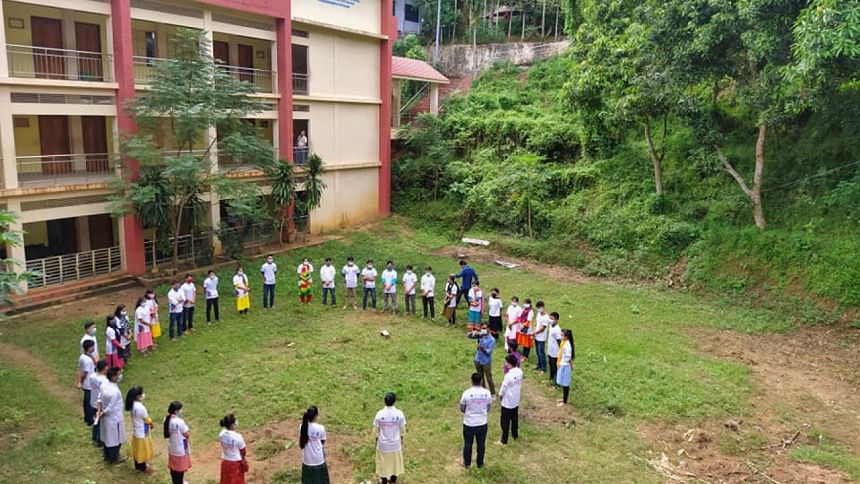 However, they are not just any video on multimedia content. "Part of the profit from our work goes into making empathetic content and programs of inclusivity for the social media and conflict-affected peoples by focusing on SDG 16. We want to contribute to making a peaceful, tolerant and inclusive society through our social business start-up by 2030," explains Niamat Ullah Al Galib, Chief Legal and Business Development Officer of Peace Maker Studio.
With the aid of UNDP Bangladesh, the start-up developed from a nascent stage to gaining mentorship, learning about business models, marketing and financial strategies and measuring impact. It also led to international opportunities, namely the Youth Co:Lab Regional Springboard Programme in Thailand, Startup Impact Summit in Hong Kong, and the Geneva Peace Week.
Niamat mentions making an inclusive education system for all, regardless of their religion, sex, gender, or caste, making the education institutions safe and secure from any kind of harassment and growing empathy and tolerance are some of the challenges for the start-up. Along with creating video and social media content, by 2025, Peace Maker Studio aims to train 1000 community organisers from rural areas to promote peace.
Kazi Akib Bin Asad is the editor in-charge of SHOUT. Write to him at [email protected]