Expectations at an all-time low for Bangladesh in Asia Cup… unless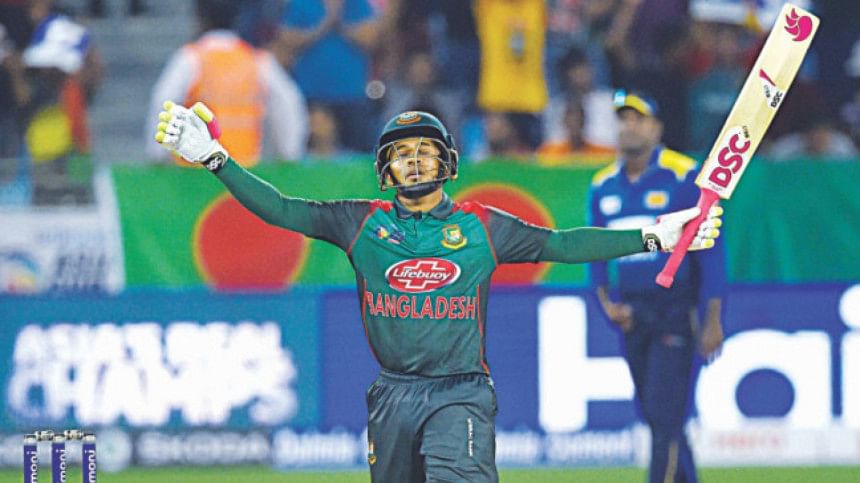 With the Asia Cup underway, the cricket-craze has well and truly spread among our vast fanbase. As far as the Bangladesh National Team is concerned, it's proving to be one of the most intensely hyped Asia Cups for a long time – hyped about how poorly we might perform.
Ever since the historic series wins against Australia and New Zealand in the notorious Mirpur pitches, our T20I form has nosedived steeply. Playing in the tailored, spin-friendly tracks showed a lack of vision from our management, where they prioritized ultimately meaningless results over long-term benefits on the world stage.
The impacts have been blunt. Our batters, never known for their power-hitting, practically forgot how to bat in the shortest format. In an era where 180 is only a decent T20I score, our stats are damning – getting past 150 is now an anomaly for us rather than the norm. The bowlers, who were virtually unplayable last August-September, have been left brutally exposed in the fast, flat and more balanced pitches elsewhere, exposing their lack of adaptability to overcome unfamiliar conditions.
As results plummeted, toxicity infected our cricket. Fans have become increasingly disillusioned and demoralised. Add to that injuries to the talismanic duo of Litton Das and Nurul Hasan Shohan, expectations have hit rock-bottom as the Tigers prepare for their opener against Afghanistan. While the fears are valid, everything isn't quite the doom-and-gloom story as we expect it to be.
Replacing the pragmatic Russel Domingo, albeit temporarily, might just be the boost our T20I side needs. His replacement, Sridharan Sriram, largely unknown among our cricket-circles, isn't to be taken lightly. He comes with a vast wealth of experience, having worked as a spin consultant during Australia's tour of Bangladesh. The emergence of Marnus Labuschange and the revivals of Nathan Lyon and Glenn Maxwell are largely down to the technical mentorship Sriram gave during his time in Australia. His ability to revive underperforming players bodes well – we can make use of more than a fair share of his expertise.
His reliance on data analytics excites me the most. Sriram researches his opponents, getting a full grind of their strengths and weaknesses relying on both analytical and visual data. His work with Mike Hesson at Royal Challengers Bangalore speaks volumes – transforming an expensive but dysfunctional unit into one of the most consistent teams last IPL. To top things off, his vast personal knowledge about the sub-continental teams and the conditions will be instrumental to our efforts. 
Coming into a Bangladesh team going through an existential crisis, a progressive coach like Sriram can motivate the players. The onus is especially on the new and recalled players, who come in with a lot to prove. Mehidy Hasan Miraz has been a big miss in both our spin attack and lower order batting. His comeback provides a much-needed boost for the team. Same applies for Mohammad Saifuddin, coming back after long battles with injury. For a team which desperately lacks a pace-bowling all-rounder, Saifuddin can be our trump card in the fast, flat and often dry pitches in UAE, provided he remains fit.  
Another one to look out for is Anamul Haque Bijoy. Anonymous for the better part of the last seven years, he has already shown his capabilities in the ODIs since his comeback. Slowly, but surely, that spark is becoming evident in T20Is too. In fact, his performance in Zimbabwe is one of the few positives from that series defeat.
As far as improbable comebacks go, Mohammad Naim and Shabbir Rahman (yes, he still plays cricket) have to be high on the list. They haven't exactly set the world alight during their time out; even becoming fodder for internet trolls for either their strike rates (Naim) or off-field misdemeanours (Shabbir).
Make no mistake though, they are two of the most promising talents we have in our batting department. Shabbir has already shown his worth – for a time, he was our best batter and our best performer last time Asia Cup was held as T20Is. Naim, victim of merciless trolls online, is a natural talent in need of confidence. What he needs is consistency. Knocks like his 48-ball 81 against India in 2019 need to become the norm.
For a melodramatic team like ours, drama regarding the captaincy has become a staple. After the debacle of the Mahmudullah-era, we now have a certain Shakib Al Hasan on the wheel, after even more theatrics. Away from his off-field issues though, his work ethic and unfailingly brilliant performances speak volumes about his mentality and talent. A global superstar's leadership is exactly the thing our soulless team needs right now – a beacon to guide them out of the cesspit of irrelevance.
Shakib's charisma might just be the trigger we need to reignite our underperforming players. His aura will be massive, especially for youngsters. Having someone of Shakib's calibre to look upto, they will have the fire burning in them to impress not only the great man, but the nation itself. A sense of competition could bring the best out of all the players.
To succeed in this Asia Cup, we don't need to revolutionise cricket. All we need to do is get the basics right. Our players are capable of performing a lot better than we have seen over the past year. There have been obvious glimpses of their true potential in that time too – the fighting spirit in the first T20I against Zimbabwe and the steamrolling of Afghanistan back in March are clear indications. To top that, the UAE pitches, judging from trends over the past year, offer more to bowlers early on. Hence, making the correct decision after winning the toss is crucial.
Coming up against some of the world's top teams, especially in Super 4 (pending group stages) the odds are firmly stacked against the Tigers. But the Asia Cup has been a happy hunting ground for Bangladesh – it's as if the stage is always set for Bangladesh to prove everyone wrong and pen cricketing folklore. The memory of my 6-year-old self watching Mushfiqur Rahim crying inconsolably as a teary Shakib looked on after the 2012 Asia Cup Final is a wound which still stings me. With this being potentially the last Asia Cup for them, the onus is on the team to make this send-off a memorable one.
References:
1. ESPNCrininfo. August 2022. Methodical and professional, Sriram is ready to 'challenge the norms' with Bangladesh.
2. Cricmetric. Bangladesh Team Statistics.  
Inqiad is a long-suffering Manchester United fan and a self-proclaimed Targaryen. Contact him at [email protected]