27 Years of Jeff Buckley's Amazing "Grace"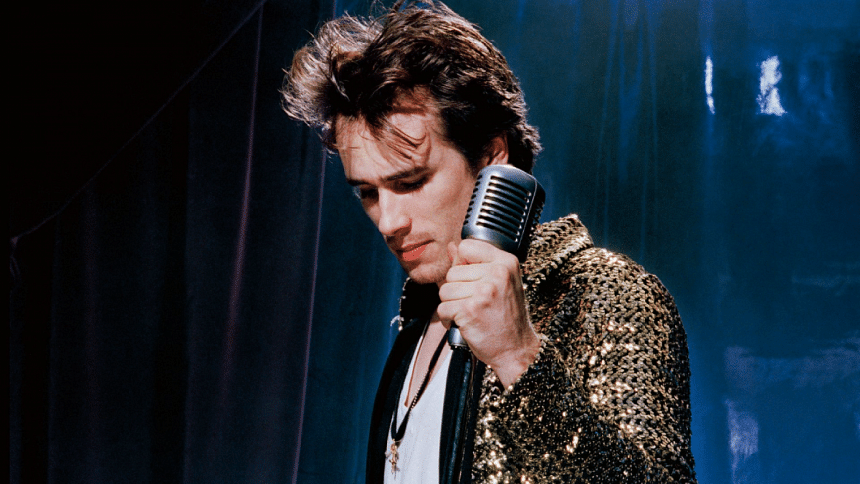 On this day in 1994, a then little-known singer-songwriter based in New York would release his first and only studio album in his lifetime. Back then, Jeff Buckley was 27 years old. This year, his resplendent debut, Grace, turns 27 as well.
1994 was the peak of the grunge era when mainstream rock was abrasive, and the voices raspier and deeper. Think Cobain, Cornell, and Vedder. Soft, high-pitched male voices and melodic alt-rock were starting to go out of fashion. Yet, Buckley's ethereal vocals inspired the likes of Thom Yorke and Chris Martin to embrace their upper registers. 
Unfortunately, Buckley wouldn't live to see the impact Grace would leave on future generations of artists, having to contend himself with lukewarm sales and mixed reviews.
In the years after Buckley's untimely death, Grace would rank higher and higher in greatest album polls, although not as high as I'd like it to be. His heartbreaking cover of Leonard Cohen's "Hallelujah" would bring him wider posthumous fame. Sometime around Grace's 25th anniversary, I would fall in love with it, a love that has yet to reach its limits.
My introduction to Jeff Buckley, like many others, was the aforementioned cover of "Hallelujah". Then, sometime in my late teens, I started venturing out of just that one song everyone knows, an overrated song by an underrated singer. By the time longtime devotees were celebrating Grace's silver jubilee, I was a convert. I understood why David Bowie would choose to take this record on a desert island. Because I would, too.
On the surface, the songs of Grace heavily explore love like most music in all of history. It has one of the most beautiful ballads I've ever heard, "Lover, You Should've Come Over." But something in Jeff Buckley's otherworldly voice and moving lyrics is more transcendental than love, which is difficult to put into words. Brad Pitt agrees, too. "There's an undercurrent to (Buckley's) music, there's something you can't pinpoint." You have to listen to the haunting "Dream Brother," the angelic "Corpus Christi Carol," or the hypnotic "Lilac Wine" to understand what I mean. The latter two are covers, which goes to show how he could make any song his own with his unique musical talent. Brace yourselves, though, for you might get overwhelmed by the beauty of it all.
As heart-wrenching as Grace can be, it has proven to be cathartic on many a sleepless, depressed night as I listened to the album on repeat. It kept me company like an old, trusted friend, weathering me through internal storms. In many instances, the title track itself would act as a soothing salve on my soul, even though the scream at the end takes my breath away every time. "Grace," I believe, is Buckley's best song because it encapsulates the pinnacle of his artistry. In every other song, his heavenly voice is the shining star, able to pierce through whatever is ailing your heart and embrace you in a warm cocoon, even in the grungy, politically charged "Eternal Life." That's among the many reasons Grace is my favourite album.
And so, at the beginning of the pandemic, when I was yet to get used to lockdowns, I found myself returning to old favourites, things to ground me in these strange times. Once again, Grace came to the rescue. I found myself falling in love again, perhaps even deeper this time. I went down the Jeff Buckley rabbit hole, listening to live shows and other official posthumous releases. I marvelled at how his voice moulded to cover his musical influences, from Led Zeppelin to Henry Purcell to Nusrat Fateh Ali Khan to Édith Piaf. Yes, he could even sing opera and qawwali. All of this made me mourn the unrealised music Buckley could have gifted the world had he lived to this day.  
"Grace is what matters, in anything," he said once. "It keeps you from reaching for the gun too quickly. It keeps you from destroying things too foolishly. It sort of keeps you alive; and it keeps you open for more understanding." There is no better description for Grace and what it means to me. It has provided me with graceful respite during difficult times. I know I can fall back on it whenever I need comfort, whether it is to nurse future heartbreaks, or just whenever life and the world get too overwhelming. And for that, I'll be eternally grateful to Jeff Buckley.
Adhora Ahmed listens to too many "sad white boy" songs, including this album, of course. Recommend her better music at [email protected]