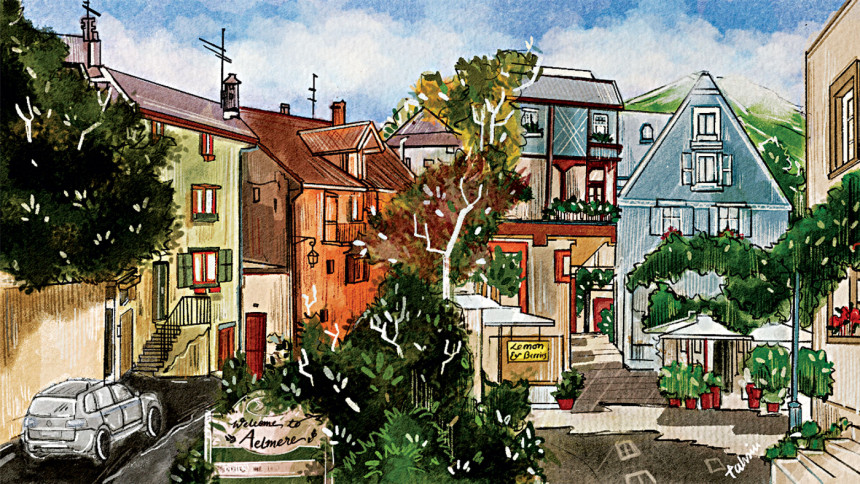 There was a letter from Yana's grandmother on her nightstand. Which was weird, because just ten minutes ago, she and her parents stood on their porch as her grandmother drove away. Why would she leave a letter? Picking it up, Yana turned it over to see her name scribbled on top. Inside, with neat handwriting:
Dear Yana,
Moving into a town as small as this – I was called preposterous, amongst other things.
You see, I regret doing a lot of things in my life. Looking back, I see things I should have done, things I should have avoided, things I could have stopped from happening. But I never regretted coming to Aelmere.
There's a scarlet journal I have in my bookshelf. It is a decades old diary left to me by my mother. I didn't pick it up for a long time after she left. But when I did, I found unspoken wishes yet to be fulfilled. I saw the whisper of a place where she had once wandered to. A place my mother visited once in her lifetime; never found her way back there again. Yet, a place she remembered forever.
I wanted to see her city of dreams. So I packed and left – I felt bad when I did. But more than that, I was excited to embark on a new journey.
I could've told you this while I was visiting you guys, I know! But I am leaving you this because you remind me so much of myself. You understand.
I hear you. When you feel lost, you know where to come.
Yours Forever,
Dadu
If someone asked Yana if she was crazy enough to pack up and go someplace over a heartfelt letter, she would say no – but that wouldn't be true, and her grandmother knew it.
So Yana found herself driving by the signboard that says Welcome to Aelmere. There was a quote under it that said "Where the lost ones go." in a fancy font. 
The town was pretty – Yana couldn't deny it. Coming from busy Alynthi, this place was so quiet, peaceful. She rolled down the windows and let the breeze hit her face. The pavements were lined with groomed trees, and the storefronts were decorated colorfully. The autumn sky is a bright shade of blue with big white clouds like cotton candy. At last, she drove into a neighborhood and stopped in front of her grandmother's house.
***
Later in her new room that night, Yana pulled the white wooden chair back. The chair scratched against the wooden floor. Taking her seat, her bony fingers traced along the rough spines of the antique journals. Her grandmother had rented one of the oldest houses in Aelmere, no doubt. Every nook and corner of the house seemed to creak when she moved.
Her cat hopped on the table and landed beside her hands.
"Right. Leave it in the past," Yana said aloud. Sometimes, it felt like Yuki understood Yana the way humans could not.
She opened the scarlet journal Dadu handed her earlier and smoothed the withered pages with the palm of her hand.
"Writing it down, and leaving it here forever. A place of forlorn memories."
Picking up her pen, she wrote:
The night went on, silent as ever. The city was fast asleep. The sound of void rang in her ears; hollow. Beneath the covers of her thick blanket, she was sweating, yet too afraid to pull it off.
Tears streamed down her face. Teeth clenched and lips clamped shut so she wouldn't make a sound. In case anyone was listening, at all.
Prayers murmured off against her mouth, "Please. Let me sleep."  Thinking sleep will help her escape the dark thoughts that drive around her mind.
Little did she know.
When sleep finally came, nightmares tagged along. She woke up from some of the worst nightmares she had ever seen; the ones that gripped her heart tightly even when the sun was out, shining brightly. 
When does this end?
...if it does?
Closing the journal shut, the pen slipped off her fingers. Yana rubbed her face, failing to stifle a sigh. Yuki pawed her elbow and jumped on her lap. Petting the black cat absentmindedly, she looked outside the window.
The city was sleeping. Lights were off, moonlight was cascading throughout the town. A few streetlamps flickered here and there. A dog barked somewhere, while a siren went off. Silence, except for the sound of wind as it sailed by. The hours never seemed to pass. Somehow everything was going too fast and too slow at the same time. Yana was stumbling between the game of time, unable to hold herself strong. Her mind was playing dangerous games; and she was losing.
She forced herself to think of the red sign board that said Aelmere, Where the lost ones go and the names of some poets scribbled below. If the words in the letter she had received from her grandmother were any true, then this is the place she would like to spend her forever in.
When Yana finally went to sleep, there was a white dessert box lying on her bed. Their neighbours had brought them some, after hearing about their new "friend". It was from their bakery, Lemon & Berries. Yana had never seen this kind of courtesy from the neighbors in Alynthi. They pointedly ignored one another if they ever came into view.
Bringing a lemon cupcake to her lips, she took a bite.
A smile formed at her lips, and then the corner of her eyes. Maybe Aelmere was the right decision.
The writer is a student of Viqarunnisa Noon School and College.