Gas distributor does some gaslighting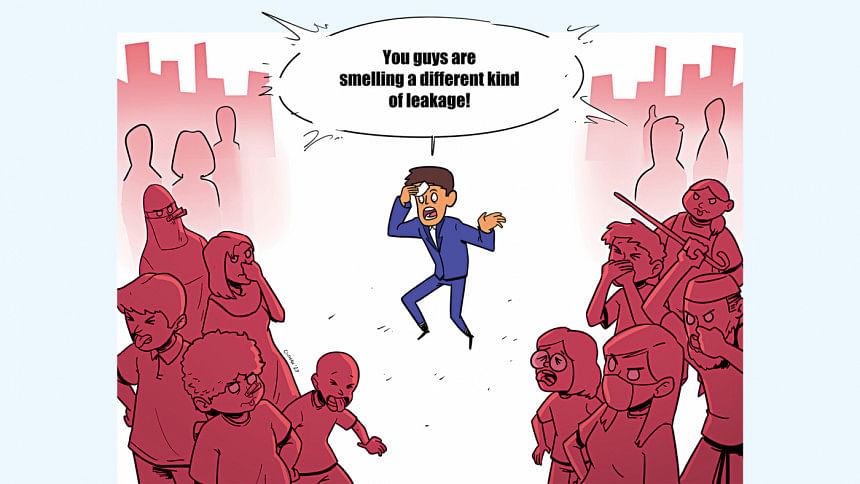 An official of the Largest Gas Distributor of Chapasthan (Lagadicha) assured subscribers that there was no reason to be concerned by the smell of gas that drove many of the capital's residents to spend a night stargazing instead of lying in the comfort of their own beds.  
This exodus from homes happened on one of the nights following a festival that drove a lot of the capital's residents to their home districts for altogether happier reasons.
Those who remained had to deal with gas and the fear of sparks, rivalled only by the fear of earthquakes and well, fire, in the hearts of the Japanese. But they have wooden houses, experts say.
On that night a few days after the festival, residents said they were frightened by the smell of gas coming from their stoves, and so, fearing a fire or explosion they went out on the streets.
Bodbashpo Haider, chief gaslighting officer of Lagadicha, said the thousands of residents of the city were actually misguided. The smell, he said, had to do with another kind of leakage and a very different kind of gas.
It is our satirical policy to only allude to what he meant, without actually saying it. Here goes nothing…
"The thing is, there was increased pressure of gas of another kind," he told Satireday. "You see, in the days leading up to the festival, people went without eating. Then on the day of the festival and the days following it, they had feasts."
These feasts were rich, he said. Even for the poor, they must have been richer than normal, he mused.
"When there is so much sudden gas pressure, it is of course to be expected that some would leak," the chief gaslighter said. "After all, not all distribution networks are as robust and continent as ours."
Asked what in Lucifer's lair he was actually talking about, he said, "Well, I am saying that people's bodies have limits, you know?
"And just to prove that the gas was not ours, people smelt it, which means they must have dealt it. This is because our gas is odourless."
Our correspondent was shocked at this, because it was reported that odour was added to the gas to alert people in cases of leakage.
"Oh, if you believed that you are very prone to gaslighting. You can't get a job in my department," Bodbashpo said.
He went on, "What I am saying is scientifically accurate. Those who left the city also went through the same thing -- they had feasts, felt the pressure, squeezed the cheese, opened their lunchbox. But since they were in open areas, they could not smell any leakages. In the city, where the wind breaks and people live in congested areas, you can smell it."
But what about reports of distribution pipes being 50, 60 years old and needing repairs?
"Oh, pipes, is that what we are calling them? Well, I feel it is very ageist of you. Biden is the president of America at 80 and no one is pipeshaming him.
"Anyway, I better leave and you should too, I think a stove is on somewhere. I smell gas."
Our correspondent did not smell the gas.
We may have not been able to stay true to our satirical policy