Rohingyas want safety, equal rights before repatriation: Oxfam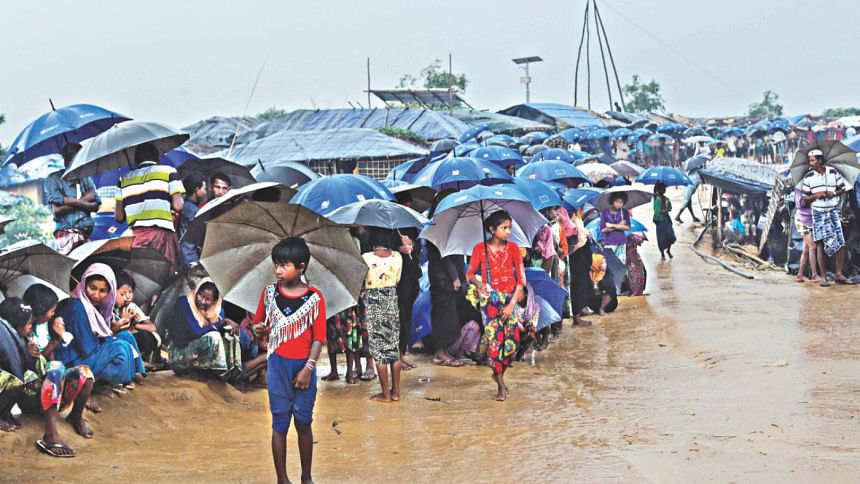 Rohingya refugees in Bangladesh want to return to Myanmar only after their safety and equal rights and free movement are ensued, according to a report of charity organisation Oxfam.
Oxfam today revealed the report titled "I still don't feel safe to go home" at the Cirdap auditorium in Dhaka.
The report is based on in-depth interview and group discussion with 208 Rohingyas, who are living in the makeshift camps in Cox's Bazar, in between September to November this year.
According to the report, Rohingyas said they are willing to return to their homeland but they do not want to be forcibly repatriated and before their safety and rights are ensured.
While presenting the finding of the report, Oxfam's Regional Campaigns and Policy Manager Sultana Begum said Rohingyas continue to come to Bangladesh in hundreds amid fresh reports of violence in Rakhine.
"Every single person who talked to us told about witnessing violence and horror. Some saw killings of their family members," Sultana said adding, "They are traumatised, their wounds are fresh."
"We are calling upon the Myanmar authorities to act to end the violence and fill up to their commitment to fully implement the recommendations of the Kofi Annan-led commission report, including ensuring that all people in Myanmar have equal rights," Sultana also said.
"Returns of Rohingyas need to be safe and voluntary, with guaranteed freedom of movement. Independent investigations into human rights violations are essential, with those responsible brought to justice, as well as compensation for lost land," she added.
"If the international community wants to move us, we can go. But sending us back by force would be worse than throwing us into creek, and bury us," said Nur Alum, a 65-year-old grandfather at Balukhali camp in Bangladesh. He previously fled Myanmar in the 1970s and 1990s.
"I want to go back to my home – when we are treated as citizens, when there is no violence, when women are not tortured and kidnapped, when at last we can be free," said Fatima Sultan, 20.
Bangladesh and Myanmar signed an instrument on November 23 to start repatriating the Rohingya people sheltered in Bangladesh and the two neighbours today formed a joint working group for supervising the repatriation process.
Around 10 lakh Rohingyas have fled to Bangladesh, including about 660,000 who arrived in the country after August 25, when the Myanmar military launched a brutal crackdown in Rakhine which the United Nations called 'a text book case of genocide'.