Plea seeking legality of marrying Rohingya girl rejected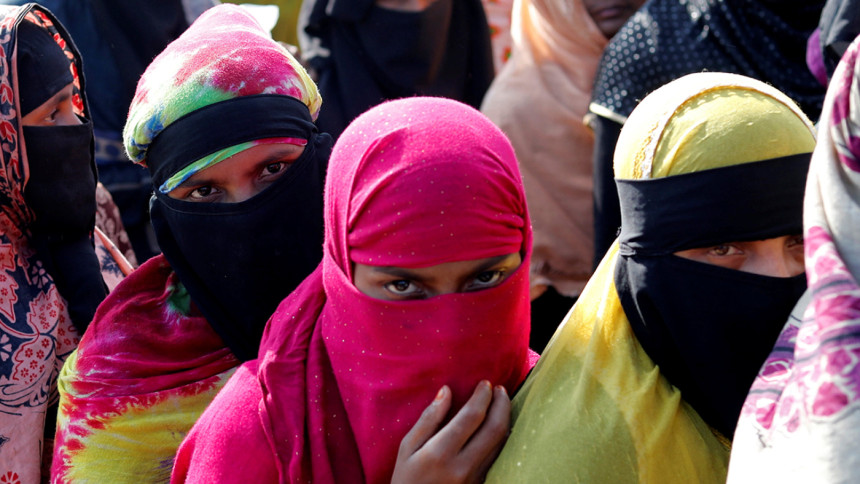 The High Court today rejected a writ petition filed by a Bangladeshi national seeking its order on the government not to harass or arrest his son for marrying a Rohingya girl who has fled from Myanmar.
The court also ordered the writ petitioner Babul Hossain from Singair upazila of Manikganj to deposit Tk one lakh as cost for wasting its (HC) time by moving such a writ petition before it to the section concerned of the Supreme Court in 30 days.
The bench of Justice Moyeenul Islam Chowdhury and Justice JBM Hassan came up with the order after holding hearing on the petition.
Deputy Attorney General Motaher Hossain Sazu told The Daily Star that wedding with any person from a particular area by a Bangladeshi national is restricted and is considered as an offence under the Foreigners Act, 1946.
In line with this law, the government on October 25 last year directed the marriage registrars not to conduct any marriage among Bangladeshi nationals and Rohingyas.
The law ministry the same day issued a gazette notification to this effect asking the marriage registrars to remain alert so that they conduct marriages after examining the national identity cards of the bridegrooms and brides to become sure whether they are Bangladeshi nationals or not.
The ministry said in the notification it was noted that the trend of tying knot among Bangladeshi nationals and Rohingyas coming from Myanmar has remarkably increased in particular areas (Cox's Bazar, Bandarban, Rangamati and Chittagong districts) and some marriage registrars are involved to such activities.
In the notification, the law ministry also said tough action will be taken against the marriage registrars if they carry out any marriage among Bangladeshi nationals and Rohingyas.
Babul Hossain's son Shoeb Hossain Jewel (26), a madrasa teacher, married Rafisa, 18, a Rohingya girl of Kutupalong refugee camp, at a mosque in Singair on September 14 last year, as they earlier faced obstruction from the administration for marriage registration.
They returned to their Singair home on September 23 last year, but they later changed their location facing police drive against them, he said.
In this situation Shoeb's father Babul Hossain filed the writ petition with the HC challenging the legality of the law ministry's gazette notification.
In the writ petition, Babul Hossain prayed to the HC to stay the effectiveness of the law ministry's gazette notification so that his son Shoeb and Rafisa can registrar their marriage, DAG Sazu said.
ABM Hamidul Misba appeared for the writ petitioner.