No quick fix to Rohingya crisis: New Chinese ambassador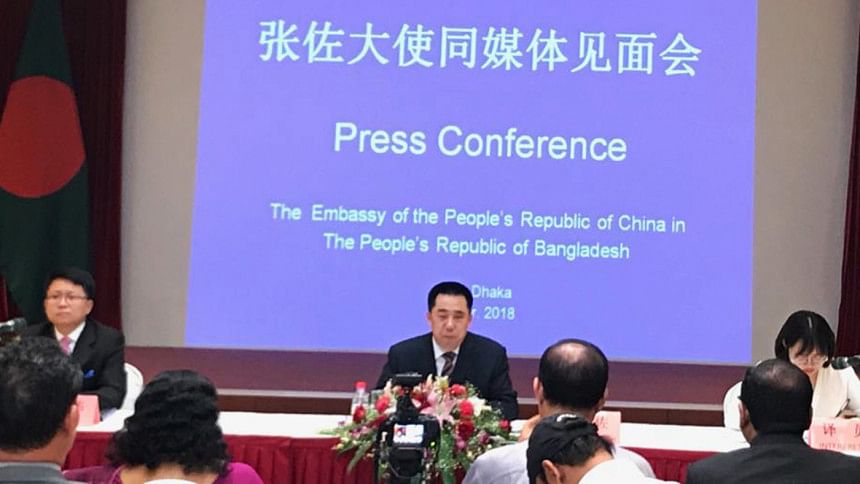 The newly appointed Chinese ambassador, Zhang Zuo, today said that there is no quick solution to Rohingya crisis.

Zhang Zuo said this while addressing journalists for the first time at a press briefing held at the Chinese embassy in Dhaka this afternoon.

Some seven lakh Rohingyas fled persecution in Myanmar and entered Bangladesh following a military crackdown on them in Rakhine since August 25 last year.

The Chinese ambassador said that his country hopes next parliamentary election in Bangladesh will be smooth.

Zuo replaced Ma Mingqiang, who completed his tenure in Bangladesh and already left the country for his new assignment.
Zuo was born in February 1969 in Xuanwei County of Yunnan Province. He has a PhD in Management, according to the official website of the Chinese embassy.

Diplomatic sources said the newly-appointed Chinese ambassador (designated) to Bangladesh arrived in Dhaka on February 12 and presented copy of this credentials to the Ministry of Foreign Affairs on February 14.

Ambassador Ma left Dhaka in December late to attend envoys conference in Beijing but he did not return to Dhaka for his farewell meetings with the president, prime minister, foreign minister and others.

Chinese embassy in Dhaka had earlier fixed the appointments, but the outgoing ambassador did not return to Dhaka, added the sources.