'Passport Forgery': 13 Rohingyas sent to jail on deportation from KSA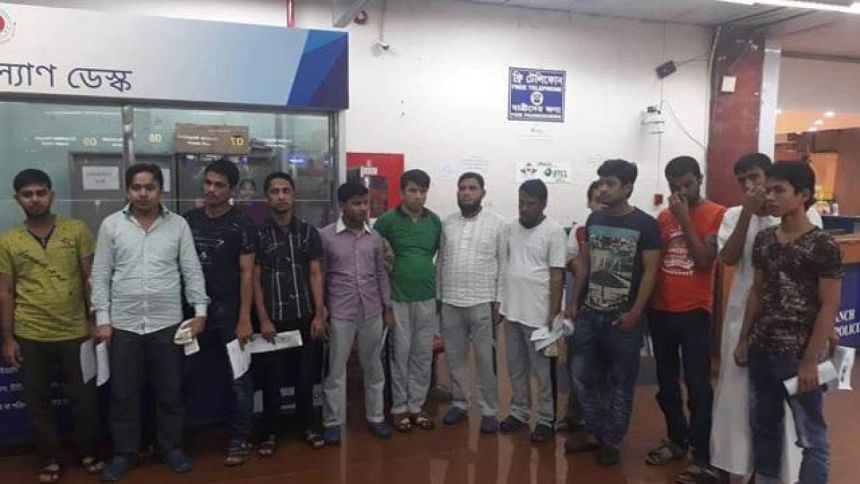 A Dhaka court yesterday sent 13 Rohingyas to jail on charge of acquiring Bangladeshi passports through forgery.
Metropolitan Magistrate Dhiman Chandra Mondal issued the order after Airport Police Station Sub-Inspector Sabuj Rahman appealed to court to send them to jail until completion of the investigation in this regard.
Court officials said they were sent to the Dhaka Central Jail in Keraniganj.
The order came a day after police filed the case against the 13, who were deported by Saudi Arabian authorities on Tuesday, several years after they travelled to the kingdom with passports secured through fake documents.
"The Rohingyas were accused of forgery in securing passports and traveling to Saudi Arabia," said Md Nur-e-Azam Mia, officer-in-charge of Airport Police Station.
They remained detained in Jeddah for several years. They were then brought to Dhaka after which they were sent to the metropolitan magistrate court yesterday, he told The Daily Star.
From their travel documents, five were identified as Abdul Majid, Mizanur Rahman, Habibur Rahman, Mohammed Salim and Omar Faruk -- all from Chattogram.
The others are Khaja Moyen Uddin from Bogra, Bokul from Jhenidah, Mohammad Mia and Shamsul Alam from Pabna, Aman Ullah from Madaripur, Jamal Hosen from Cox's Bazar, Mohammed Anik from Cumilla, and Nazim Ullah from Joypurhat.
The deportees arrived at Hazrat Shahjalal International Airport around 2:00am on Tuesday on a Saudi Arabian Airlines flight. They were detained following their admission that they were Rohingyas, immigration police said.
Nay San Lwin, a Germany-based Rohingya activist with links to Rohingyas in Saudi Arabia, said more than 1,000 Rohingyas have been kept in detention camps in the kingdom for years for violating immigration rules, including overstaying their visas.
He said the Rohingya activists are approaching European governments to halt the deportation of Rohingyas from Saudi Arabia.
He urged the Bangladesh government not to detain them, but to instead send them to the refugee camps in Cox's Bazar on humanitarian grounds as they were victims of persecution in Myanmar's Rakhine state.
The Rohingyas, who have been denied citizenship in Myanmar since 1982, fled different waves of violence there and came to Bangladesh. The latest atrocities caused some 750,000 Rohingya to flee to Bangladesh, making it a global crisis.