Pressure should be squarely on Myanmar for Rohingya repatriation: US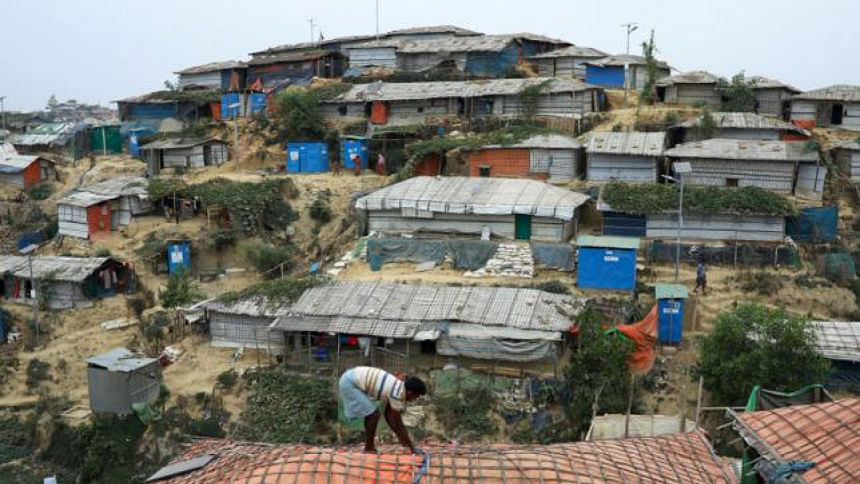 US Ambassador to Bangladesh Earl R Miller today said they will continue to put pressure on Myanmar to create conditions on the ground for the "voluntary, safe, dignified and sustainable" return of all Rohingyas to Myanmar's Rakhine State.
"The pressure should be squarely on Myanmar," he said conveying US' position which is to see a voluntary, safe, dignified and sustainable return of all Rohingyas to Myanmar.
The US envoy made the remarks while visiting Natarkandi High School at Astamir Char under Chilmari upazila of the district.
Ambassador Miller said Bangladesh has opened its heart and border to over a million people who have been persecuted and highly appreciated Bangladesh's generosity in sheltering Rohingyas.
He said the US is one of the leading countries which provided humanitarian assistance of US$ 542 million both for Rohingyas and the host community in Cox's Bazar.
Bangladesh is now hosting over 1.1 million Rohingyas and most of them entered the country since August 25, 2017.
Despite all the preparations, no Rohingya turned up on Thursday to avail of the "voluntary" repatriation offer given to them to go back to their place of origin in Rakhine State of Myanmar prompting the authorities to suspend the repatriation process for the day.
The two countries signed a repatriation deal on November 23, 2017, but there has been little progress.
On July 29, Bangladesh handed a fresh list of 25,000 Rohingyas from around 6,000 families to Myanmar for verification before their repatriation to Rakhine State.
With the latest list, Bangladesh has so far handed the names of around 55,000 Rohingyas to the Myanmar authorities and around 8,000 of them have been verified. Myanmar only cleared 3,450 Rohingyas for beginning the repatriation.
On January 16, 2018 Bangladesh and Myanmar inked a document on "Physical Arrangement", which was supposed to facilitate the return of Rohingyas to their homeland.
The "Physical Arrangement" stipulates that the repatriation will be completed preferably within two years from the start.
The first batch of Rohingyas was scheduled to return on November 15 last year but it was halted amid the unwillingness of Rohingyas to go back for lack of a congenial environment in Rakhine.
The US envoy also declared about donating $100,000 to flood affected people.
US Ambassador inaugurated a programme of Care Bangladesh of distributing cash money among 5,000 people of 200 families under assistance programme for flood-hit people in the district.
Kurigram Deputy Commissioner Sultana Parvin, Police Super Mohibul Islam Khan, US Aid Bangladesh Mission Director Derrick S. Brown, Care Bangladesh's Country Director Zia Chowdhury, Upazila chairman Shawkat Ali, Upazila Nirbahi Officer Shah Md Shamsuzzoha, were, among others, present.