Youth Parliament organised by Dhrubotara Youth Development Foundation (DYDF) and ActionAid Bangladesh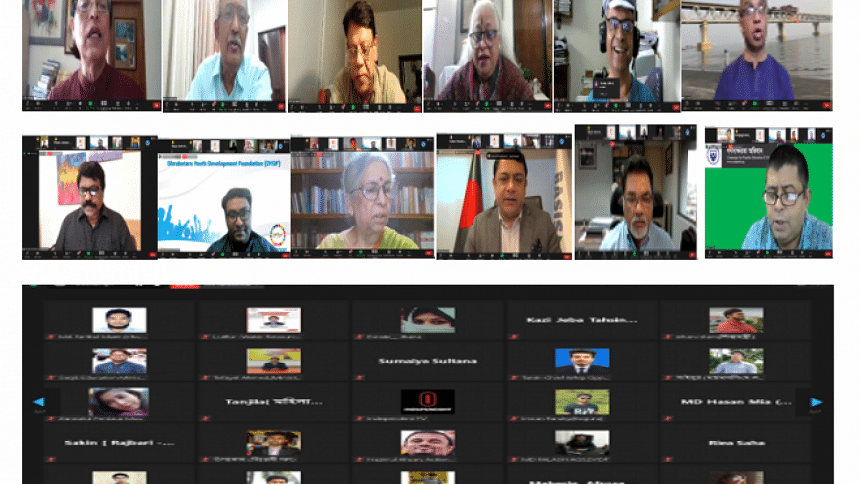 To provide a national-level platform to the youth Dhrubotara Youth Development Foundation (DYDF) organizing youth parliament since 2021 and ActionAid Bangladesh organizing since 2019 to make youth feel empowered.
On 19 June 2021, a shadow youth parliament titled "National Youth Parliament Budget Session 2021" was held virtually. The event was jointly organized by Dhrubotara Youth Development Foundation (DYDF) and ActionAid Bangladesh.
350 shadow youth MPs from different constituencies participated in the event along with the representatives of different sectors like- Policymakers, Government Officials, CSO's, Academia and Media Personalities.
Aroma Dutta, MP said- Youths and children should be brought under vaccination and Internet cost should be lowered to bring rural and remote areas under internet service.
Fazle Hossain Badshah, MP said- The indigenous communities should be given proper and enough budget allocation to not suffer for their daily necessities.  Education should be focused and the practice of auto pass should be avoided as the certificate might not helpful for the students.
Adv. Sultana Kamal said- Budget should be allocated for skilled-based work sectors. Budget allocations is research should be increased. Education should be given budget in a planned way. Social security is not being properly distributed to all equally, this should be emphasized.
Nazmul Ahsan, Manager ActionAid Bangladesh said- It should be looked upon how much democratization and participation of youths in the budget is ensured. The grassroots people have to be reached. Corruption and inefficiency need to be stopped. ILO data states the unemployment rate of youths as 12%. Youths require to be ensured within the budget allocation and also be included in the process of budget making and implementation.
Abul Kalam Azad, Former Principal Secretary of PM said- Bangladesh ranked first in SDG achievement. The government has established NSDA by targeting youth development. He hopes the finance minister will allocate a special budget for the minority community.
Dr Atiur Rahman, Economist and Ex-Governor said- To develop social safety a database need to established. Proposed Vat on private education sector should be withdrawn and loan process for youth should be easier.
Mr Fakhrul Imam, MP said- There is nothing mentioned in the budget about the newly poor people due to COVID-19. The budget needs to implement fairly and without any corruption to get an effective outcome. He also said the government should give more focus on employment generation.
Prof. MM Akash, Economist said- in the proposed budget there is a discriminable allocation for SME and Industry, SME sectors should more be focused. He also said corruption is the main obstacle to development.
Prof. Shah Azam, Chairman (acting) DYDF said- Youth needs the opportunity to show their talent. Youth have such energy and talent that they can do anything and can play important role in the national economy and development. He also said the government should focus on youth and allocate a proper budget for youth.
Also, Mr Asif Ibrahim, Chairman of Chittagong Stock Exchange (CSE), Dr Aliya Naheed, Head Initiative for Non-Communicable Diseases, icddr,b, Syed Almas Kabir, President BASIS, Tanvir Hassan Sourov, CEO SOCIAN Ltd,  K M Enamul Hoque, National Coordinator, Education OutLoud, CAMPE, Ahsan Rony, Climate Activist were present there as the guest speakers.
From the discussion among the Youth MP's some recommendations come up to consider in the process of finalizing the national budget 2021-22.
Recommendation from youth shadow MPs
1. Budget needs to increase in the youth sector.
2. Allocate budget for unemployed youth.
3. Provide free (if not subsidized) computer, smartphone and internet services to students.
4. Adequate allocation to ensure quality internet service across the country.
5. Allocate budget for the vaccination of young people.
6. Allocate budget for creating employment of physically challenged, minority communities, transgender and other marginalized youth.
7. Allocation of adequate budget for cooperating with the youth volunteers.
8. Easy loan facilitation and special allocation for entrepreneurs.
9. Special package for women entrepreneurs.
10. Increase allocation for young entrepreneurs in the agricultural sector.
11. Allocate budget for appointing mental health consultants in educational institutions.
12. Adequate budget allocation in the education sector.
13. Allocate budget for the formation of the National Youth Council.
14. Allocate an adequate budget to ensure food security for all.
15. Allocate budget for the establishment of Youth Bank.
16. Increase budget in the sector of environment and climate change.
17. Provide special allocations for marginalized and minority communities.
18. Allocate budget for establishing "Youth Development Studies Center" to research on youth.
Mr Amiya Prapan Chakraborty Arka, Executive Director, Dhrubotara Youth Development Foundation (DYDF) was present as the speaker of the shadow youth parliament and declare the youth declaration.