Uphold own culture for next generations
Says PM at Ekushey Padak ceremony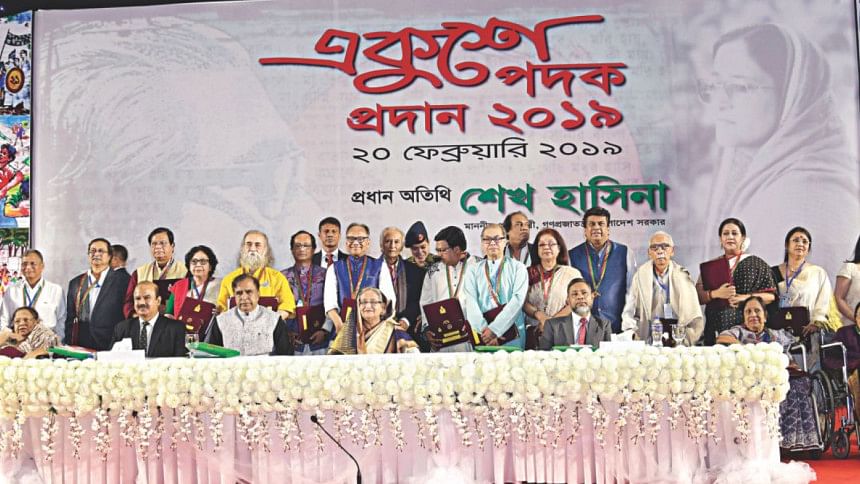 Prime Minister Sheikh Hasina yesterday stressed the importance of protecting and practicing own languages and cultures for making a healthy environment for the future generation.
"It's our duty to protect, exercise and take forward our independence, language rights and culture as well as create a decent environment for the next generation," she said while addressing a function marking the distribution of Ekushey Padak-2019 in the city.
The cultural affairs ministry arranged the programme at the Bangabandhu International Conference Centre.
Urging all to come forward to build the motherland, she said, "We want the next generation to have a decent life and enjoy the benefits of what we've achieved through our struggles."
Noting that Bangladesh was marching forward and would continue to do so, she said the people of the country would move ahead at the global stage keeping their head high as the Ekushey (Language Movement) taught them not to bow down.
"Ekushey has taught us how to protect our own existence, mother tongue, culture and tradition as well as show respect to all this."
She said her government's goal was to take Bangladesh to a dignified position and it had been working to accomplish that goal.
Talking about the contributions of Father of the Nation Bangabandhu Sheikh Mujibur Rahman to the Language Movement, she said it was unfortunate that once his contributions had been removed from history.
Hasina said if people read the "Unfinished Memoirs", the autobiography of the Father of the Nation, they would know how the Language Movement had started.
She said they were publishing a book in 14 volumes over the 23 years' secret documents of Pakistani Intelligence Branch (IB). The first two volumes of the book have already been published over the secret documents of 1948-'50 and 1951-'52 respectively.
The PM said people would know about Bangabandhu's contributions to the Liberation War after reading the secret documents.
She said her previous government (1996-2001) had started construction of the International Mother Language Institute in Dhaka, but the BNP-Jamaat government stopped the work coming to power in 2001.
After returning to power in 2009, the AL government completed the construction work, she added.
The PM distributed coveted Ekushey Padak-2019 among 21 eminent citizens for their contributions to their respective fields.
This year's winners of the award are Prof Halima Khatun (posthumous), advocate Golam Arif Tipu and Prof Monwara Islam for Language Movement, Subir Nandi, Azam Khan (posthumous) and Khairul Anam Shakil for music, Lucky Inam, Suborna Mustafa and Liakat Ali Lucky for acting, Sayeda Khanam for arts, Jamal Uddin Ahmed for fine arts, Khitindra Chandra Bioshya for Liberation War, Dr Biswajit Ghosh and Dr Mahbubul Haque for research, Dr Pronab Kumar Barua for education, and Rizia Rahman, Imdadul Haque Milon, Asim Saha, Anwara Syed Haque, Mainul Ahsan Saber and Hori Shankor Joldas for language and literature.
State Minister for Cultural Affairs KM Khalid presided over the function.