No more dialogue after Nov 7: Quader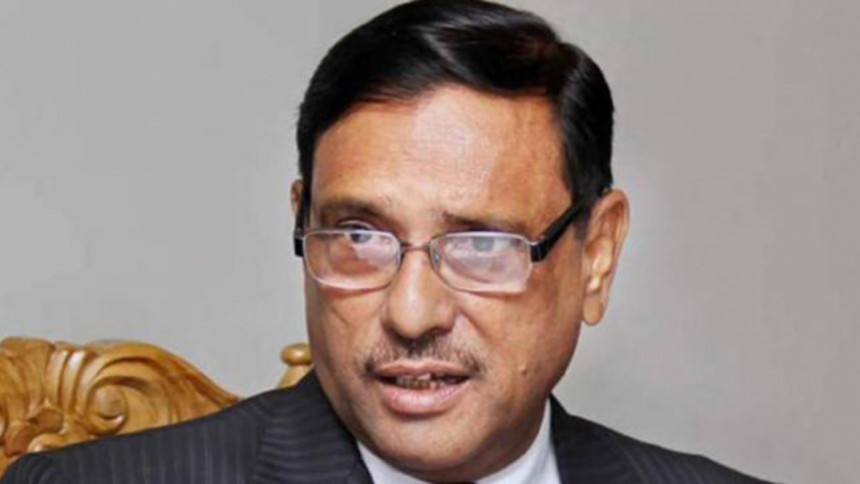 Awami League General Secretary Obaidul Quader today said it would not be possible to hold any more dialogue with the political parties after November 7 as there will be several other issues like nomination, alliance, and equations to consider after the announcement of polls schedule.
"We would not hold any talks after November 7. It would not be possible to hold dialogues for long as there will be several other issues like nomination, alliance, and equations to consider after the announcement of polls schedule," he said.
A total of 85 political parties have called for holding talks over the upcoming general election, he said.
Quader, also the minister for Road Transport and Bridges, said this while talking to reporters after an Awami League delegation led by Prime Minister and party President Sheikh Hasina paid homage to Bangabandhu Sheikh Mujibur Rahman and the four martyred national leaders at the Bangabandhu Memorial Museum at Dhanmondi Road No. 32 in Dhaka this morning, marking the Jail Killing Day.
Asked how long the dialogues will continue, the AL general secretary said, "We have so far held talks with Oikyafront and Juktofront. We will sit for talks with 14-party on November 4, and with Jatiya Party on November 5."
Besides, they received 31 more requests to hold dialogues. But they cannot take it any further to November 8, the talks will end on November 7, Quader said.
The 14-party we will also sit with Islamist parties and CPB alliance, he said.
Replying to another query, he said, "We always want to hold an impartial election and it is our expectation that the polls will be participated by all the registered political parties in the country."
"However, befitting reply will be given to those who will resort to the path of violence," Quader also said, adding that the AL-led government is remaining alert whether any quarter is plotting to create anarchy while also joining the dialogue and preparing for the polls.
"Awami League is alert against any attempt to foil the polls," he said.
Regarding BNP's dissatisfaction over the dialogue between the AL-led 14-party and Jatiya Oikyafront, Quader said, "It is not possible to make everyone happy. BNP may have expressed dissatisfaction with the talks, but the leader of their alliance has termed it fruitful."
HOW WERE THE TALKS INITIATED?
Dr Kamal on behalf of the Oikyafront wrote to the PM on October 28, requesting her to hold talks. On October 30, the PM invited the alliance for talks at her official residence on November 1.
Bikalpadhara Bangladesh (BDB) President Dr AQM Badruddoza Chowdhury on October 30 wrote to Prime Minister Sheikh Hasina, also president of ruling Awami League, for talks over holding the upcoming general election in a free, fair and inclusive manner.
Jatiya Party Chairman HM Ershad also sent a letter to PM Hasina on October 31 to join talks over the upcoming election, and PM on the same day replied him with an invitation to sit for dialogue on November 5. 
PM also invited the Left Democratic Alliance (LDA), a platform of the left-leaning parties, to sit for talks.
WHAT DID DR KAMAL AND B CHY SAY IN THEIR LETTERS?
Kamal, also president of the Gonoforum, said talks should be held in national interest, and not in the interest of any political party.
"We believe in talks. We always think people are the owner of the country. And owners will always talk among themselves in the interest of the country, not for any party," he told a discussion at the Jatiya Press Club yesterday.
"Let the dialogue be held in national interest. Let the talks be held keeping national goals and constitutional values at the forefront. We always supported it and will fully support it in future."
In the letter to the PM, Badruddoza said, "We're pleased that you've extended offer to engage in political dialogue to resolve the problems over the election. We, on behalf of Juktafront and Bikalpadhara Bangladesh, sincerely thank you."
"We'll be happy if you invite us to join dialogue with you at your convenient time. We believe it's possible to resolve all the problems through our will and cordiality."
WHAT ARE OIKYAFRONT'S DEMANDS?
The 11-point goal announced by the alliance includes ensuring checks and balances in the state power, decentralisation of administration, freeing MPs from the stringent restrictions imposed on them under article 70 of the constitution, formation of a constitutional commission to make appointments to all constitutional and other important posts and full independence of the judiciary.
The alliance also announced a seven-point demand, including the one for holding the next parliamentary election under a nonpartisan government, dissolution of parliament before the polls and recasting the Election Commission.
WHAT ARE BIKALPADHARA'S DEMANDS?
Bikalpadhara Bangladesh (BDB) came up with several demands for holding the upcoming general elections in a free, fair and inclusive manner.
The demands include dissolving the parliament and resignation of PM before announcement of election schedule, reconstitution of the Election Commission, forming a non-party election-time government, and deployment of army during the election with magistracy power, among others.