Niko graft case: Hearing on charge framing against Khaleda Feb 12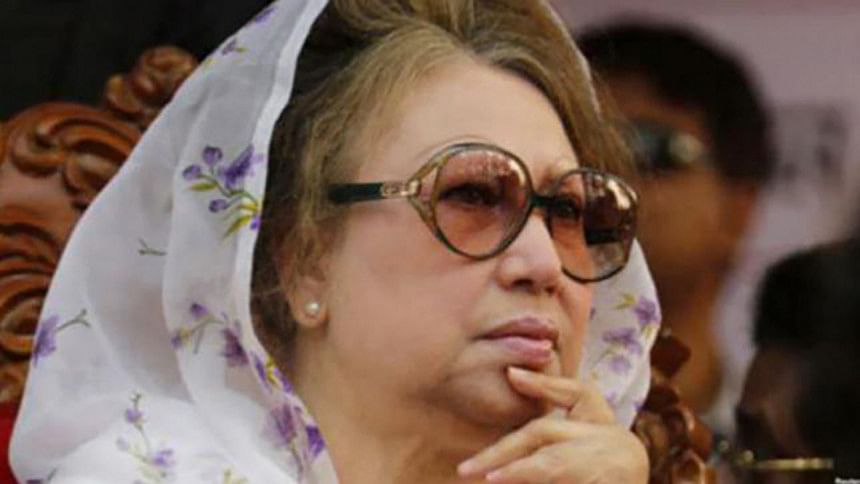 A Dhaka court today fixed February 12 for hearing on charge framing against BNP Chairperson Khaleda Zia and 10 others in connection with the Niko corruption case.
Judge Sheikh Hafizur Rahman of the Special Judge Court-9 of Dhaka passed the order at the makeshift court set up inside Old Dhaka Central Jail after hearing both defense and prosecution lawyers.
BNP Chairperson Khaleda Zia was taken to the court in a wheelchair around 12:35pm. She did not say anything throughout the hearing. 
During today's hearing, BNP standing committee member Moudud Ahmed, an accused in the case, told the court, "There are so many contradictions in the Niko case. All allegations here are made based on assumptions."
"Those who have committed crimes are not facing the trial in the Niko case. But we are facing the trial. We have only kept the continuity of the Niko agreement," he also said.
Another defence lawyer Abdur Razzaque Khan told the court, "For legal, useful and proper hearing on the charge framing in the case, we need to scrutinise the seized documents of the case."
"We are yet to get these documents after submitting application to the court," he said.
However, Public Prosecutor of the Anti-Corruption Commission (ACC) Mosharraf Hossain Kajol said the defense was trying to delay the charge framing by saying these things in the court.
The defense lawyers got the case documents for which they applied, he said.
The defence lawyers would get the documents which the prosecution would use during the trial, but they would have to submit application for those papers in the court, Kajol added.
On December 9, 2007, the ACC filed the case with Tejgaon Police Station accusing Khaleda and 10 others of abusing power to award a gas exploration and extraction deal to Canadian company Niko.