Oikyafront asks PM to arrange talks
Sends letter to Hasina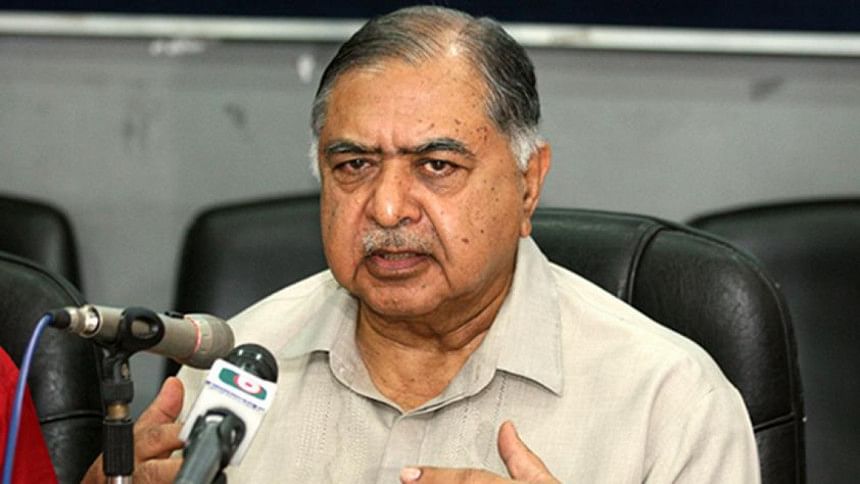 Dr Kamal Hossain in a letter urged Prime Minister Sheikh Hasina to arrange talks between the Awami League and Jatiya Oikyafront ahead of the national polls.
"The Jatiya Oikyafront feels the urge for a meaningful dialogue with Awami League for a competitive election with participation of all in a peaceful and congenial atmosphere and looks forward to your [Hasina's] effective initiative," the Oikyafront leader said.
Gonoforum leaders AKM Jaglul Hayder and AHM Shafikullah handed the letter over to AL Office Secretary Abdus Sobhan Golap.
The AL was yet to react to the letter.
Dr Kamal, a leader of the alliance, said Bangabandhu taught them how positive politics could unite a nation.
"It is not unknown to us how negative and sick politics have divided our nation and put us in a grave crisis. It is our national challenge to overcome this crisis."
The Oikyafront announced its seven-point demand and 11 point goals to face the challenge, the letter added.
"Bangabandhu has ensured 'one person, one vote'; it is the constitutional responsibility of us all to protect that."
Dr Kamal wrote that the first condition for democracy was a free, fair and neutral election.
The Oikyafront was formed on October 13 with seven demands that include resignation of the government, dissolution of parliament, formation of a polls-time government, reconstitution of election time government and deployment of army with magistracy power.
Its 11-point goals include bringing balance of power between president and prime minister, amendment to article 70 of the constitution, appointment of judges in a transparent manner, independence of judiciary and de-politicisation of public administration and police.