Khaleda in jail: What now?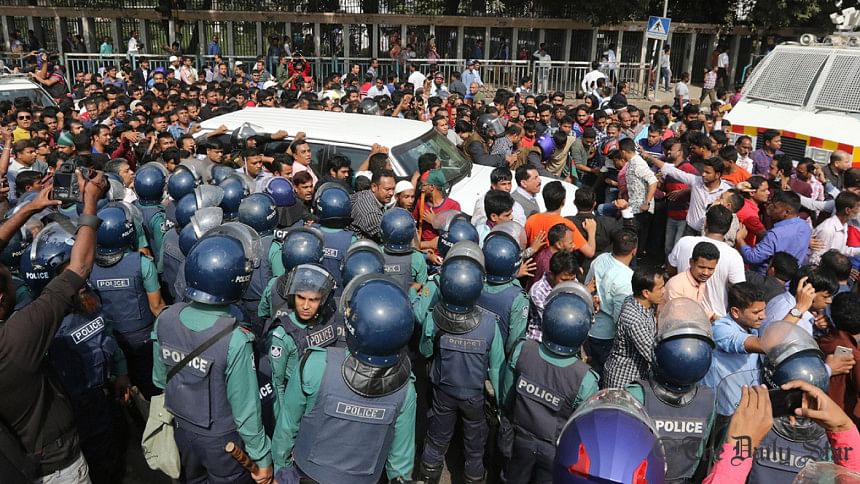 Now that Khaleda Zia has been convicted what will happen next?
As an immediate effect, she will have to stay in jail for at least three days until Sunday. If her lawyers apply for certified copy of the verdict today and if they get the copy on the same day, they may not be able to file the appeal with the  High Court today.
In that case they will have to move the case on Sunday. But if getting the certified copy of the verdict is delayed, her bail procedure will be delayed as well. It will depend on the High Court whether it will give Khaleda bail. The court may decide issuance of bail immediately.
But the bigger question now looms over Khaleda is whether she can participate in the upcoming  general elections in December.
The law says if someone is convicted for at least two years he or she cannot contest the election for the next five years. 
In Khaleda's case, if the higher court gives her bail and yet upholds the sentencing, then she will be disqualified from the poll.
Her party, BNP, boycotted the 2014 elections which many see as blunder for her as she remained on the fringe of national politics.
This time Khaleda seems to be firm on participating in the upcoming polls and a day before her sentencing asked her party men to remain united and declared that 'nobody will be allowed to score any goal this time on a playground void of the opposition'.
This clearly indicates that BNP will walk to the election no matter what, but the question how effective it will be without Khaleda in the race.
This is specially so when BNP faces a major setback with its chief behind the bars while the AL is in a full campaign mood.
The case in which she was sentenced today was originally filed during the caretaker government in July 2008 when she was in jail. 
The case proceeded although she came out of jail in September the same year and contested the 2008 December election which BNP lost to AL.
After about ten years, she was finally convicted of graft and lands in jail.