JS body recommends extending age limit to 35yrs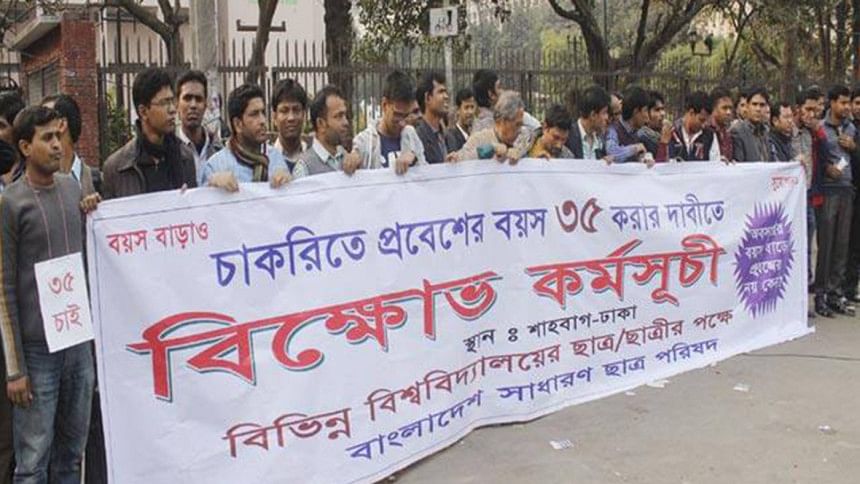 A parliamentary body yesterday again recommended that the government raise the age limit for entering civil service to 35 years, a longstanding demand of students.
The parliamentary standing committee on public administration in a meeting at the Jatiya Sangsad Bhaban also asked the concerned ministry to further increase the age limit for retirement from government services. 
Currently, age limit for entering the public service is 30 years, while retirement age is 59 years. Retirement age of freedom fighters is 60 years.
Earlier in June, the parliamentary committee on public administration had recommended to increase the age limit for entering civil service to 35 years.
Prime Minister Sheikh Hasina on January 31 told the parliament that her government has no plans to increase the existing retirement age in government service, saying it would create various problems.
Public Administration Minister Syed Ashraful Islam on June 6 again told the parliament that the government has no plans to raise the age limit for entering government jobs to 35 years, arguing that the number of job seekers will increase sharply if it is done.
Civil service is the single largest job sector of Bangladesh. It has become more lucrative to graduating students after the government doubled the salary for civil servants in the latest pay scale last year.
High officials of the public administration ministry yesterday informed the committee that increasing age limit in public services is the government's policy-related issue. The ministry will take necessary measures in this regard following the government's decision, they said.
The public administration ministry recently sent a summary to Prime Minister's Office suggesting increasing age limit for entering in the government services to 32 years, meeting sources said. Prime Minister Sheikh Hasina is yet to give a nod in this regard.
Awami League lawmaker HM Ashiqur Rahman presided over the meeting. Committee members Ismat Ara Sadique, also State Minister for Public Administration; AL lawmaker ABM Fazle Karim Chowdhury; and RAM Obaidul Muktadir Chowdhury, among others, were also present.