Kamal Hossain on stage, Tarique behind
Quader on Jatiya Oikyafront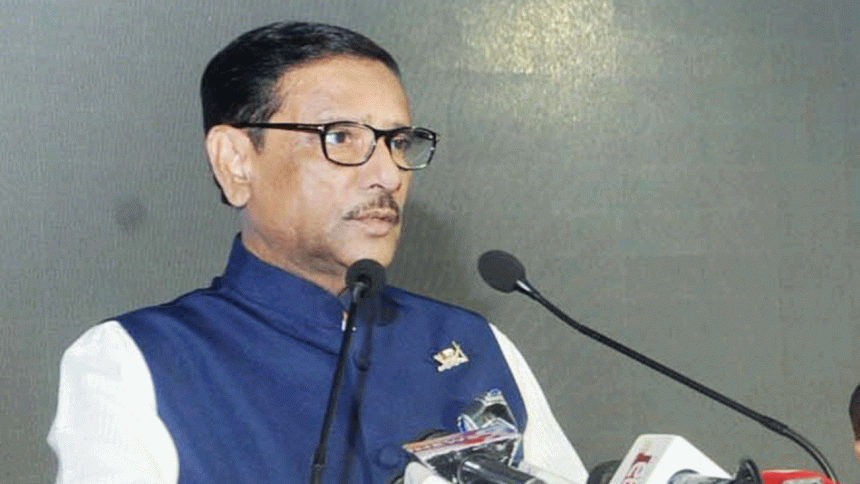 Road, Transport and Bridges Minister Obaidul Qauder yesterday said the seven points declared by new political alliance Jatiya Oikyafront are seven conspiracies to foil the next national election.
"Those leaders got united today. Have people accepted their unity? Their leader Kamal Hossain is on the stage, while Tarique Rahman is behind," said Quader while speaking at an election rally and meeting arranged by Gazipur city Awami League at Tongi Government College ground.
Quader, also general secretary of Awami League, said barrister Mainul Hosein was not arrested as a leader of the Oikyafront but as an offender.
"BNP has now got united with the leaders of minus-2 formula, and is demanding his release. Architect of the constitution Dr Kamal Hossain has joined hands with BNP, who are the introducers of dirty politics. So, Kamal is now a spoiled politician," said the minister.
Issuing a warning to local AL leaders, Quader said Prime Minister Sheikh Hasina pardoned rival candidates in upazila and municipality elections. "If any rival candidate is found in the national election, they will be expelled from the party immediately."
Later, the minister formally inaugurated election campaign and rally of the party from Tongi, and distributed leaflets among people.