Manifesto implementation main challenge: Quader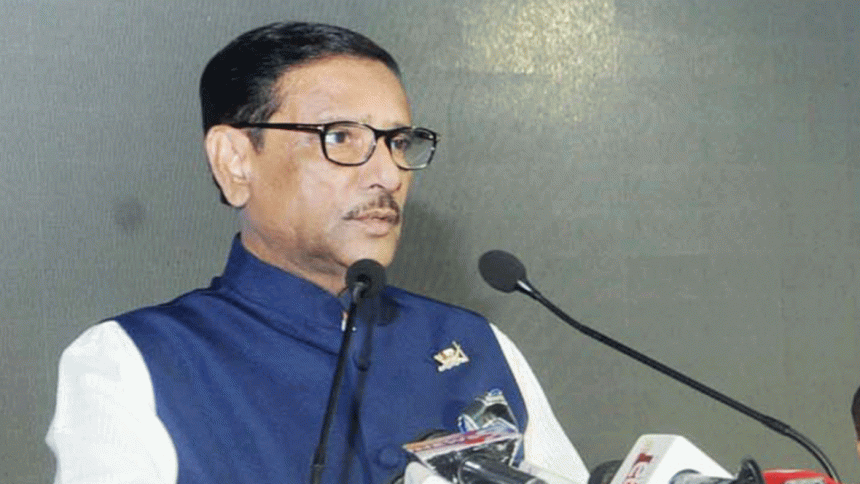 Awami League General Secretary and Road Transport and Bridges Minister Obaidul Quader said implementing their party's election manifesto is the main challenge for the 47 new cabinet members who were sworn in today.
Talking to reporters at Bangabhaban just after the oath-taking ceremony of the cabinet members, he said, "Now our main challenge is to implement the manifesto that our party presented before the election. We'll work at various stages for implementing it."
Quader said he could have understood through discussions with their party President Sheikh Hasina that the new cabinet would have big surprises. "But, I think, nobody is going to lose anything. Nobody is dropped, but there're changes in responsibilities."
He said many ministers of the last cabinet were not included in the new one in the interest of the party. "We would like to make our party smarter and stronger further under their leadership."
"We don't want our party to end up in government. To maintain the separate entities of both the government and the party, responsible leaders must take the responsibility of the party. So, some of our leaders will now discharge government responsibility while others that of the party. So, it's a matter of change in their responsibilities," Quader said.
He said those who become cabinet members cannot properly discharge their due responsibilities of the party. "So, we must streamline the party and make it stronger to face the challenges of implementing our election manifesto."
Quader renewed his call to Jatiya Oikyafront to show respect for people's verdict by sending their elected MPs to parliament.
Replying to a question, he said though no MP of their party's alliance partners is inducted in the cabinet, the 14 alliance partners are united and working together with Awami League. "It can't be said our alliance has got split based on whether there is any representation of them in the cabinet or not."
During its five-year tenure, the Awami League general secretary said the cabinet will witness expansions and reshuffles. "Some leaders may lose their cabinet portfolios halfway through based on their performances and some leaders may be included afresh the same way."
He also said those cabinet members will not be able to perform well will lose their positions after evaluation.
Earlier, Awami League President Sheikh Hasina took oath as Prime Minister of the country for the 3rd consecutive term along with her 46 cabinet members following her party's massive victory in the 11th national election.
Through the oath taking of new ministers, state ministers and deputy ministers, the country gets a cabinet with all members from the AL after 1973 while Sheikh Hasina became the Prime Minister for record fourth time.
President Abdul Hamid administered the oath to the Prime Minister at 3:40pm while to 24 ministers at 3:46pm, to 19 state ministers at 3:53 pm and to three deputy ministers at 3:57pm at Bangabhaban.