We will fight to restore democracy: Fakhrul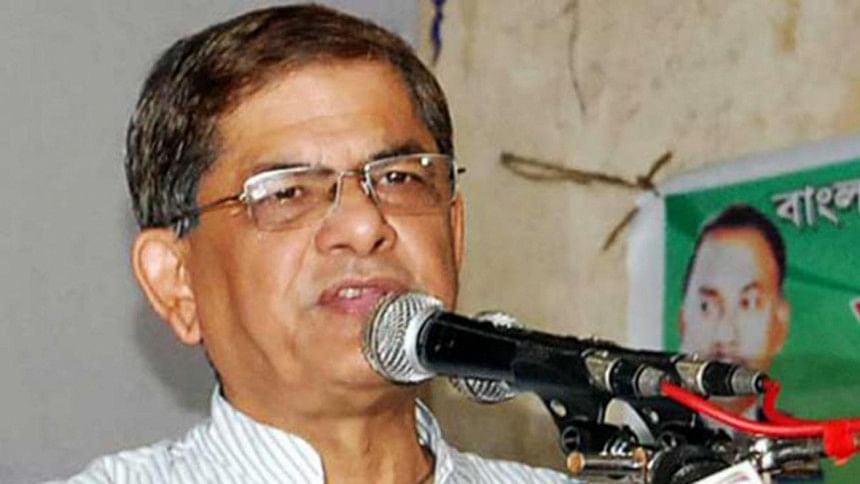 BNP believes in people's strength of restoring democracy in the country instead of foreign friends, Mirza Fakhrul Islam Alamgir, secretary general of the party said today.
"We don't seek anybody's help in restoring democracy in our country. Rather, we believe in our people's strength. We want to ensure our rights through struggle," Fakhrul made the remarks while addressing a function at Dhaka Reporters' Unity.
Fakhrul came up with such remarks a day after the party chairperson Khaleda Zia's meeting with Indian External Affairs Minister Sushma Swaraj held at a hotel in Dhaka.
"We usually meet foreign leaders when they come here and tell them that there is no democracy in Bangladesh. Those who are talking about democracy wearing a mask of democracy is telling lie and confusing the international community," Fakhrul said.
Claiming that his party does not believe in external help that would put the party on power, Fakhrul said the people of the country have fought for democracy even they have sacrificed a lot including blood for it. 
"We don't beg anyone's mercy for democracy. We will fight to restore democracy in the country," the BNP leader expressed the party's boldness.
The country is passing through a critical situation as people are being deprived of voting rights and freedom of speech due to absence of democracy here, Fakhrul said adding that people want to get rid of the situation.
Fakhrul said a total of 39 politically motivated cases have been lodged against Khaleda Zia as she did not accept the incumbent government.
Khaleda Zia had to pass many days in sub-jail as she denied the previous so called caretaker government of Fakhruddin Ahmed and Moeen U Ahmed, he said.
Gono Sangskriti Dal arranged the discussion to mark the 5th death anniversary of Democratic League's ex-president Oli Ahad and the 76th birth anniversary of film director Chashi Nazrul Islam.