BNP calls fresh protests after foiled demo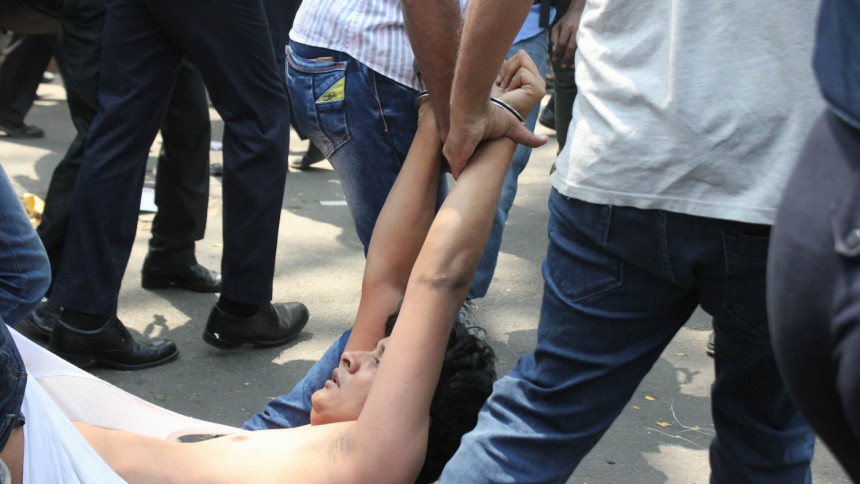 BNP today announced a fresh set of protests after police foiled their peaceful sit-in programme at Jatiya Press Club to press for release of their Chairperson Khaleda Zia.
It will stage demonstration across all upazilas in the country, including Dhaka city, on Saturday protesting today's " police attack", Mirza Fakhrul Islam Alamgir, BNP secretary general, said.
At an emergency press briefing at BNP's Nayapaltan central office, He condemned the police action and said "the government foiled their peaceful programme without instigation".
Earlier today, police foiled a sit-in demonstration of the BNP, they were observing today as part of peaceful demonstration to press for Khaleda Zia's release, near Jatiya Press Club.
Senior leaders and supporters of BNP gathered in front of Press Club and began the demonstration at 11:00am. It was foiled by police around 45 minutes into the programme.
Witnesses and programme participants say, police chased at the demonstrating activists and dispersed the crowd of hundreds. Some activists were reportedly detained at the spot.
To have a say on the issue, Mirza Fakhrul Islam Alamgir, secretary general of the party, has convened a press conference at the party's Nayapaltan central office at 1:00pm.
On February 8, BNP Chairperson Khaleda Zia was sent to jail following a court verdict that sentenced her to five years' rigorous imprisonment in the Zia Orphanage Trust corruption case.
Since then, BNP has been moving with a set of peaceful protest and demonstration programmes to press for her release. Yesterday, a human chain was formed near the Press Club.