'Reformists' are back
BNP takes in 12 leaders who became inactive after 1/11 changeover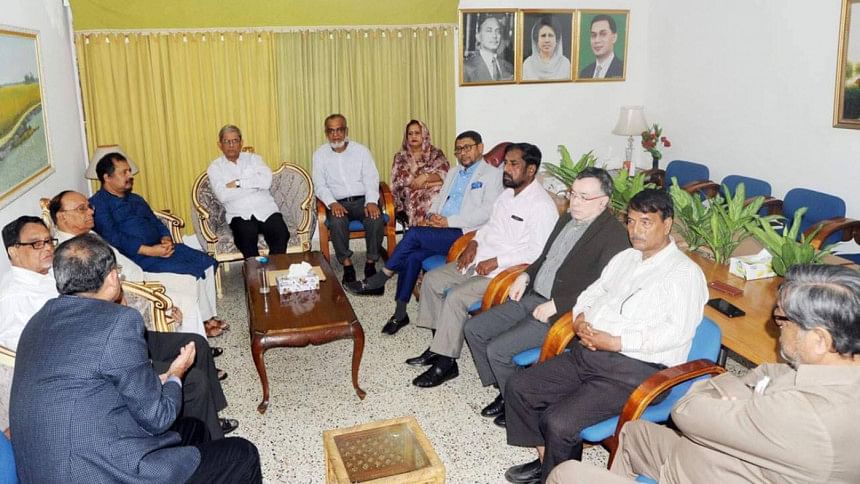 The BNP has brought back its 12 "reformist" leaders, who became politically inactive after the 1/11 changeover, to strengthen its activities ahead of the 11th parliamentary election.
The formal reintegration of the 12 "reformist" leaders came following a meeting with BNP Secretary General Mirza Fakhrul Islam Alamgir at party Chairperson Khaleda Zia's Gulshan office yesterday afternoon, sources said.
They are former minister Alamgir Kabir, former whip Abu Yousuf Md Khalilur Rahman, leaders Abu Hena, GM Siraj, Sarder Sakhawat Hossain Bakul, Najir Hossain, Ziaul Haque, Ataur Rahman Angur, Elen Bhutto, Shafiqul Islam Talukdar, Shahidul Islam Talukdar and Zahiruddin Swapan.
More "reformists" will be reinstated in the party, the sources added.    
"We are in the party, we were before, and we will also stay in future. We have got directives from our party's acting chairman to be more active in the party than ever before. We will work in line with party directives," Sarder Sakhawat Hossain Bakul told reporters.
Responding to a query over their long-time inactiveness, Shahidul Islam Talukdar said, "There might be many problems in a house. Some leaders were inactive as they did not get party nomination for election. However, we will now work for the party."
He also said their main goal was to ensure party survival, not to get party nomination and be elected parliament members.    
Months after the political changeover of January 11, 2007, popularly called 1/11, a good number of BNP leaders sided with the then BNP secretary general Abdul Mannan Bhuiyan centring on a 15-point proposal to reform the party.
The leaders became known as "reformists".
Later, a new BNP central committee was formed under the leadership of M Saifur Rahman and Maj (retd) Hafizuddin Ahmed, but it excluded party chief Khaleda, who was kept under arrest by the then caretaker administration.
Some district-level leaders expressed solidarity with the committee of Saifur and Hafizuddin. However, most of the reformists became inactive in politics after the 2008 national election when the BNP became the opposition.
'KADER TO WORK WITH DR KAMAL'
In another development, Krishak Sramik Janata League President  Kader Siddique has expressed solidarity with the Jatiya Oikyafront's seven-point demand.
He told journalists this after an hour-long meeting with Gonoforum President Dr Kamal Hossain at the latter's house in the capital's Bailey Road last night.
He said he wanted to work with Dr Kamal.
Responding to a question, Siddique, however, said he was yet to make any decision over joining the Oikyafront, which was formed by the BNP and four other political parties on October 13.
At the launching ceremony, the Oikyafront announced a seven-point demand, including holding the next parliamentary election under a nonpartisan government, dissolution of parliament before the polls and reformation of the Election Commission.
'GOVT GONE CRAZY'
Alleging that the government has gone "crazy", Jatiya Oikyafront Convener Dr Kamal yesterday said it was turning a civilised country into a "jungle", UNB reports.
He made the allegation while addressing a discussion organised by "Jatiya Ainjibi Oikyafront" at the Supreme Court Bar Association auditorium as the chief guest.
Criticising the arrest of barrister Mainul Hosein in a defamation case, Dr Kamal, also Gonoforum president, said it manifested the government's absolute "autocracy". "This is not democracy. The constitution never gives such power which enables someone to do whatever he/she wants."
Taking a swipe at Law Minister Anisul Huq, he sought explanation from him why Mainul was sent to jail in a bailable case. "You must explain it to people as you claim there's democracy. You [Anis] also have the responsibility."
On October 22, a team of Detective Branch of police arrested the former caretaker government adviser in front of Jatiya Samajtantrik Dal President ASM Abdur Rob's Uttara house in a defamation case filed in Rangpur.