Be flexible to avert chaos ahead of polls: Oli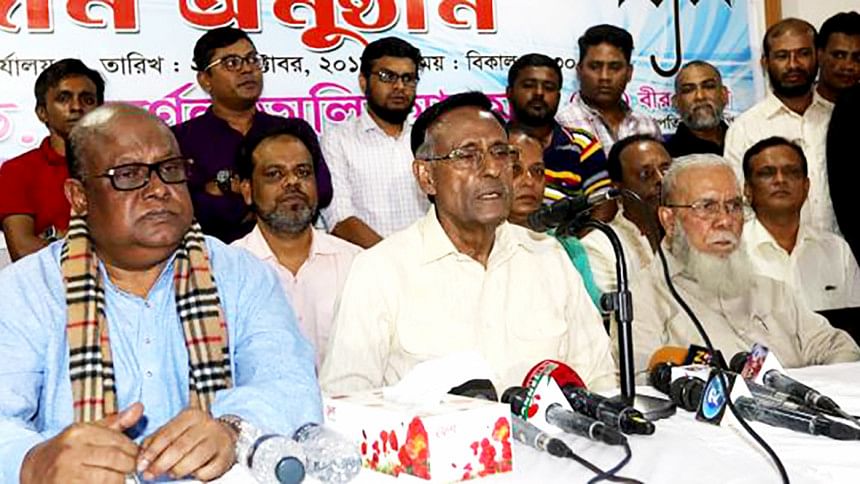 BNP-led 20-party alliance partner Liberal Democratic Party (LDP) President Col (Rtd) Oli Ahmed today called upon the opposition political parties to be restrained ahead of the next general election.
At the same time, Oli Ahmed also urged the government to be more flexible to avert chaos to hold the next general election in a free, fair and credible manner.
"Otherwise, there will be more bloodshed as the day progresses," Oli Ahmed came up with the apprehension while addressing a programme at the party's Dhaka headquarters this afternoon.
Oli Ahmed, who was also one of the key founder members of BNP, called upon the prime minister to avert the possible bloodshed paving the path of holding the next general election in a free, fair and credible manner.           
"No problem will be solved by using abusive words or threatening anyone. Let's go for talks," the LDP chief said.
Oli Ahmed urged Prime Minister Sheikh Hasina to create a scope for talks to address the issues on how the level playing field for all political parties would be created ahead of the national polls.
On October 26, 2006, about 102 leaders including 13 lawmakers with a state minister, a deputy minister and an adviser to the then prime minister resigned from BNP led by its standing committee member Col (retd) Oli Ahmad. The defection en masse came protesting 'record corruption' and 'dynasty' in the party.