Next election sans BNP to get int'l support: Tofail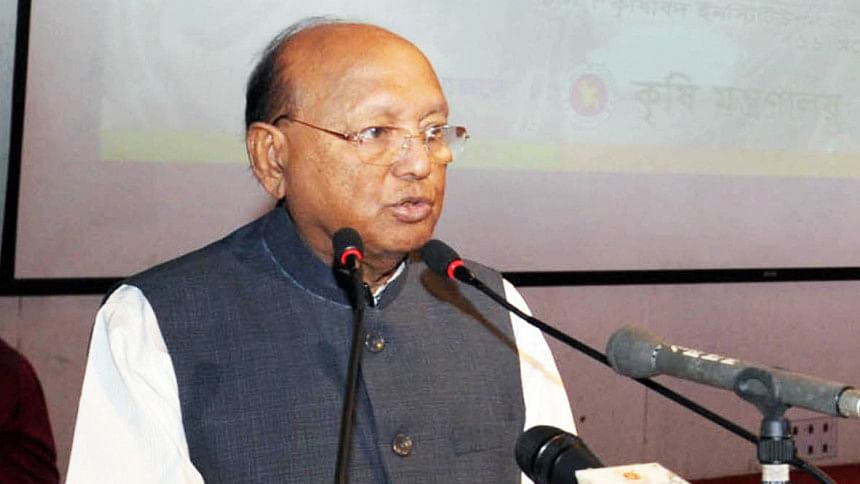 Commerce Minister Tofail Ahmed today said the coming parliamentary election will get support from the international community even if BNP does not take part in it.
He said next general election will take place under the present government and it will take place on due time as per the announced schedule of the Election Commission.
"Election will not stop. It will take place and that election will also get support from international community," he said responding to media at Bangabandhu International Conference Centre (BICC).
Tofail inaugurated three-day show of agro-processed foods and machinery agro and food processing termed BAPA Food Pro International Expo 2018 kicked off today.
Bangladesh Agro-Processors' Association (BAPA) organised the show jointly with the Extreme Exhibition and Event Solution at the BICC.
HOW DOES HE SUBSTANTIATE HIS CLAIM?
Tofail said Jatiya Sangsad Speaker Shirin Sharmin Chaudhury was elected as Chairman of Commonwealth Parliamentary Association (CPA) and AL lawmaker Saber Hossain Chowdhury was elected as president Inter-Parliamentary Union (IPU).
This means that the world has recognised the current parliament, he said.
Shirin and Saber were elected in October 2014 months after the 10th parliamentary election took place in January 2014.
BNP, the then opposition party in the parliament, boycotted the poll demanding that the election be held under a caretaker government.  It's allies also did not participate.
WHAT DOES HE SAY ABOUT JATIYA OIKYAFRONT?
Tofail, also an advisor to the advisory council of the ruling Awami League, said that demands of the recently formed Bangladesh Jatiya Oikyafront, where BNP is a member, would never be fulfilled.
Commenting on the maiden rally of Jatiya Oikyafront, the commerce minister said, "They have held the meeting at a small ground which cannot accommodate 10,000 people at a time. If we hold a meeting at Madrasa ground where more than 100,000 people will take part," he said.
'JATIYA OIKYAFRONT, BNP TO JOIN POLLS'
"I think that this alliance will also take the decision of participating in the election. If they want to realise their demand through movement that demand will never be implemented. This is a dream and will remain a dream," said Tofail.
"There is no way for BNP but to take part in the election. They will have to come to the election for existence," he said.
'DR KAMAL JOINED HANDS WITH FUNDAMENTAL FORCES'
He also came down heavily on some leaders of the Oikyafront including Dr Kamal Hossain, a top leader of the alliance and also the president of Gono Forum.
"Will Dr Kamal Hossain build a secular Bangladesh by joining hands with Jamaat?," questioned Tofail, citing that Jamaat-e-Islami is a member of BNP led 20-party alliance. 
Tofail said Kamal Hossain, who claims to be the architect of the constitution of the People's Republic of Bangladesh and one of the fundamental principles of the constitution was establishing a secular Bangladesh. "But how will he (Dr Kamal) build a secular Bangladesh with Jamaat combine?"
"We know all. Everyone has a record of involving in more than one party and now they have formed alliance. Badruddoza (AQM Badruddoza Chowdhury of Bikalpa Dhara Bangladesh (BDB) left just after coming.  Wait, you will see a lot of things," he said.
The Oikyafront was formed on October 13 with the seven-point demand that also includes demand for holding the parliamentary election under a nonpartisan interim government, dissolution of parliament and deployment of the army before the polls.