Today's exam at CU suspended amid BCL protest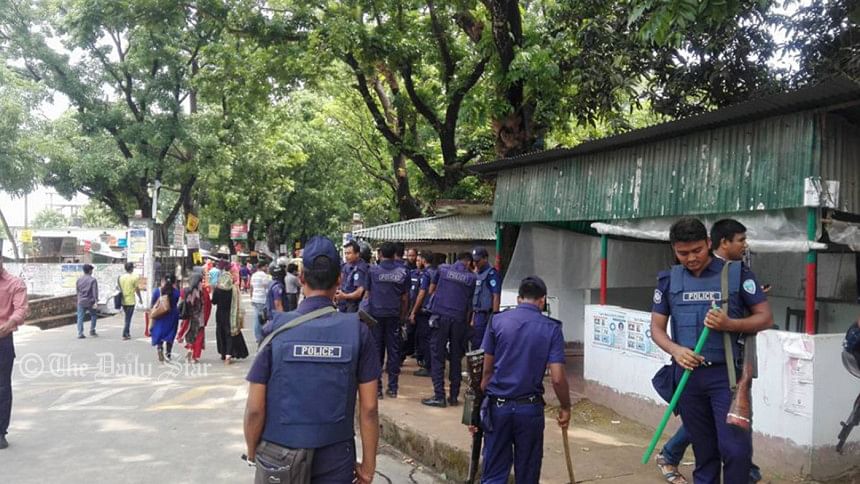 Next exams as per routine

New time for today's exam to be announced later

5 cops, student among 7 hurt

1 detained

BCL suspends 2

CU vehicle vandalised

BCL men throw stones at cops

Examinees stopped at different points on campus
Today's final year examination of Chittagong University's journalism department has been suspended following a protest waged by BCL men demanding the authorities to allow one their suspended fellow activists to sit for the test.
Next examinations will be held according to the routine and a new schedule for today's examination will be announced later, quoting Md Jakaria, the chairman of fourth year examination committee of CU, our Chittagong University correspondent reports.
Later, BCL suspended two of the demonstrators for breaching discipline of the organisation.
The examination was scheduled to start at 10:00am but the authorities could not start it as no examinee managed to reach the examination hall following Bangladesh Chhatra League (BCL) activists' protest, our university correspondent reports quoting a teacher of the department around 12:10pm.
The examinees were barred at different points on the campus while heading towards the exam halls, the correspondent reports from the spot.
READ more: CU suspends 6 BCL activists
On October 17, 2016, the CU authorities suspended six BCL activists including Md Abdullah Al Kaiser of communication and journalism department, for different terms on charge of attacking a rival group of the student organisation on the campus.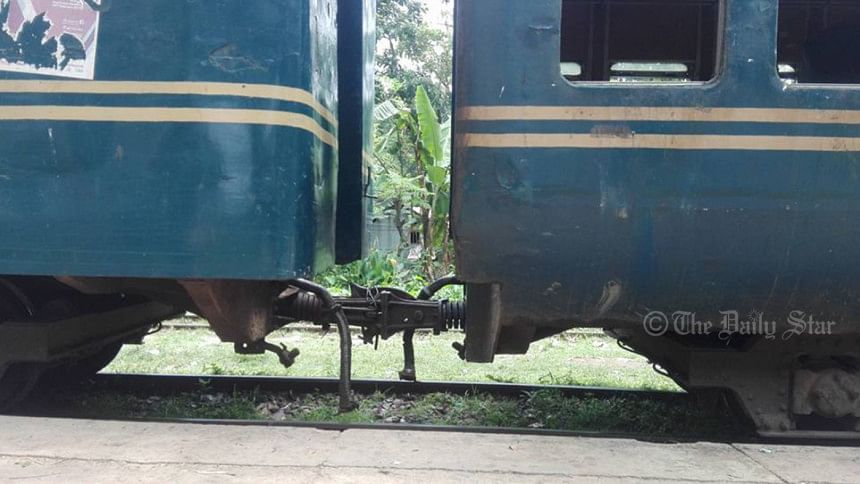 Kaiser was suspended for two years for hacking the CU unit BCL Deputy Sports Secretary Mahbub Shaharier Shakil on October 4.
A group of 40 to 50 BCL activists started the demonstration this morning saying that they would not let the authorities to hold examination until Kaiser is allowed to sit for it.
BCL suspends two
The central executive committee of BCL suspended two of its leaders saying that they have breached party discipline, reads a press release of the ruling party's student wing.
The suspended BCL leaders are: Mizanur Rahman Bipul, under office secretary, and Md Abdullah Al Kaiser, assistant secretary, it said.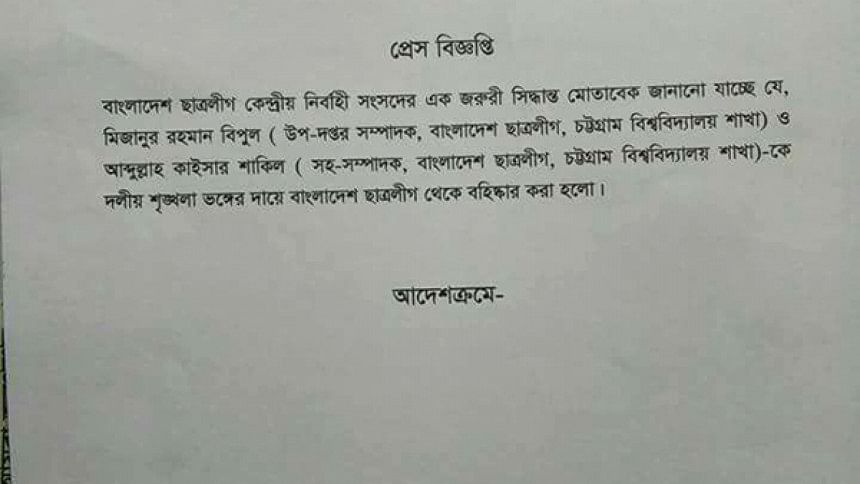 Meanwhile, a BCL supporter was detained during a scuffle with law enforcers, who rushed to the spot when the university authorities sought their help in bringing the situation under control.
Seven people including Raihan, student of anthropology department and five policemen of Hathazari Police Station, were injured when the BCL men hurled brick chips and stones at police and the department building. They also vandalised a vehicle of the university.
Rail communication with the university was disrupted after the BCL men, followers of unit President Tipu, also allegedly cut the pipes of five coaches of a shuttle train at university rail station, Proctor Ali Asgar Chowdhury told journalists.
The train services will resume after 3:00pm, he said.
The BCL group took their position in the rail station area and the police at the front gate of the university when the report was filed this afternoon.