Quader optimistic of resolving Teesta issue
The AL gen secy says after India tour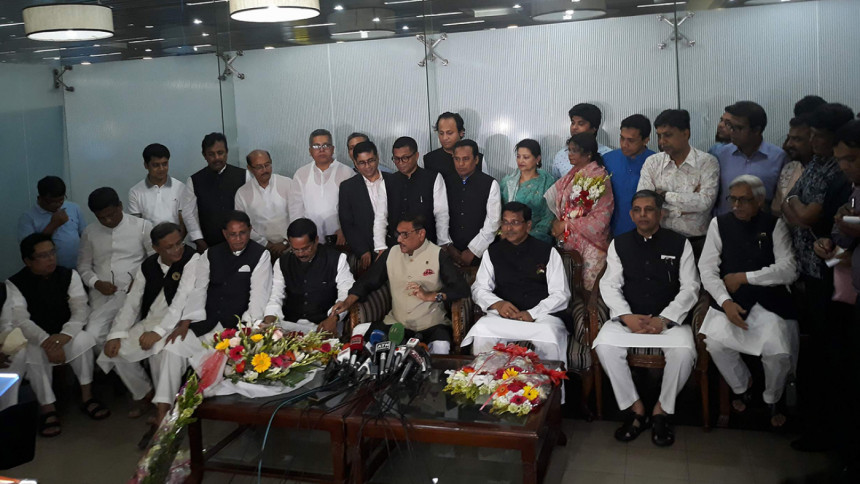 Awami League General Secretary Obaidul Quader today expressed his optimism that the neighbouring India would reach an agreement resolving the long-standing Teesta water-sharing issue.
"We talked about the crisis of the Teesta River water. A tremendous goodwill will prevail if the Teesta water-sharing deal is inked," Quader told a questioner while talking to reporters at the Hazrat Shahajalal International Airport in Dhaka.
With parliamentary elections in Bangladesh just months away, a 20-member Awami League delegation led by its general secretary went to India on Sunday and held talks on several important issues with its Prime Minister Narendra Modi yesterday.
"We discussed several serious issues with the Indian premier and its several leaders during the visit and the details of the tour will be made public through a press conference after two or three days," Quader said.
"Our relation with India is good enough. We don't want to keep it secret so that no one can dish out lies," he added.
Among the serious issues, Quader said the issue of the land boundary agreement was also placed during the talks with Modi.
Terming Modi as a charismatic leader, the Awami League general secretary said, "We praised the role of Indian prime minister for reaching such deal (land boundary agreement) and he (Modi) also lauded Sheikh Hasina's leadership in this regard."
Quader, in response to another question, said his party can build a good relation with any country upholding the national interest.
Responding to a query about Indian stance over the upcoming general election, Quader said the neighbouring country has no intention to interfere in any internal affairs of Bangladesh including its elections.
"People are our main source of power and they will settle the issue. India has no intention to interfere in our elections and we don't think so," he said.
"Foreign forces may be our friend. But we don't want their interference in our election. We will deal with the issue by ourselves," he responded to another query adding that India never did this in the past and it will not do it in future.
About outcome of the tour, Quader said, "Party to party ties will be strengthened and people to people relationship to be enhanced through the visit."
Quader landed at the airport around 4:20pm after ending a three-day visit in India at the invitation of the Indian ruling party Bharatiya Janata Party (BJP).
With a 20-member delegation of the ruling Awami League, Quader reached India on Sunday and called on the country's Prime Minister Prime Minister Narendra Modi at his official residence at 7, Lok Kalyan Marg (formerly known as Race Course Road) yesterday.