Where death follows too closely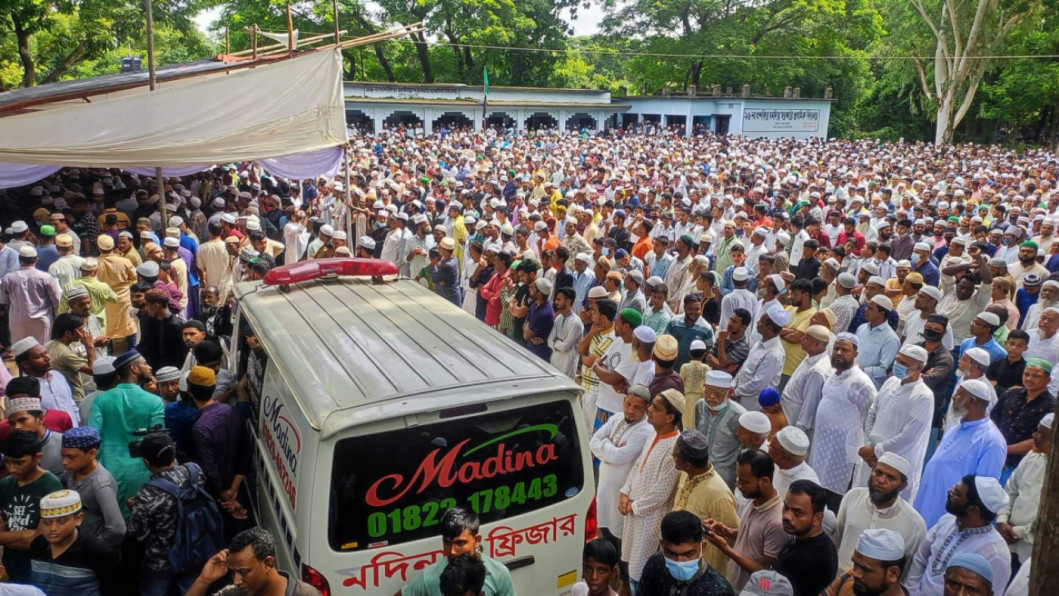 Few people who live in Dhaka will dispute the fact that they often feel overwhelmed by the relentless traffic jam, toxic air and lack of greenery in most of the cityscape. Which is why they are so desperate to escape any chance they get.
On my way to Rangpur and Kurigram, I cannot help but appreciate the unbelievable lengths millions of people go through to go to their rural hometowns during Eid and other holidays. The wild beauty of Bangladesh's countryside is indescribable. The trees that line the roads for miles on end display every shade of green imaginable and regularly form delightful canopies, while being interspersed with more green from the newly planted paddy lined symmetrically on each square of the field. Even the interruption of the unattractive clusters of unplanned bazaars and hardware or car repair shops, that characterise the highways along practically every district of Bangladesh, cannot take away the sheer grandeur of such lush greenery.
Well, not quite.
If you are on the highway, no matter which district you are travelling to, one question will continually gnaw at whatever euphoric state you may be in: Will I make it to my destination in one piece? The terrifying realisation that this can very well be one's last trip, or that one may be permanently maimed in the split of a second, is enough to distract you from the natural aesthetics of Bangladesh's countryside and leave you in a state of acute panic.
On the highway that goes from Syedpur to Kurigram, there are innumerable times when I feel: "This is it, my life is about to end," as a bus or truck swerves so close to us that our microbus driver has to scuttle off the road and wait for the killer vehicle to go by as it barely misses the battery-operated "easybikes" that have flooded the districts outside Dhaka. The recklessness of the drivers are just mind-numbing considering the shockingly high probability of a horrible accident taking place any moment.
As we go on this heart-stopping roller coaster ride, all I can think of are the chilling reports I have been reading in the paper every single day for the last few days.
I think of the eight-month pregnant mother giving birth to her baby girl when a truck ran over her, her husband and her other daughter, killing them all, as they were crossing the road on the Dhaka-Mymensingh Highway. The grim thought that this baby who miraculously survived will grow up without her family members, and later find out the horrific circumstances of her birth, keeps clouding my mind.
I think of the six people whose lives were snapped short when a bus rammed into an autorickshaw in Bakerganj. Among them was one-and-a-half-year-old Farhana who died along with her mother (only 22-years-old) and her 30-year-old aunt. The irony of ironies is that it was a Bangladesh Road Transport Corporation (BRTC) bus driving on the wrong side of the road that hit the autorickshaw.
What happens to all the families who must go on with their loved ones gone forever? How do they survive emotionally? And in many cases, financially? What happens to the thousands who must go on without a hand or a leg or are paralysed for life?
A report by The Daily Star reveals that in 2022, the number of road crashes and deaths during the last Eid holidays was the highest in seven years – at least 398 people were killed in 319 crashes over the 15 days before and after Eid. I think of the thousands of people jamming themselves into packed buses, taking auto rickshaws or getting onto motorbikes just to get a few days of the love, affection and fresh air that only their hometown or village can provide. Which 398 of those ended up in funeral shrouds?
I am momentarily brought back to the present as I spot two little school girls walking along the highway nonchalantly chatting away while the motorised monsters almost graze their thin frames, blowing dust into their faces. Only a few minutes ago while discussing the reckless behaviour on the roads with our driver, hoping it would stop him from performing sudden stunts, he informed us that, a few days ago, his cousin's little daughter and her friend were walking home from school when a truck just "flattened" the friend and sped away.
So, this is the price one may have to pay for any kind of movement on the roads. Many of the accidents are blamed on the easybikes, battery-operated contraptions that can carry five or six passengers, or more, if one is innovative enough. On the highways, you can see hundreds of them trying to outpace larger vehicles as if just having a battery can overcome the flimsiness of their thin carriages. As if to prove this point, we are forced to stop as people run to the scene of an accident. An old man on a bicycle has been hit by an easybike, leaving him bleeding profusely. I can't help but look at his face, his forehead and nose bleeding, his eyes closed as if in sleep. Locals lift him up and take him to the side of the road. Someone pours water on his head.
It's true, the presence of easy bikes and motorbikes on the highway has resulted in an increase in accidents – especially during Eid. Transport leaders have recently called for restrictions on the movement of motorbikes especially on the highways, saying this would reduce the number of accidents significantly. But what about the thousands of reckless drivers of buses and trucks and microbuses – many of them in derelict condition – killing people every day with total impunity? Why are transport leaders still trying to dilute the culpability of these individuals, most of whom know how to "disappear into the crowds" after each road crash?
Experts and road safety activists scream themselves hoarse calling for the basics – proper fitness tests of buses and trucks, ensuring the drivers have valid licences and are not overworked with too many trips a day, that they are not under the influence of alcohol or drugs, having road dividers on highways, zebra crossing near schools and hospitals, more footbridges and of course having highway police to stop speeding, racing, risky overtaking, driving on the wrong side and other violations. The Road Transport Act 2018 includes many of these demands, yet, for unfathomable reasons, is not enforced.
We come home refreshed by our brush with nature – relieved to come back in one piece. But we are greeted with a series of heartbreaking news. A photograph of smiling students and their teachers of a Chittagong coaching centre has gone viral. It has been taken before an excursion to see a waterfall in Mirsharai, only a few hours before 11 of them will be lost forever when the microbus they will be travelling in makes that deadly run through the tracks while a train is approaching.
The grisly story of mangled bodies and vehicles goes on repeat.
Aasha Mehreen Amin is joint editor at The Daily Star.