How empowered are women in Bangladesh?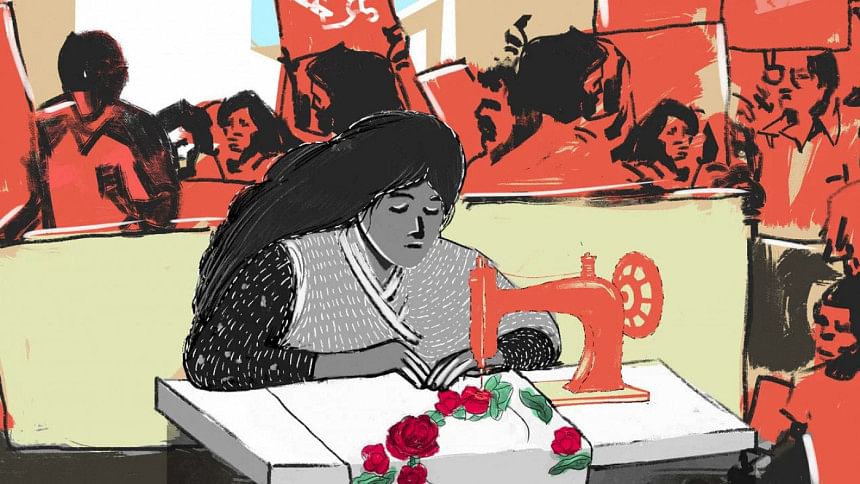 Bangladesh is often praised for making remarkable progress towards women's empowerment, in areas such as education, labour force participation and political representation. But what are the attitudes of citizens about women's empowerment?
The Brac Institute of Governance and Development (BIGD), in partnership with The Asia Foundation, recently conducted and published a national survey of over 10,000 respondents who were questioned on a range of topics, such as their views of women in leadership roles, their economic participation, agency, and not least of all, women's property rights. The data provides some useful insights on this.
A staggering majority (83 percent) in the survey were in support of women's participation in economic activities, both in urban and rural areas of the country. Though more women and people of higher education levels were in support of women's work compared to men and people with no formal education, the overall support was high.
Having said that, a somewhat smaller segment of respondents (69 percent) supported women working outside of their homes. Though a majority expressed their support for women's outside work, it seems that for a large number of people, women's work is deemed fine as long as it is limited within the boundaries of their households. Almost 43 percent of male respondents said they did not want women to be working outside of home, and 22 percent of women also shared this sentiment.
Is it our education system that has failed women, or the labour market? Or is it simply patriarchy that holds expectations of women to continue their domestic responsibilities without challenging power relations in the household?
It was not in the scope of the survey to further explore why this is the case, but it definitely raises questions that make one ponder. The response is even grimmer to the question of whether men should be prioritised over women in the case of employment. Two-thirds of the men agreed that they should be given priority in employment over women. What is more remarkable, though, is that 56 percent of women also agreed with the statement. You might think that this was a more common opinion among rural communities, but our data suggests no rural-urban difference.
However, there is a difference in the education groups. The responses were evenly divided among the highest educated group, while 70 percent of people with no formal education believed that men should be prioritised over women in case of employment. All these statistics indicate the traditional gender and social norms underlying the Bangladeshi society. It is also worth noting that there is a possibility of an inherent "desirability bias" in response to these types of questions. So, the real attitudes may be even less optimistic.
Apart from questions about women working, the same respondents were also asked about their opinions on women's property rights and how they should dress. Just over half the men (57 percent) agreed that both men and women should have an equal share of their father's property, while 22 percent of women did not think they should have equal rights as men over their fathers' property. On the one hand, it is commendable to see more men advocate for women's equal share of property, while on the other, one may wonder why a fifth of the women are not advocating for equal share of property.
If, overall, the answer to the question of property rights gives a more optimistic view of women's empowerment, then the following question on women's clothing promptly diminishes the optimism. Almost 70 percent of men in the survey did not think women should be allowed to dress as they please. Shockingly still, 51 percent of women also don't think they should dress as they please. This again raises many questions: what about women's clothing in Bangladesh is so outlandish that it is subject to such strong opinions by both men and women? Are women judging themselves more because they are being subjected to judgement from society? Or do women feel coerced to be "modest" about their choice of clothing? Is society taking away women's agency not only by making judgements about their choices in attire and work, but also by making them turn against their own?
The data presented may seem contradictory and confusing at first glance, but it goes to show that the opinions about women's choices in their employment and agency are layered and nuanced. On the surface, it seems that society is moving in the "right direction," as most support women working. Yet, a deeper analysis shows that there are preconditions attached to women's work, and when it comes to making a choice, most still believe that men should be prioritised for work. What stands out particularly is that over half the women surveyed thought men should be given priority over themselves.
This makes one wonder: do men and women in Bangladesh want to maintain the status quo of gender roles in society, or are they simply bound by the patriarchal norms? Are women's sentiments towards work persist due to a lack of confidence, or is it because the conditions of working outside their homes are not conducive to women at large? Is it our education system that has failed women, or the labour market? Or is it simply patriarchy that holds expectations of women to continue their domestic responsibilities without challenging power relations in the household?
Are we supposed to celebrate the fact that a majority were in support of women earning their own and having equal property rights; or should we be concerned about the controlling views on women's clothing and the conditions within which they can work? You can choose to be on either side of the sentiment, or even both. The notion of women's empowerment is a complex one, and while there is no clear right or wrong stance, one thing is for certain: there is still a lot more left to be done before we can truly call our women empowered.
---
Raeesa Rahemin is research associate at Brac Institute of Governance and Development (BIGD).
---
Views expressed in this article are the author's own.
---
Follow The Daily Star Opinion on Facebook for the latest opinions, commentaries and analyses by experts and professionals. To contribute your article or letter to The Daily Star Opinion, see our guidelines for submission.
---