If only irony could pay bills…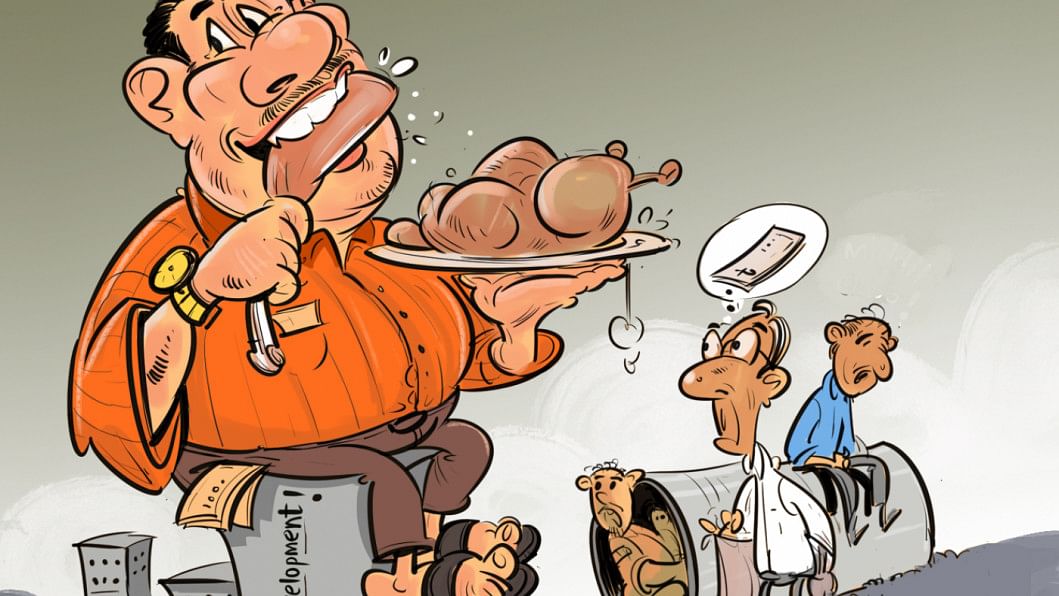 There are two kinds of numbers that I find difficult to digest these days. The more I try to swallow the one, the more unpalatable the other becomes. 
On the one hand, there are those numbers that are burning a literal hole in your pocket – the rising cost of everything, from every essential item in the market, to the utilities, to transport fares, to healthcare, to that cup of tea and bonruti by the roadside stall. Just when you think life can't possibly get any worse, lo and behold, prices go up further, taunting you ever so more. The number of things that are left out of the weekly grocery list seems to increase by the week, as does rationing of what one does end up buying after pinching the pennies. It is redundant at this point to have to cite the prices to prove my point, but for the benefit of those who have the privilege to remain oblivious, here's a sneak peek: the price of unpackaged wheat has increased by a whopping 96 percent over the last two years; the price of soybean oil by 88 percent; masoor dal by 73 percent; broiler chicken by 64 percent; and unprocessed rice by 53 percent. Transport costs have gone up by more than 50 percent in the past year alone. 
If I, with a somewhat well-paying job (what's a well-paying job in journalism, anyway?) – with the additional income of my partner to supplement our ever-escalating household expenditure – am having to cut down on the number of eggs or chicken consumed during the week, how are those living on minimum wages or below even surviving? The minimum wage for garment workers, which at Tk 8,000 is grievously insufficient to begin with, cannot even buy half of what was possible when it was first declared in 2018. Even if a garment worker works inhumane hours of overtime, she can't feed her family three full meals on a single income after rent and utilities are deducted, without resorting to loans – which she can't afford to pay the next month. The CNG autorickshaw driver says he now owes three different microcredit institutions weekly instalments, but no way of making the payments. The cleaner hasn't seen a gynaecologist in months despite an excruciating pain in her lower abdomen, because she can't afford the treatment. The elderly guard, on the verge of retirement, is seeing the value of his life savings deplete by the day, and has taken his youngest daughter out of school to be married off any day now. As for those without a job or a regular income? They may be starving, but at least they are starving as the citizens of a country that can boast 7.2 percent economic growth and a per capita income of USD 2,824.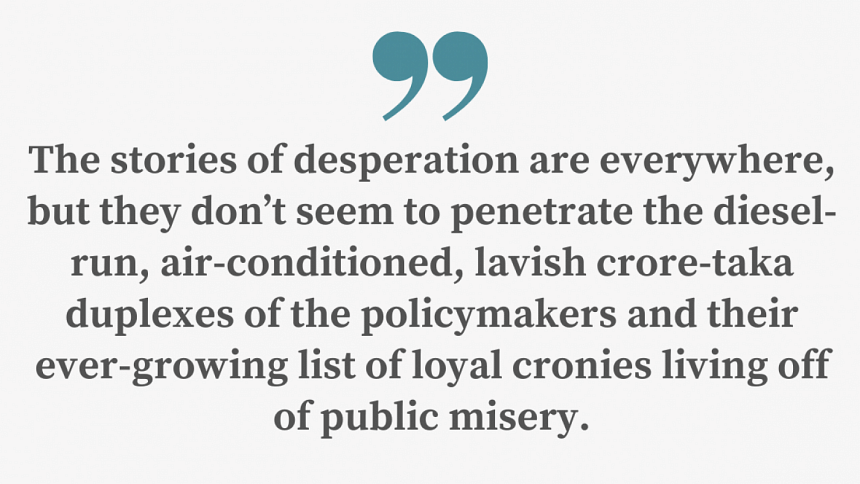 According to a recent survey by the World Food Programme (WFP), 68 percent of people in Bangladesh are struggling to buy food, while 64 percent said they had to take a loan, 29 percent said they had to resort to their savings, and 10 percent said they spent all their savings simply to buy food in the month of August. The stories of desperation are everywhere, but they don't seem to penetrate the diesel-run, air-conditioned, lavish crore-taka duplexes of the policymakers and their ever-growing list of loyal cronies living off of public misery. 
Which brings us to the other set of numbers – the crores of taka flying in and around the country, and the crores flying out of the country on a regular basis. Not a day goes by that we don't hear news of development projects whose budgets were increased three or fourfold from the initial estimate, without anyone having to answer for the cost overruns. We're not just talking crores; we're talking thousands and thousands of crores of taka, for projects undertaken without public consent or participation, a disturbing number of whom are found "unfeasible" after years of construction have already taken place. Though we were promised "austerity" on the government's end, we continue to see these impudent revisions haunt us in return for little to no concrete improvement to our lives. 
Meanwhile, luxury apartment buildings for the cabinet secretary and the principal secretary to the prime minister are being constructed at a cost of about Tk 43 crore, and the Election Commission is proposing to spend TK 8,711 crore to procure 200,000 electronic voting machines (EVMs) without so much as a feasibility study or verification of market prices (to say nothing of widespread concerns that EVMs can be easily manipulated). Ironically enough, at the same time, allowances for elderly and widows and women abandoned by their husbands – some of the most marginalised populations in the country – have reportedly been suspended due to a lack of allocation for these programmes. When food inflation is the highest in a decade and large segments of the population are facing food insecurity, the overall public food distribution under monetised and non-monetised programmes of the food ministry this year fell by 18 percent compared to a year ago, by the admission of the food ministry itself. 
As the debt-ridden farmer, battling flash floods, drought and now a cyclone, calculates whether taking his own life will free or further burden his family, businessmen with the right contacts get away with defaulting loans of crores of taka – over Tk 1 lakh crore, if anyone's even counting anymore. 
As the number of hours spent without electricity continues to increase, the crores that the government has spent in capacity charge payments to private power plants (an unimaginable Tk 35,046 crore to 55 companies over two years) and in importing LNG at exorbitant prices, instead of exploring natural gas reserves in the country, feel even more suffocating, the unbearable heat and humidity notwithstanding. 
As the number of laws and rules restricting our thought and opinion – as well as cases against journalists and dissenters – increase with horrifying frequency, the number of times we dare to defy the government or express our criticism of its unjustified, illogical policies – beyond sanitised, perfunctory op-eds such as this – dwindle, until all that's left is undigested anger ready to explode. 
If only irony could pay bills, we'd all be sipping pina colada (virgin, of course) in the Maldives, instead of having to cut down on the most basic of luxuries we can afford ourselves – a sugary cup of dudh cha. 
Sushmita S Preetha is op-ed editor at The Daily Star.