Development for whose benefit?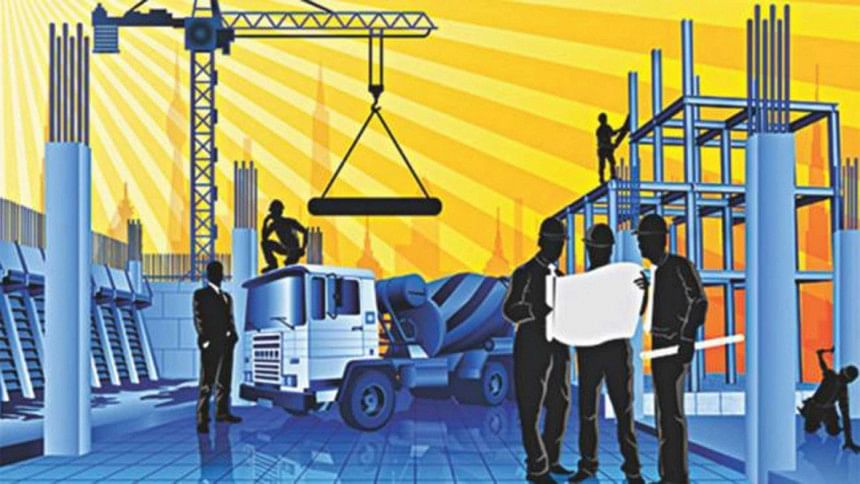 When we ask the question, "Who should development benefit?", the answer should be quite straightforward: "the people." But in reality, that is not often the case. This is not only true for Bangladesh, but for all countries as well. What is unique about Bangladesh, however, is the difficulty in holding government officials accountable for their ill-conceived or ill-intentioned development schemes that are oftentimes designed only for the benefit of the influential or vested quarters.
 A key reason for this is the pathetic state of our electoral system. In a democracy, the best way to hold public representatives accountable is to vote them out for their incompetence or for failing to properly serve the public. However, when you have politicians getting elected into office unopposed—which is basically equivalent to them being selected into office—they cannot really be called public representatives, because the public didn't vote them in. This was quite evident in the most recent local body polls, where a substantial number of ruling party candidates won uncontested, and the voter turnout was embarrassingly low, probably because people in large numbers realised that the election was already a foregone conclusion.
Another strange aspect of development in Bangladesh is politicians or the political party in power taking credit for "giving" development to the public—as if they just took the resources needed for said development out of thin air or out of their own pockets. The fact that almost all government projects are funded with taxpayers' money—or through loans, which the taxpayers have to repay—tends to get lost in the political rhetoric.
Since all development projects are funded by the public, in one way or another, the only way to ensure that these projects serve the people of the country is by holding government officials accountable. It is because of the absence of such accountability that our development projects often go astray.
In 2017, a World Bank report revealed that Bangladesh spends a much higher amount than India and China on road construction because of time overruns and lack of competitive bidding. A four-lane highway costs USD 1.1-1.3 million in India, and USD 1.3-1.6 million in China. In comparison, in Bangladesh, the estimated construction cost of a kilometre of the Rangpur-Hatikumrul four-lane highway was USD 6.6 million, USD 7 million for the Dhaka-Sylhet four-lane highway, USD 11.9 million for the Dhaka-Mawa four-lane highway, and USD 2.5 million for each of the Dhaka-Chattogram and Dhaka-Mymensingh four-lane highways. Despite Bangladesh having the highest road construction cost in the world, the report said that quality roads were hardly built in the country due to a lack of proper monitoring by the relevant authorities, and because construction firms were rarely held accountable for time and cost overruns.
"Politicians are now involved with many construction firms. So, when they fail to maintain proper design and quality during road construction, no one dares to make them accountable," says Sarwar Jahan, professor of urban and regional planning at Bangladesh University of Engineering and Technology (Buet). Similarly, Buet's civil engineering professor Shamsul Haque said most construction firms, having political clout, rarely ensured quality road construction due to a lack of proper monitoring by the authorities concerned. Government engineers, who must be present to ensure quality during a construction work, "remain absent in most cases," he further added.
Meanwhile, in response to a question as to why road construction cost in Bangladesh was so much higher, Road Transport and Bridges Minister Obaidul Quader told parliament in 2019 that it was due to "difference in soil conditions." It is, however, hard to believe that the soil condition between Bangladesh and its next-door neighbour India is so different that Bangladesh's road construction cost was 2-10 times higher than India's.
In any case, what about other development projects? Surely, the higher costs for all projects can't be blamed on soil conditions? Let's take a look at the Payra Bridge project. According to a recent report published by this newspaper, the bridge is set to cost 3.5 times more than what the government originally estimated, and has taken five years longer than the original deadline. The project was supposed to be completed within December 2016 at a cost of Tk 413.28 crore. It is only now nearing its completion at a cost of around Tk 1,447.24 crore.
According to one official, the feasibility study conducted before the project's approval was done poorly. As a result, when consultants prepared the detailed design, they had to bring significant changes to the initial plan, resulting in cost escalation. Was anyone held responsible for this mess-up?
If we take another example, in 2017, the Chattogram Development Authority (CDA) undertook a project to solve Chattogram's perennial waterlogging problem. However, according to a report published in this newspaper on September 24, the Tk 5,617-crore mega scheme has been stumbling at every step of the way, due to "a hastily done feasibility study and poor action plan." The three-year project has been extended by three more years in two phases, while the estimated cost of the project has gone up by 8-39 times, according to project-related documents. Even more shockingly, the CDA, before unveiling the project, carried out a feasibility study in only about a week. According to town planners and engineers, a sound feasibility study for a project of this scale should have taken somewhere around a year at least.
According to a report published by the planning ministry, "The CDA has failed to provide important documents, including those on purchase, vouchers, and meeting minutes." The report also blamed the CDA for not carrying out annual audits of expenses, which is mandatory for fund release for the project work.
Highlighting the methodological flaws in the work, city planner and engineer Subhash Barua said as the infrastructural work of the project had started before the renovation of canals, waterlogging had increased rather than decreased after half of the project work was done. And according to a study commissioned by the Chittagong Chamber of Commerce and Industries (CCCI), Khatunganj traders incurred a loss of over Tk 514 crore due to waterlogging in 2020. Who is going to pay for this?
There are countless other such examples, where time and cost overruns have become a severe headache. But it's not always incompetence that is the main issue; corruption is another major factor.
Recently, the Anti-Corruption Commission's Chattogram office shed light on a how powerful syndicate—which included a former deputy commissioner of Cox's Bazar, former additional deputy commissioner, former UNO, four former and current officials of PBI Cox's Bazar unit including the SP and formal additional SP, and seven political leaders including Cox's Bazar district Awami League president and secretary—systematically siphoned off Tk 78 crore of public money from three development projects. It is not often that we see such syndicates and influential people get exposed for their corrupt activities. And even when they are, rarely do we see any administrative action taken against them. Moreover, those who do get exposed or punished are frequently the small fish in comparison. Which means that the more powerful individuals or groups who are responsible for numerous development projects going to waste can continue on with their crooked ways.
The only way for this to change is through action by moral and courageous individuals, which is badly missing at present. Unfortunately, there is also a serious lack of vision among the government leadership, which is allowing for such short-sighted looting of the country's valuable resources that could have been used more efficiently for faster development.
That is what makes transparency groups—such as the media, NGOs, civil society, etc—so valuable at this current juncture. Perhaps with better exposure of the corrupt practices leading to our development projects going awry, and with sustained public pressure, many of them can be brought back on track. However, at the end of the day, relying on the good-heartedness of public officials to deliver on development projects is a recipe for disaster. That is why it is so important to put in place a system to hold public officials and politicians accountable for misusing funds, and for their ill-conceived or ill-executed development schemes.
Eresh Omar Jamal is a member of the editorial team at The Daily Star. His Twitter handle is @EreshOmarJamal